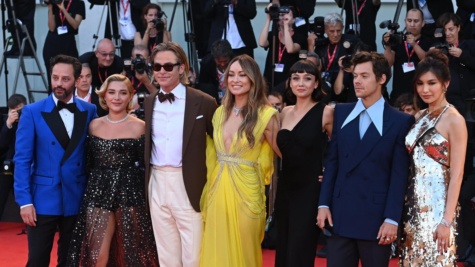 Gaby Peña | Writer
September 16th, 2022
The 2022 Venice Film Festival took place at the beginning of September, where the cast of Don't Worry, Darling made an extravagant appearance. Directed by Olivia Wilde, Don't Worry, Darling is a psychological thriller set to be released on September 23rd of this year. This release date has been heavily awaited by many people, especially Harry Styles' large fan base. Ever since the pop star announced that he was to play a supporting role, Jack, in this film alongside Florence Pugh, his fans have been ecstatic, longing to see what other talents this man has besides singing. The popularity of this movie brought by Harry Styles fans has also shed light on gossip and drama concerning the cast.
Shortly after they began to film the movie, Styles and Wilde were captured together by paparazzi, sparking rumors about a potential relationship between the two. While this relationship was based on mere speculation at first, people soon began to conclude that they were actually together when photos of them kissing were released in the summer of 2021. However, people are questioning whether this is a genuine relationship or if they are simply posing for the paparazzi as a publicity stunt to promote the movie. "I personally think it's a publicity stunt. Their relationship just seems forced and disingenuous," SCHS senior Alyssa Mormile said. If the purpose of the relationship is to get people to talk about the movie, it sure is working. Every time a new photo of Styles and Wilde was seen, hundreds of people would start talking about Don't Worry, Darling.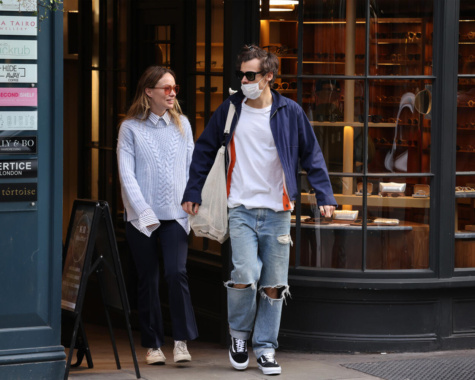 Knowing Harry's large fan base, taking him on for the movie was a smart decision, ensuring that the film would get a lot of attention. Originally, Shia LaBeouf was supposed to play Jack. Wilde told the media that he was fired due to ongoing allegations of abuse towards women and because Florence Pugh did not feel comfortable working with him, however, recently a video of Wilde has been circulating in the media, changing the narrative that Wilde created about LaBeouf's involvement. LaBeouf told the media that he was not fired, he actually quit. In the video, Wilde was practically begging LaBeouf to reconsider joining the movie, saying that they can work something out with Pugh. She referred to Pugh as "Miss Flo," which many people view as condescending. People suspect that there may have been some conflict between the two women on set considering that Pugh hardly promoted the movie on her social media. People were not even expecting her to show up to the Venice Film Festival, so seeing her there was surprising for many. 
Now onto movie reviews. It is well known that Florence Pugh is an insanely talented actress, so there is no doubt that her performance in Don't Worry, Darling is going to be phenomenal, but people are worried about Harry Styles' acting. His career's main focus is music, and he barely has any acting experience, so many are afraid that his acting is going to be underdeveloped and underwhelming compared to Pugh. A short clip of the movie was released, where Styles' character is yelling at Pugh's character with an accent that seems like a hybrid between American and British. As far as we know, his character is supposed to be American, so people are speculating that his poor American accent is going to take away from the quality of the movie. So far, the movie has been given 42% on Rotten Tomatoes, which is not great. It can be a little concerning when the negative reviews outweigh the positive ones. 
Despite all the drama surrounding the making of the film, the cast is made up of many excellent, well-known actors, so there is hope for the movie. "I'm really excited to see the movie. I love Florence Pugh's acting and I'm looking forward to seeing how Harry Styles portrays his character," senior Briley York said. It's best we stay optimistic about the film, and, hopefully, it is as entertaining as the scandals among the cast.