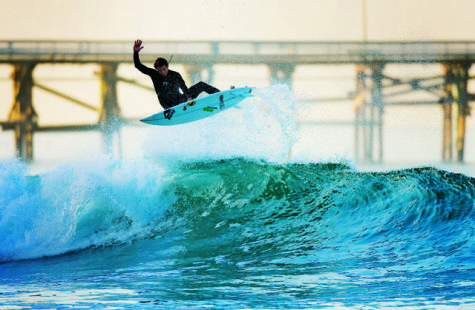 By Mitch Taccolini | Writer
September 9, 2015
As the new 2015-16 school year kicks off, Triton Times had a chance to meet and watch the world famous, 11-time National Champion San Clemente surf team.
Leading the team are seniors Conner Dand and Kyla Kelley. Dand shreds on the shortboard for the men's team while Kelley cruises on the woman's team longboard. Both are optimistic about their chances to repeat this as National Champions this year. 
"Everyone in the water is psyched to surf," they said. "We have a great shot at winning Nationals again this year."
Sitting down first with Kelley to get the insider's scoop on what the highly respected surf team had to say and the anticipations of the year to come, "Our team is really good," she said, still dripping wet from the water. "We all are ready to rise to the challenge."
As the interview became more fluid and jokes were cracked, Kelley was asked who would be putting up the most points for the team – who the overall best surfer on the team was. After a couple seconds, she replied with saying confidently "Conner Dand."
Sitting down with Dand, I could see the excitement in his eyes for the new season. Once formerly conducted, the interview was smooth as I asked him what he believed was the biggest weakness for the team and he humorously put it as a one word answer and defined it as "consistency." When I asked him what the team's strength is that would help them win nationals he said that "Everyone rips out there."
Surf Team tryouts for any new surfers are currently being held today, September 8, during first period at T-Street.