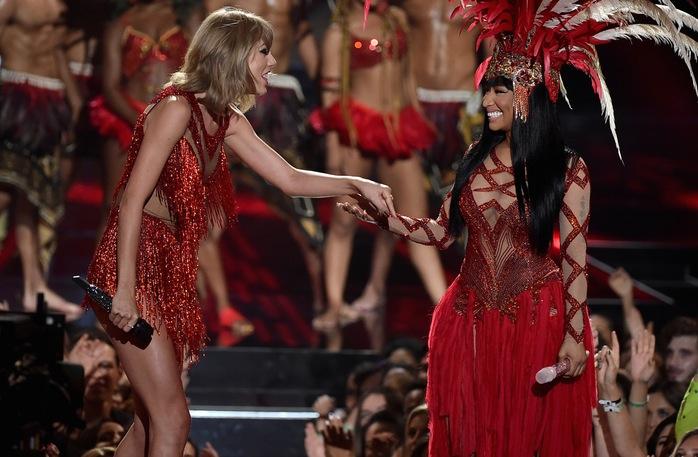 By Jahfreen Alam | Writer
September 11, 2015
The 2015 MTV Video Music Awards was held August 30, 2015 at the Microsoft Theater in Los Angeles, California. Known for having some iconic moments, such as Lady Gaga's meat dress, this year was no different, especially with host Miley Cyrus. Cyrus had become an oddity with her actions throughout the year, and it was safe to say no one knew what to expect.
The show had appearances by big names such as Britney Spears, Kylie Jenner, Ice Cube, and Rebel Wilson and featured performances by Justin Bieber, The Weeknd, Demi Lovato, Pharrell Williams, Macklemore & Ryan Lewis, Tori Kelly, Twenty One Pilots, and A$AP.
It was an explosive night, to say the least.
Nicki Minaj started off the show in a beautiful red headdress, dancing to the beat of "Trini Dem Girls" off her latest album, The Pinkprint. She was later joined by Taylor Swift for a quick rendition of "Bad Blood", to convey once and for all the Twitter feud between them had ended. A round of applause followed the opening number, and the show finally kicked off!
When Minaj accepted her award for Best Hip-Hop video for "Anaconda", she went about her normal thank yous. However,  right after thanking her pastor, Minaj immediately called out Cyrus for making comments about Minaj's issues with the VMA  nominations in a recent interview Cyrus gave to the New York Times.
 "And now, back to this b***h that had a lot to say about me in the press," Minaj said, instantly derailing her acceptance speech  to Cyrus. She ended her call out with the line that practically broke social media, "Miley, what's good?" Miley's surprised  expression and lack of a call back at the end of the night proved this incident wasn't scripted. Minaj wasn't going to let that sort  of comment about her slide without acknowledging it first.
 Arguably, the second highlight of the VMA'S was Justin Bieber crying on stage after a supposedly emotional performance of  "Where Are U Now" with Skrillex and Diplo. After 2012, Bieber was known more for his reckless behavior making headlines  than for his music. He made his comeback on the VMA stage after five years of inactivity, and he was grateful for an audience  applauding his return.
Last but not least, Kanye West was awarded the prestigious Michael Jackson Video Vanguard Award by Taylor Swift of all people "for the ratings", as West later said in his speech. West rambled about the moment in 2009 when he interrupted Swift's acceptance speech. He talked about the perception of award shows, and the importance of the millennial generation ("Listen to the kids!"). Then, he dissed MTV for exploiting his conflict with Swift.
West's speech took an even sharper turn when he announced he was running for president.
"And yes, as you probably could have guessed by this moment, I have decided, in 2020, to run for president."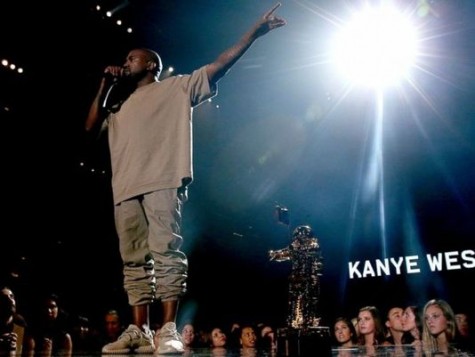 In true Kanye fashion, he literally dropped the mic after his speech, and then left the stage. Maybe we'll be seeing #YEEZUS2020 campaign signs in the near future, along with a First Lady Kardashian.
Other than the drama, people also watched the show for the winners. Here's a list of the categories followed by the song
and artist that won.
Video of the Year: Bad Blood, Taylor Swift
Best Female Video: Blank Space, Taylor Swift
Michael Jackson Video Vanguard Award: Kanye West
Artist to Watch: Trap Queen, Fetty Wap
Best Male Video: Uptown Funk, Mark Ronson and Bruno Mars
Best Rock Video: Uma Thurman, Fall Out Boy
Best Choreography: I Won't Let You Down, OK Go
Best Hip-Hop Video: Anaconda, Nicki Minaj
Best Direction: Alright, Kendrick Lamar
Best Video with Social Message: One Man Can Change the World, Kanye West, Big Sean, and John Legend
Best Visual Effects: Where Are Ü Now, Justin Bieber, Skrillex, and Diplo
Best Editing: 7/11, Beyonce
Best Art Direction: So Many Pros, Snoop Dogg
Best Cinematography: Never Catch me, Kendrick Lamar
Best Song of the Summer: She's Kinda Hot, 5 Seconds of Summer
Though most may not think so, I believe Miley was successful as a host. Most importantly, the show garnered enough standout moments to not only be written down in VMA history, but dominate news for the next couple of days. Let's hope next year has just as many memorable events, but it is competing with the ruination of a celebrity's social status and a possible presidential campaign.