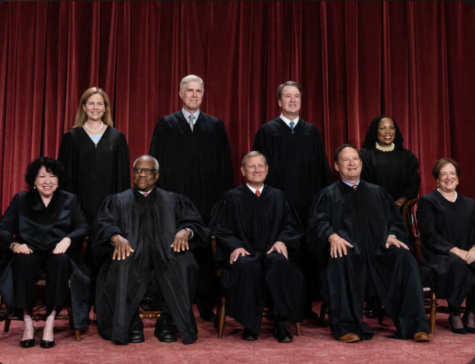 Nicolle Generaux | Newsroom Manager
November 3, 2022
Should race be considered in college applications?
On October 30th, the Supreme Court debated on whether affirmative action in college admissions is constitutional or not. For more than five hours, sets of lawyers argued that affirmative action provides educational diversity among college/university campuses. Not all of the judges were convinced.
Harvard and the University of North Carolina admission programs were brought to the Supreme Court by the Students for Fair Admissions, Inc. (SFFA), a nonprofit which has brought to question the legality of race-conscious admissions policies, as well as voting rights laws, in the past few decades. Harvard has also been accused of deliberately discriminating against Asian Americans in their admissions process. 
The rationale in favor of this variation of affirmative action includes "leveling the playing field" and diversity. 
Justice Sonia Sotomayor stated during the oral argument that "If you're Black, you're more likely to be in an under-resourced school. You're more likely to be taught by teachers who are not as qualified as others. You're more likely to be viewed as having less academic potential."
In short, Sotomayor is convinced that race-conscious admissions give minority groups, especially Black people, the ability to be considered on the same grounds as majority groups – not as a preference. 
Additionally, North Carolina's solicitor general Ryan Y. Park stated that these diverse bodies "seek truth, build bridges across students of different backgrounds, and, critically here, equip students with the tools needed to function effectively as citizens and leaders in our complex and increasingly diverse society."
With these admission considerations, Park claimed, campuses are filled with more minority groups, therefore creating a miscellaneous population that only benefits the students and prepares them to be contributing citizens in society. 
Throughout the debate, Harvard's lawyer Seth Waxman continued to mention how the state and local governments, previous to the Supreme Court case, ruled that Harvard had made no discriminatory actions towards Asian Americans. 
According to The Harvard Gazette, if the Supreme Court were to rule this process unconstitutional, the population of Harvard that is considered African American would "decline significantly" and the campus would be unable to "reach the same levels of diversity it achieved through the limited consideration of race." 
"This is a hard topic because it's either you want equity in school demographics or equality in academic competition," junior Ella Pratt remarked. "Either you sacrifice racial diversity or discriminate against certain groups. Not an easy call."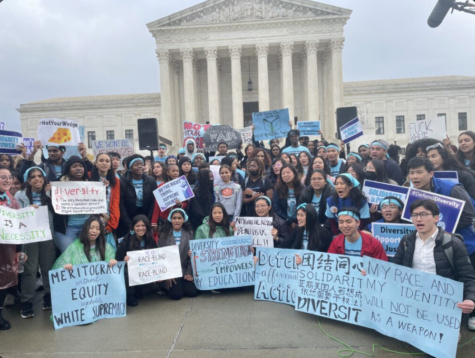 In contrast, the opposition's main points focused on whether it is unfair and racist to other races – a plus for minorities but a minus for Asian Americans in particular – ultimately violating the 14th amendment. Also, these applicants that are a part of these supported groups will not be viewed as individuals, but as members of racial groups that simply checked a box. 
In response to Waxman's claim that Harvard has made no discriminatory acts toward Asian Americans, Cameron T. Norris, legal counsel representing the petitioner, rebutted by saying that Harvard's personality score, "a score that Harvard gives based on character traits such as integrity, courage, kindness, and empathy, but the record shows that Asian student applicants get the lowest personal scores of any other group," and that "it has to be that they really do lack integrity, courage, kindness, and empathy to the same degree as students of other races, or there has to be something wrong with this personal score."
Norris believed that scoring these personal lower ratings to Asian American students gave the administration an excuse to discriminate against them, as the statistical ratings were extremely lower than any other race. If this is true, it would be in fact violating the 14th amendment, which states that "no state shall make or enforce any law which shall abridge the privileges or immunities of citizens of the United States."
Norris additionally stated "I think culture, tradition, [and] heritage are all not off limits for students to talk about and for universities to consider. They can't consider that — they can't read that and say, oh, this person is Hispanic or Black or Asian, and, therefore, I'm going to credit that. They need to credit something unique and individual in what they actually wrote, not race itself."
Incorporating race into college essays or personal statements in admissions is acceptable, Norris believed, but being Black, Latino, or a part of any other minority group should not automatically give that person an edge, as it is basing it off of only their race, not their character. 
"Personally, I do not believe race should be considered in college application processes," junior Samantha Mitchell commented. "I think one's acceptance should only depend on the qualifications a person has because it becomes discriminatory if race is involved."
If the Supreme Court does rule this race-conscious admission process unconstitutional, Harvard, the University of North Carolina, and most other colleges and universities around the country will be unable to consider race at all in its admission process.