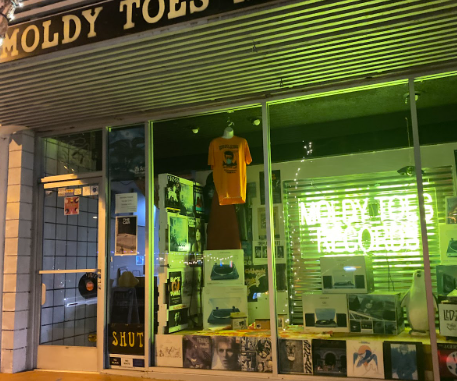 Sienna Miller | Writer
December 2, 2022
There's nothing better than going downtown to explore the numerous clothing shops, food areas, and beach views in our prised beach town, San Clemente. Since 2014, when Moldy Toes Records was first established in downtown San Clemente, it has been a renowned hotspot for all the music lovers of our community. In light of this, the Triton Times and the San Clemente High School students have voted Modly Toes Records for the best place to buy records in town.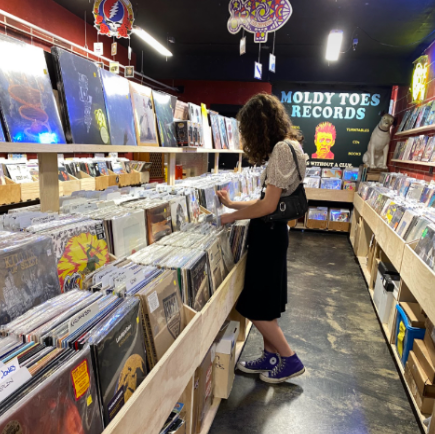 In addition to the hundreds of records that the shop supplies, Modly Toes transpires to sell a lot more. When you first walk into the shop, there's a plethora of assorted CDs, cossets, music mugs, stickers, record players, and more. As you proceed to venture further, there are racks of T-shirts with all of the most famous rock bands, such as The Beatles, ACDC, etc. Finally, in the back of the store, awaits the high-quality, yet affordable vinyl records. Moldy Toes consistently maintains all of classic musicians' art, but often goes even further to provide some preeminent, underground albums. It is a perfect place to discover new music and shop for specific artists you love. 
Not only are the decorations alluring, and the products rewarding, but the service is fantastic. The owner, Tom, is an extremely friendly man who is often in the store to greet clientele. Moreover, Moldy Toes has an amazing staff who are always ready to accommodate their customers in the most polite, pleasant, way possible. 
"Tom, the owner has helped me find some amazing new music based on what I've purchased," said sophomore Katie Mckay. "I bought a Radiohead album and he told me that the guitarist is now in a new band named Smile. I went home and listened to their albums and absolutely loved them! I now listen to them all the time."
Moldy Toes Records is a perfect place to spend time all year round with friends, family, and loved ones. Music has the potential to bring people together, however because of technology and inventions like headphones, there is often a new boundary that is created between music listeners. Although in some circumstances this is especially helpful, it can also be isolating. Moldy Toes Records gives the community the opportunity to gather and enjoy all music that individuals have in common. People can now have discussions about the music they are passionate about and others can discover new melodies to fall in love with. The Modly Toes Record shop provides an emotionally cleansing, yet trendy-fun atmosphere.