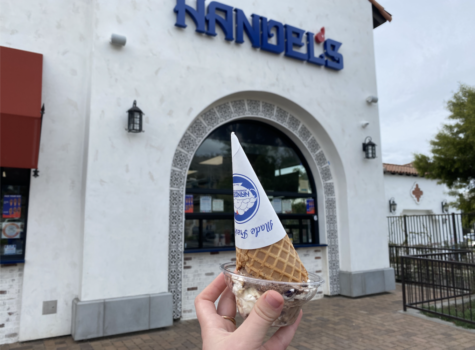 Sophie Echternach | News Editor
December 2, 2022
Undeniably one of the greatest ice cream and hang out spots in San Clemente, Handel's Homemade Ice Cream takes the cake for the best ice cream in SC!
Handel's opened their San Clemente location during the summer of 2022, with its grand opening taking place on September 1, 2022. Ever since then, Handel's has become the #1 Friday night socializing spot with hundreds of people lining up to get their hands on one of their many unique flavors of ice cream.
The ice cream shop, known for their insanely creamy frozen desserts and fun seasonal flavors, features everything from your typical chocolate and vanilla, to "Graham Central Station" (a best seller) and "Monkey Business."
"Handel's is 100% the best place to get ice cream in San Clemente! You can't beat their huge range of flavors and super friendly staff," said freshman at SCHS, Ava Echternach. "Every time I go, the people behind the windows are always so nice and helpful. It's an all around great experience."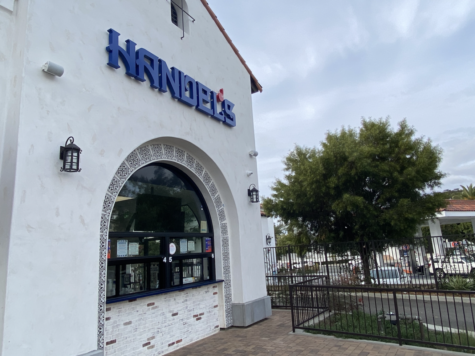 Whether it's chatting in line with friend's about what ice cream to get, eating it at one of their many accessible picnic tables, or taking the ice cream to go in a take-home pint, Handel's has the kind of ice cream people would want to enjoy anywhere and share with their friends. 
Not only does this ice cream shop offer a variety of ice cream flavors by the cup, cone, pints, or quarts, but customers can also choose from making a "Hurricane," milkshake, or one of "Handel's Pops." Hurricanes are especially popular because customers get to choose a topping such as brownie bits, strawberry cheesecake, Oreos, and more to blend into Handel's "world-famous vanilla ice cream."
Handel's is open each day from 11am and closes at 10pm. Next time you're in the mood for a sweet treat, make sure you choose the place with the best ice cream in San Clemente.