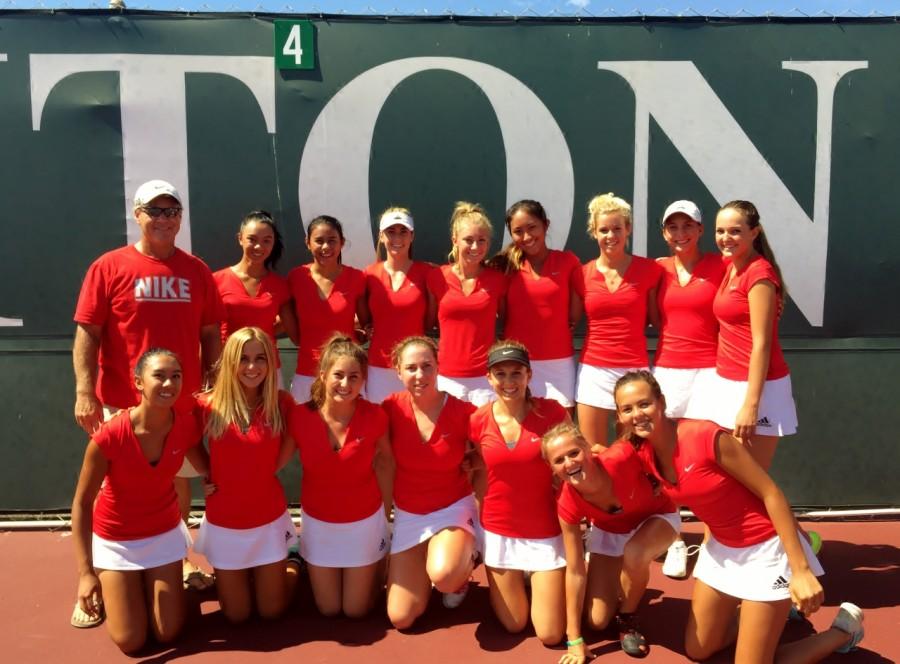 By Ily Macpherson | Sports Editor
September 15, 2015
After several rounds in CIF last year, the San Clemente Tritons varsity girls' tennis team is poised to be successful again this season. This week, we sat down with head coach John Stephens to talk about their chances heading in to the upcoming fall season.
From now until late October, the girls' tennis team has their work cut out for them. "I expect this team to once again make it to the CIF playoffs. We also have some players that have the potential to make it to the CIF Individuals as well," said Coach Stephens. With eight seniors, three juniors, three sophomores, and two freshmen on varsity, the senior leadership will help balance this team and show the younger girls the ropes.
Last season, the Tritons put together an impressive 12-3 overall record, along with going 6-2 in league. The strong season was led off by a big win against rival Dana Hills at home, winning 11-7.
Coach Stephens also hopes  "to see the girls tennis improve throughout the season." For each of the girls, he strives "to see singles players play with confidence and to demonstrate great focus during matches. Singles players have an opportunity to have great years if they work…for doubles players…to see improvement, the ability to 'finish' points, to be aggressive, and to be consistent. My expectations are for each player to realistically look at their game and then make a specific plan to improve and accomplish goals. I expect us to be in the top three in league…How high depends on how hard the girls work and how much they believe in themselves."
"Our challenge this year is to find players who can compete at the level necessary and we need to figure out how to be a success. Players who understand how to play effective … and can finish points when the opportunity comes."
In addition, each player personally strives to surpass their own expectations of their upcoming season.  Erika Marangi, a junior on the team, says her goal is "to improve finishing points and serving" and focus on "not getting too negative if things aren't going well." Marangi, along with the rest of her team, all put their heart and soul into their matches, in hopes of making it big in CIF.
Watch the girls' tennis team this season on their journey to victory! The following is the season schedule for girls' tennis:
SAN CLEMENTE HIGH SCHOOL 2015 GIRL'S TENNIS SCHEDULE
DAY-DATE-OPPONENT-LOCATION-TIME
Thursday-8/27- Northwood (scrim)-San Clemente-3:00
Tuesday-9/8-Huntington Beach-Huntington Beach-3:00
Wednesday-9/9-Laguna Beach-Laguna Beach-3:00
Friday-9/11-Santa Margarita-San Clemente-3:00
Monday-9/14-Newport Harbor-Newport Harbor-3:00
Tuesday-9/15-Fountain Valley-San Clemente-3:00
Thursday-9/17-Edison-Edison-3:00
Tuesday-9/22-*Tesoro-San Clemente-3:00
Thursday-9/24-*Capo Valley-Capo Valley-3:00
Tuesday-9/29-*Aliso Niguel-San Clemente-3:00
Thursday-10/1-*Dana Hills-Dana Hills-3:00
Tuesday-10/6-San Juan Hills-San Juan Hills-3:00
Thursday-10/8-*Tesoro-Tesoro-3:00
Tuesday-10/13-*Capo Valley-San Clemente-3:00
Thursday-10/15-*Aliso Niguel-Aliso Niguel-3:00
Tuesday-10/20-*Dana Hills-San Clemente-3:00
Tuesday-10/27-SCL Prelims (Var)-LN Racquet Club-12:00
Tuesday-10/27-SCL Prelims (JV)-TBD-12:00
Wednesday-10/28-SCL Finals (Var/JV)-LN Racquet Club-12:00
*League Contest JV plays at opposite site (unless noted)