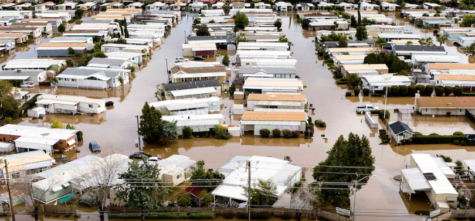 Sienna Miller | Writer
January 13, 2023
In the past couple of weeks, California has experienced extreme storms, resulting in high-speed winds and mass flooding. In just a 12-day period, there have been about 20 inches of rainfall, and as of Tuesday, almost 20 million people in California are under flood watch. Because this storm occurred both quickly and barbarously, an emergency declaration has been officially announced by President Biden in 17 counties. 
The San Francisco Bay area was hit the hardest with about 13 inches of rainfall in a 16-day period. Both Monterey and Santa Cruz County are completely evacuated while flash flood warnings scatter Los Angeles county. More than 400 public schools were closed down on Monday. Not to mention, the majority of the school districts in California are outdoors, so on the campuses that aren't closed, students are forced to navigate through heavy storms to get to their classes.
"Even though I know we don't have the worst of it, the rain has been extremely inconvenient," says SCHS Senior Emily Ellinger. "I not only have to sprint to each class hoping my Chromebook doesn't get damaged but I've seen three kids hurt themselves in ginormous puddles the size of ponds. I have to maneuver myself through water up to my ankles. By the end of the day, my entire bottom pantleg is soaking wet due to the horrible draining systems we have."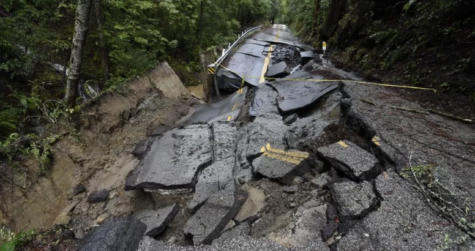 As of now, 49,000 people have been evacuated from their homes and 220,000 people are reported to be without power. In Santa Cruz alone, 30,000 people have been forced to relocate. Homeless citizens struggle to find somewhere to stay because usually, in California, it isn't as much of an issue to spend the night outside; because the streets are flooded, they have nowhere to go. In addition, the sudden evacuations create new obstacles for the poorer people who can barely afford rent as it is. People's entire lives are being uprooted because of the climate. Moreover, 17 are dead due to the floods, two of which were homeless. 
Global warming makes weather far more extreme than it should be. If our planet continues to be constantly polluted, these harsh weathers will just keep occurring more frequently. NASA has concluded that by the year 2100, major storms will have increased by 60 percent. 
"I think California needs better rain sustainability", says sophomore Kaila Casaw, a member of an environmental club at SCHS. "Although it may be sunny most of the time, because of climate change, our world is becoming more and more unpredictable. We need to start preparing for more harsh weather in years to come, or there will be severe consequences."
Although the storm is slowing down as we approach later in the week, this weather is going to cease. Many believe that California needs to start developing more viable solutions to stop this heavy rain from flooding our cities as much as it did, for the sake of citizens' lives and well-being.