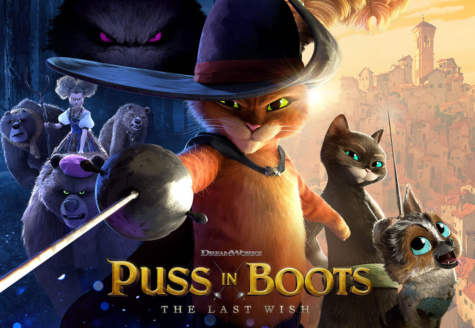 Sophie Echternach | News Editor
January 13, 2023
** SPOILER ALERT**
Eleven years after the release of the first movie, "Puss in Boots," the popular orange tabby cat has officially returned to the big screen!
Puss in Boots, voiced by Antonia Banderas, first made his appearance in the well-known Dreamworks Animations movie Shrek. A man of adventure, Puss in Boots is best recognized for his taste for combat, big boots and heroic actions. 
In "Puss in Boots: The Last Wish" Puss in Boots sets off on a quest to find the mysterious Last Wish which will supposedly restore his nine lives and allow him to continue being a hero. Along the way he is reunited with on-again-off-again ex-girlfriend, Kitty Softpaws, and meets an annoyingly friendly dog, Perrito. Additionally, throughout the film Puss in Boots is followed by a dark and eerie creature named Wolf, aka Death. 
Wolf informs Puss in Boots that he has carelessly used up eight of his nine lives and that he will soon have an encounter with death. In fear of losing the admiration he so frequently receives from fellow citizens, Puss in Boots quickly begins his search for the Last Wish but not without frequent chases from Death. 
Freshman at San Clemente High School, Ava Echternach said, "It was a really good movie except the death wolf was really creepy. I'm not sure how little kids watch this but it definitely kept me interested!"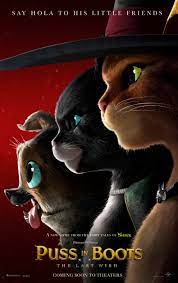 Once on the right path to the Last Wish, Kitty, Puss in Boots, and Perrito combat with other fairytale characters such as Big Jack Horner, and Goldie Locks and the Three Bears, in competition for the magical wish, who all want it for their own selfish reasons. In an untimely turn of events, everyone arrives at the Last Wish at the same time and are forced to question their own motives and loyalty to one another when it comes time for someone to claim the wish.
Puss in Boots is successful in fighting off all other competition, including Death (for the time being) and claims the wish. However, before he uses it for selfish reasons he recognizes a change of heart and well, you'll just have to watch the movie to see how things end for the infamous Puss in Boots. 
Senior at SCHS Tessa Campbell said, "I absolutely loved the movie. I cried."
"Puss In Boots: The Last Wish" should definitely be added to your TBW (to be watched) list and is a great film people of all ages will enjoy!