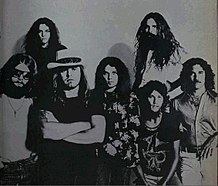 Otto Schniepp | Writer
March 10, 2023
Lynyrd Skynyrd, you know them, but your parents love them.
This all-American band was formed in 1964 in Jacksonville, Florida, and was originally named "My Backyard" when it was founded. Fun fact: the name Lynyrd Skynyrd was originally used as a taunt for Ronnie van Zant's high school PE teacher who was known to be the most strict guy on campus. 
The legendary band consisted of Ronnie Van Zant, Allen Collins, Larry Junstrom, Bob Burns, and Gary Rossington. Sadly, being a band from the sixties, they now all officially have passed away, the most recent one being this past Sunday, March 5th, when Gary Rossington died. As of now, the cause of death is unknown, but the impact of the death is definitely known. The lead singer Ronnie Van Zant sadly died in a plane crash right after playing one of their big shows. Allen Collins, one of the guitarists, passed in 1990 from his chronic pneumonia with his last show being the reunion of the band after the plane crash. The drummer of Lynyrd Skynyrd died fairly recently in 2015 when a car crash turned fatal after taking a turn too fast and hitting a tree. Larry Junstrom died earlier in 2019 after losing a battle with a brain tumor at the ripe old age of 70. Junior Trevor Ponsen said "It was a shame to hear that he passed. I would listen to them all the time with my dad." The band has sold over 28 million records across America, and each of those people who bought a record is mourning the death of one of the most classic southern rock bands to date. 
Lynyrd Skynyrd has a multitude of hits, and the fact that they used a gritty tone to appeal to the working class in the 70s had a massive impact on their popularity. Where music before was appealing to the upper class, Lynyrd Skynyrd was among the first to stay away from the usual way of things. The band was discovered by a respected producer and songwriter, Al Kooper, who had gone to one of their shows at Fuccinos in Atlanta and loved what he heard. After that, he got them to sign on to his Sounds of the South label. During this time the band had reached their peak popularity with their hit songs like "Sweet Home Alabama" or the song known for one of the most iconic solos in rock and roll history, "Free bird." This era of fame lasted almost a decade of them selling out shows and being rock stars. Sadly the era ended after a show in Orlando when Ronnie Van Zant died in a devastating plane crash. After this crash, the band took a hiatus and disbanded for ten years. 
In 1987 the band reunited with the members it had left and fill-ins for the losses. This coming back together lasts even to this day but with fewer and fewer of the original members still alive to play. Even though it is sad to see the end of the era, people, including myself, will still be blasting their songs in remembrance of this group of legends named Lynyrd Skynyrd.