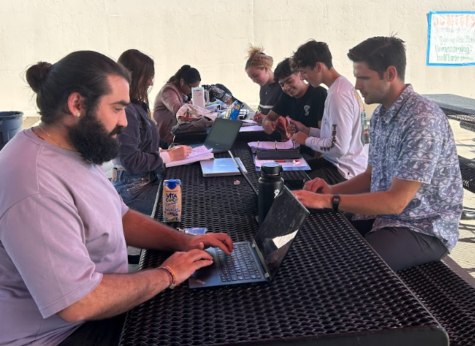 Arantza Villarroel | Writer 
September 8, 2023
With pages of notes and packets of homework in hand, SCHS students are on their way to receive the help they need to succeed. After School Tutoring takes place at the tables in front of the library, from Monday to Thursday, 3:30 to 5 p.m., where trustworthy teachers like Mr. Dewald and Ms. Dimperio work to achieve their ultimate goal: to support students in their academic courses.
"After School Tutoring has been an ongoing activity since more than a decade ago," said Mr. Dewald who is a Spanish and world history teacher here at SCHS. Since he started working at this school, Mr. Dewald has taken advantage of the program as a tutor; continuing the resource that has been available for students for years. 
The program supports students in a variety of subjects, with teachers available to answer questions about any math, history, language, and science courses. With such a variety of teachers, students find support for their individual necessities and find their academic success flourishing as a result of this resource.
"It is a neutral place for learning without stressing or rushing," said senior Ashley Zambrano, addressing the factor of the after-school activity that students enjoy the most.
"Students are participating outside of school hours, and teachers are not in their classrooms, creating a more comfortable and relaxing environment for both ends," added Mr. Dewald. The program is an incredible opportunity for teachers and students alike to easily connect with one another in a way that they would otherwise not have the opportunity to, forming long-lasting relationships with each other.
The benefits go beyond finding support for and asking questions about classwork. This program also serves as a leadership opportunity, allowing students to tutor their peers and be leaders in their community. "Being a source of information is being a leader," stated Mr. Dewald.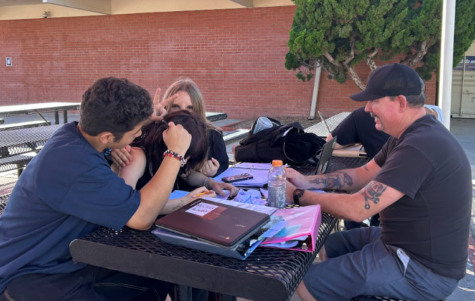 Different participants enjoy the program as a place to come and study with friends. Sitting together,  students can ask questions, explain concepts and definitions, and summarize information, all while having an enjoyable time. The new knowledge acquired comes with a sense of happiness and belonging, as students can find comfort around the people whom they connect with.
Students in search of volunteer hours and service opportunities (including AVID students, IB students, and Link-Crew participants) enjoy the opportunity to tutor students and make friendships at the same time. This role, credited for enhancing college applications, is best suited for students who are "interested in helping, guiding, and supporting others," said Mr. Dewald, "while proving a deeper level of understanding in the subject, which someone who just assisted their classes and finished the homework could not achieve."
AVID students are familiar with the curve of learning that illustrates the amount of revision and repetition a person may require to memorize material for longer periods of time. Tutoring others in what we may have already learned is a great way to cultivate this growth, as the explanation engraves the knowledge into ourselves. "Tutoring is the exercise of theory," explained Mr. Dewald. "The use of wisdom, facts, and data collected from other classes can be reapplied in a useful way for ourselves and others."
The After School Tutoring program is a safe space to learn, teach, and support the San Clemente High School community as a student, teacher, or tutor. If you're someone who feels lost in their classes, needs some help answering homework questions, studying for an upcoming test, or spending sleepless nights stressing over your grades: go to after-school tutoring. Introduce yourself to the welcoming teachers, ask for the help you need, and form those new connections that will lead you to the academic success you are capable of!