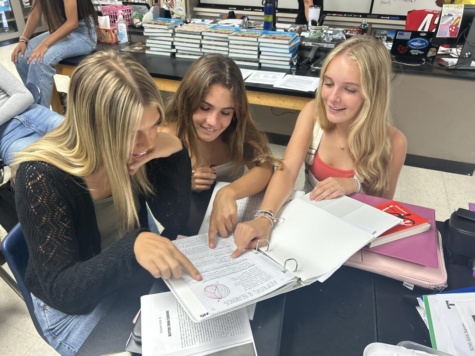 Sophia Yeskulsky | Writer
September 14, 2023
San Clemente High School has been notorious for its ability to balance athletics and academics. With multiple sports winning CIF-SS championships and CIF-SS Academic Championships in the last year alone, there is no doubt that the Tritons have mastered the ability to balance academics and athletics.
With San Clemente's many AP (advanced placement) courses and IB (International Baccalaureate) courses, many student-athletes have felt the immense responsibility of academics weighing upon them. Then, add in the rigorousness of having a practice or game five or six days out of a week, there is sure to be a great amount of stress and anxiety. That raises the question, how do the Tritons do it?
Triton Taylor Hernandez, a Junior and key player for the San Clemente girls varsity soccer team highlighted how stressful managing the delicate balance of academics and athletics is. As an athlete who takes AP US History, AP Lang, AP Calculus AB, AP Physics, and Advanced Architecture, Taylor knows that there are going to be some nights where getting all her homework done is simply not possible. One of the best study techniques that she has learned throughout high school which has helped her achieve her astounding 4.83 GPA is "prioritizing studying for certain tests a little more than others."
She also described how she deals with procrastination. A lot of times, athletes just want to go on their phones after school and relax, but just forcing yourself to start on homework that you actually enjoy and don't mind doing can free up time later for you to "fit in the boring assignments' ' that you don't want to do. Essentially, Taylor has learned to use her procrastination to her advantage by getting her homework that she doesn't mind doing before practice and using the pressure of the 11:59 p.m. deadline to "force [her] to make sure [she] get[s] the work done."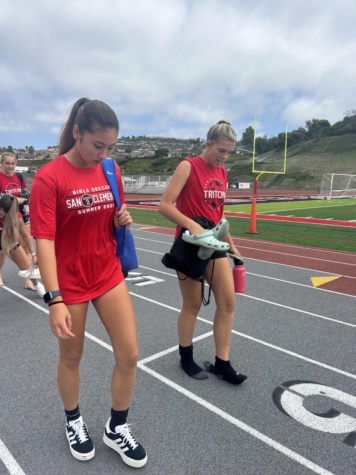 Super Senior Taylor Juncaj also knows the immense pressure of balancing academics and athletics all too well. As a dominant lefty attacker for the Triton's varsity girls lacrosse team, the veteran leader has developed some study habits and techniques that has allowed her to thrive in both realms. Throughout her years at San Clemente High School, she has found the vital importance of prioritizing getting her homework done over studying for tests. She has realized that if she has an away game and she won't get home until late, by "try[ing] to wait to study until [she] finish[es] doing [her] other homework", she can maintain success in all of her classes. She still emphasizes studying for her tests, whether it's "study[ing] a few days before" or "during tutorial". An additional study habit she uses is focusing her notes and "going over them, highlighting, and writing more notes."
For other athletes, such as Grace Bunker, they've learned that something as simple as organization is key to their success in the classroom. "I've learned that writing everything down really matters. If I don't have a to-do list after I get home from practice, everything's kind of mixed up. If I take the time to organize everything at school, it makes it so much easier for the late nights after lacrosse" explained the speedy sophomore attacker for the varsity girls lacrosse team.
All three of these Tritons student-athletes were able to achieve South Coast League Titles last year as well as receive Scholar Athlete Awards. Their insights should serve as valuable lessons for student-athletes alike who are striving to succeed in the strenuously rewarding world of high school sports and academics.