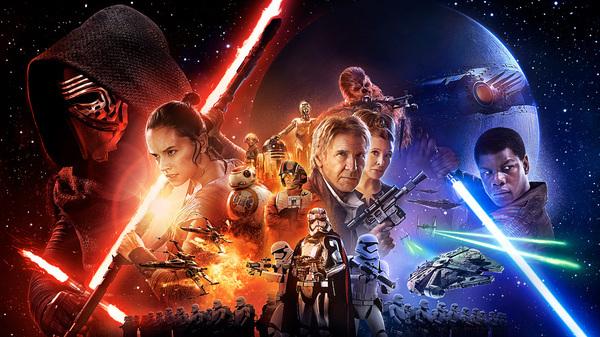 By Kate Luitjens | Newspaper Club
November 18, 2015
It has been 38 years since Star Wars: Episode IV – A New Hope was release in theaters in the United States in 1977, and the hysteria surrounding the release of the saga's newest addition, Star Wars: The Force Awakens, will reach boiling point on Friday, December 18.
So, "The Force.  It's calling to you.  Just let it in."
Star Wars: The Force Awakens inspires fans alike to find the force within themselves as the new films' release quickly approaches.  Fans of the original franchise and fans of the new TV shows are all looking forward to the new movie's impending release, as seen by the countless Halloween costumes and merchandise in every store.
"I think the new movie is going to be pretty good," said junior Gabby Reid, a fan of the original Star Wars movies.  "I just hope they don't ruin it."
From the trailer released, the movie doesn't look like it will disappoint, featuring the return of the Millennium Falcon, Han Solo, Chewbacca, and, for a brief second, R2-D2. The trailer also features many new characters including Jedi Finn, who seems to be running from his past, as well as the mysterious Rey and droid BB-8.  We also see the return of X-Wings and TIE-fighters, along with the appearance of a new lightsaber for the Sith: one that includes a crossguard that sparked a controversy amongst fans.
While some are unaffected by this addition, most, including sophomore Max Jonnaert, see it as stupid and dangerous.
"I think it's really dumb," said Jonnaert. "You would obviously cut yourself on accident and it's just impractical."
Yet even others see it as a helpful addition to prevent from a lightsaber incident like, say, losing one's hand, just merely cutting it.  This controversy has also sparked a series of other new additions to lightsabers, such as Swiss Army attachments or a saw blade.
Courtesy of IMDB, we know that the actors of characters returning into the franchises (Luke, Leia, Han Solo, Chewbacca, R2-D2, etc.) will be playing their original characters from over 35 years ago.
Tickets are on sale online.  The site Fandango crashed the first day of ticket sales due to the number of people racing to buy their tickets.  If you want to see this movie in theaters in IMAX or 3-D, buying tickets online may be a good option.
The 7th movie in an internationally loved franchise, Disney has to meet very high expectations with this new movie.  Visit www.starwars.com for more information about the upcoming movie as well as the previous films and television shows.