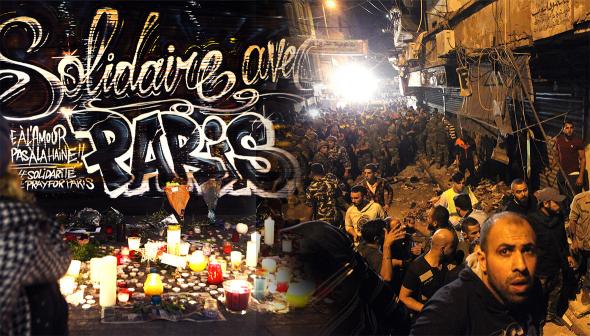 By: Jahfreen Alam | Writer
December 3, 2015
Both marked by tragedies, the cities of Paris and Beirut feel a sense of shock and grief linger as recent terrorist attacks continue to weigh heavily on civilians' minds.
On the evening of November 13th, 2015, three suicide bombers struck near the Stade de France in Saint-Denis with mass shootings, quickly followed by suicide bombings at cafés, restaurants, and a music venue in Paris. One of the worst terrorist attacks in Paris, with a toll of 130 people killed and 368 injured, the mental scars on the victims and country may outlast the wounds.
Two weeks after the attacks, France held a national day of mourning centered around a memorial service. President Francois Hollande addressed a crowd of 1,000 people, stating the victims of terrorist attacks represented "130 laughs that we won't hear anymore, 130 voices that went quiet forever." Solemn yet unified, France came to terms with their new found vulnerability while messages of solidarity filled social media feeds and flooded news networks.
However, the same quality of coverage failed to be reached in regards to the attacks in Beirut the day prior.
Twin suicide bombings occurred in a southern suburb of Beirut, Lebanon on November 12th. Two unknown ISIS operatives detonated themselves in a crowded marketplace, killing 44 people and injuring more than 200 in the worst terrorist attack the city had experienced in years.
Beirut faced a bombing that had realized a constant fear of violence in the country, whereas Paris had its worst attack in decades. Both tragedies, both disasters for the respective cities, yet Beirut failed to earn the same visible solidarity, compassion, and support Paris had received from the media.
Facebook activated safety checks for those in Paris to alert their friends and loved ones of their safety, yet the feature had not been prompted after the blasts in Beirut. Facebook had also added a tricolor filter of the colors of the French flag for profile pictures so users could support the people of Paris. Even Obama had commented on the Paris attacks as "not just on Paris… not just on the people of France, but… on all of humanity and the universal values that we share."
No world leader had condemned the Beirut bombings as an "attack on all of humanity."
With such worldwide support, some in Lebanon believe their tragedy turned into an "irrelevant flick along the international news cycle" as Lebanese doctor Elie Fares wrote in his blog due to the clear disproportionate amount of press, wondering if terrorist attacks mean more in different countries.
Despite the empathy gap, it's important to reflect on the victims and the survivors. The innocent deaths in one country are not more deserving of mourning than the innocent deaths in another.
Their struggle is also ours in this time of global vulnerability.