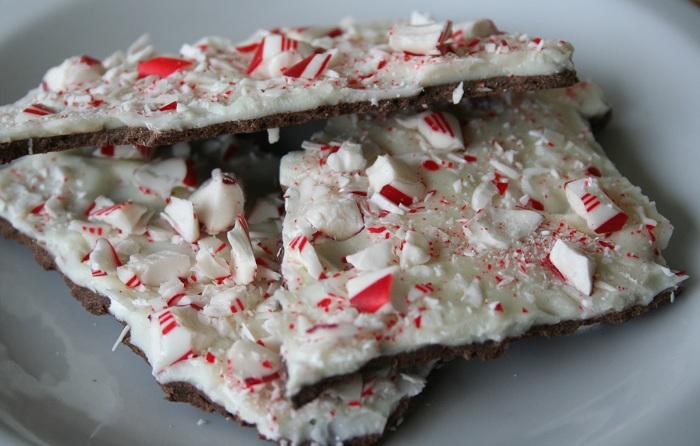 By, Katy Clemens |Writer   &  Baron Moran |Writer
Christmas is a time when families come together and carry on traditions they have created, new or old.
Many families embrace the festive spirit by decorating the Christmas tree or going on family vacations to the same destination each year in order to bond and spend time together. These beloved traditions extend to the world of holiday treats. Over the course of many generations, some recipes are passed down and many families bake or cook them in order to celebrate the season.
Every year a few days before Christmas, my cousins and I go over to my grandparent's house and bake peppermint bark together that my grandma serves at her house on Christmas Eve. The recipe was first started by my great grandmother, then passed down to my grandma and mom. It's been a tradition in my holiday season for as long as I can remember, and baking it is a fun way to spend time with my family and get in the holiday spirit. Below is the recipe from the Food Network and instructions on how to bake this delicious treat.
Ingredients:
 

12 ounces good-quality semisweet chocolate, chopped into 1/2-inch pieces

 

1 1/2 teaspoons peppermint extract

 

1 pound good-quality white chocolate, chopped into 1/2-inch pieces

 

3 candy canes or 12 round hard peppermint candies, crushed
Directions:
 

Line a 9-by-13-inch baking dish with aluminum foil, shiny-side up; smooth out any wrinkles. Heat 1 inch of water in a saucepan over low heat until steaming.

 

Put all but 3/4 cup of the semisweet chocolate in a heatproof bowl. Set the bowl over the saucepan of steaming water (do not let the bowl touch the water) and stir until one-third of the chocolate is melted. Remove the bowl from the saucepan; keep the steaming water over low heat. Gradually stir the reserved 3/4 cup semisweet chocolate into the bowl, a few pieces at a time, until all of the chocolate is melted. Return the bowl to the saucepan, 5 to 10 seconds at a time, to help melt the chocolate, if needed. Do not rush this step: It may take up to 10 minutes to melt the chocolate.

 

Wipe off any moisture from the bottom of the bowl. Stir 3/4-teaspoon peppermint extract into the chocolate, then quickly pour into the prepared baking dish and spread in an even layer. Firmly tap the dish against the counter to remove any air bubbles. Set aside at room temperature until almost set, about 10 minutes.

 

Meanwhile, put all but 1 cup of the white chocolate in a large heatproof bowl and repeat the melting process over the steaming water; dry off the bottom of the bowl. Stir in the remaining 3/4-teaspoon peppermint extract; pour over the semisweet chocolate and spread in an even layer. Sprinkle immediately with the crushed candy canes, gently pressing them into the white chocolate. Set aside at room temperature until firm, about 1 hour. Lift the bark out of the pan using the foil and break it into pieces. Store in an airtight container at room temperature for up to 2 weeks.
Peppermint bark is a hit with SCHS students! "Once I start eating one piece, it's hard to stop myself from several more," said senior Mckenna Ray.
Fellow senior Danny DiGiacomo also expressed his enthusiasm for the age-old holiday treat, "Peppermint bark is my favorite holiday treat, but it gets stuck in my teeth a lot."  With a recipe as scrumptious as the one above, we can assure you that you won't mind. Happy Holidays!