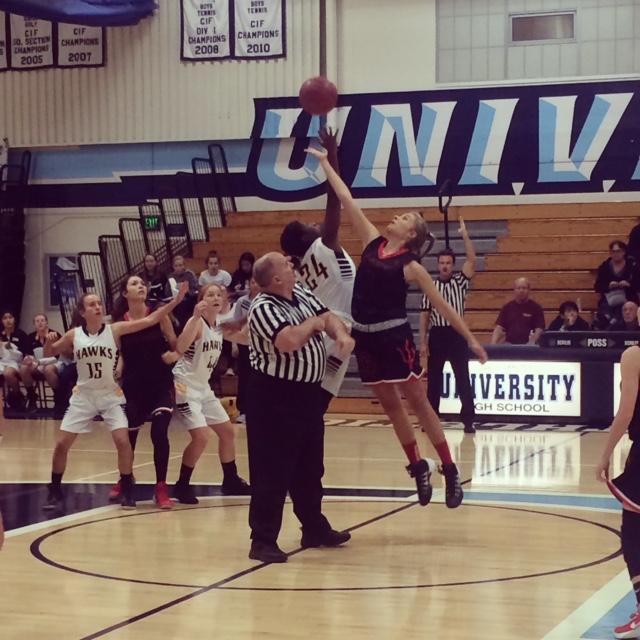 By: Ily Macpherson | Sports Editor
December 4. 2015
While the rest of the student body sits idly behind a desk during fifth period, twirling their pencils, one team is already running drills in the gym. This year, the San Clemente High School's girls basketball team is on the road toward victory again, preparing for the upcoming season. With an impeccable team of three seniors, three juniors, four sophomores, and one freshman, these Lady Tritons are destined to be victorious.
This year, the girls basketball program is coached by Kerri Husbands. Having always been around athletics and basketball in particular, Husbands played basketball at Cal and coached for some time there, later becoming a strength and conditioning coach for Cal and UCLA. Last year, Husbands coached the girls JV team and although this will be her first year with the varsity team, the girls are excited to be working with a coach who teaches them about life on and off the court.
Husbands noted that, "We are a very young team and we will have tremendous improvement throughout the season. In a short amount of time, it is amazing to see the progress that this team has already made. They are a great group of athletes, and each one brings something special to the table. It is a fun team to be a part of!" When asked about what the team needed to improve on the most, Husbands said, "This team has a lot of hustle and passion. They work so hard and put so much into each practice and game. The biggest thing we need to improve on is our mental discipline and understanding of the game. Both will come with experience."
After finishing last season overall 17-8-0, the team is striving to remain League Champions. "I definitely want to win league to keep our streak going. As of right now, we're three time League Champs and it would be really cool to win four times in a row, " said junior Amy Harris on the varsity team. Hoping to the defeat their biggest opponent Aliso Niguel, these girls are working towards becoming a "tight-knit team, because a team that has a good bond will succeed much better on the court." With an average of 51.7 points per game, an impressive feat, yet each player including Harris, want to improve their scoring and shooting consistency. With scoring percentages in the high 60s to low 70s percentile, the Lady Tritons are determined to give 110 percent into their improvement in the upcoming season.
Harris, speaking for the majority of the team noted that, "Basketball sometimes seems like a lot of work, but always in the end I [we] wouldn't take back a moment of it. I [we] have gained some amazing friends and I [we] wouldn't be the same person [people] without my [our] coach's guidance and life lessons she teaches us daily."