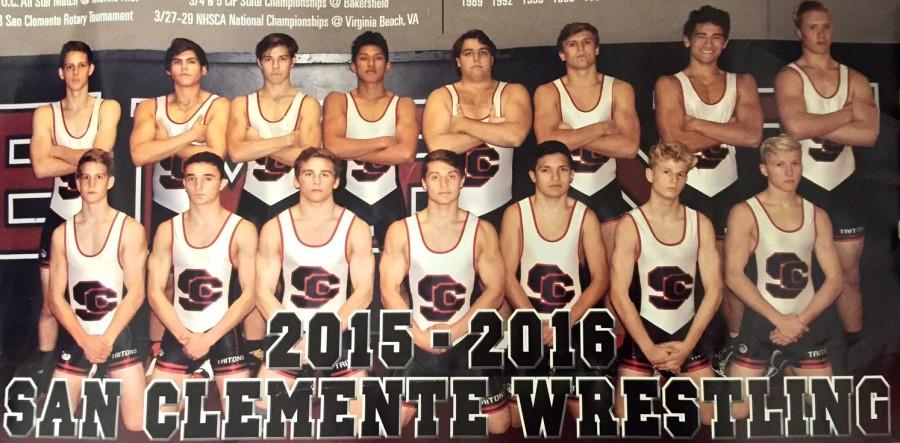 By, Sara Barnes | Student Life Editor   &   Ily Macpherson | Sports Editor
In the past two weeks, the San Clemente High Wrestling team has taken home multiple victories and is preparing for more to come. Remaining League Champions for the fifteenth time, the team is now ranked fifth in Orange County. After an alumni tournament on January 26th and another qualifying tournament this past weekend, the boys are on the road towards CIF.
With wrestlers in thirteen weight classes ranging from 106 to 285 pounds, this team easily won two of their league matches, resulting in an overall count of nine wrestlers qualifying for CIF, and one alternate as well. The top two wrestlers on varsity are senior Tyler Meisinger and junior Kyle Marshall, placed eighth and sixteenth in the state, followed by junior Jimmy Klink, placed 26th in the state.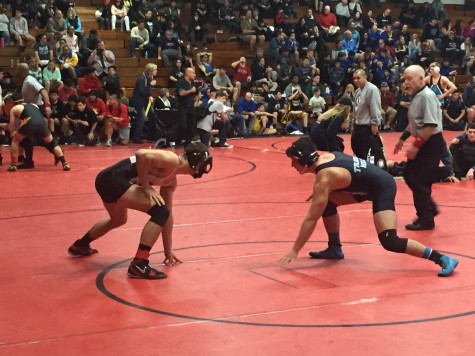 It has been a rewarding season for Triton Wrestling. At the varsity tournament this past Saturday, the San Clemente Wrestling team took first out of 29 teams, breaking a losing streak of nine years. Earlier in the season, the team placed third out of 77 teams in the Coast Classic Tournament in Santa Cruz, an impressive feat for a team of 15 wrestlers. The teams final league match, and alumni night, against rivals Dana Hills resulted in the Tritons reeling in a victory with a score of 66-9.
In the next few weeks leading up to the CIF championships- taking place on Friday February 19th- these boys will be training and preparing for victory, hoping to continue their winning streak.
"In CIF, I hope to win obviously and display my dominance amongst other teenage boys, but I also just want to be sure to finish out the year as strong as I can," said Marshall (11). As senior Sebastian "Sea Bass" Beltran noted, "if my opponent puts his finger in the cage, he's going to get bit." Using this same aggressive technique, junior Austin Moore backed his fellow teammates calling for them to, "Put 'em in the coffin and take home that championship."
Leading the boys throughout their successful season and into their final matches at CIF, head coach Calentino believes that, "If we place six or seven guys in CIF championships, it would be a good finish to the season. We hope to send four kids through to state champions." The Triton Wrestling team will certainly be buckling down for the next two weeks as they train to keep their winning streak and finish out the 2015-2016 season as strong as possible.
Watch these men in tights in action at: