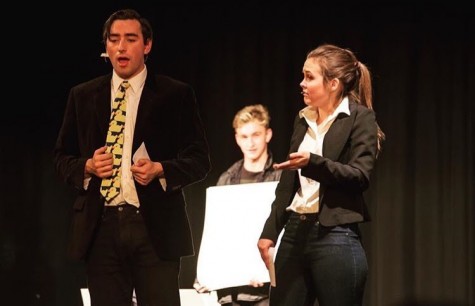 By: Brooke Herbes | Social Media Director
February 5th, 2016
Coffee House demonstrated our star students' pure musical and comedic talents. Act One presented all theatrical performances, from dance to skits to music performed by our very own SCHS students. Act Two was improv – time for the audience to literally, LOL.
Act One: one skit that mocked world leaders meeting each other, one dance, and multiple outstanding musical performances. One that really stood out was Annie Combs and Maia Gibson, where they both sang along while playing their original song, "Masquerade."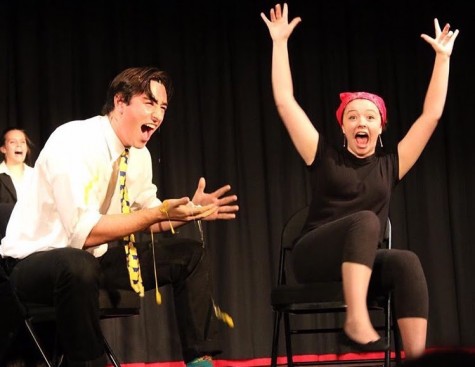 Act Two: time for some laughter. This was where the whole improv team played improv games and got the audience to participate. Prior to each game, Daniel Klevit (12), Delaney Marchant (11), or Sophia Racke (12) asked the audience for a location, a relationship between the cast involved, or a scenario for the cast. The comic relief, hosts Delaney Marchant and Daniel Klevit, were quick and witty, keeping us entertained with their relatable stories and classic jokes. The hosts would keep the audience entertained while switching scenes by playing games such as egg roulette.
I asked Anh-Vy Pham (11) from the audience what she thought out of the show. She raved, "I enjoyed the music, and all of the performers were really good. My favorite part though was the improv. Everyone was laughing hysterically."
The improv team got the audience involved in the world of the performers through the Location and Relationship. One of the major parts of the improv that really stood out was Sabrina Swarthout and Griffin O'Connor's skit. Sabrina was the sassy waitress while Griffin was the confused customer, and this all took place at an Olive Garden.  
The Drama Club and Class did an outstanding job making the audience cry with the music in Act One, and cry laughing during Act 2.  Audience member Katie Terkoski (11) highly recommended Coffee House, declaring,"Everybody must go; they will love it."