By: Chloe Rudnicki | Opinion Editor
February 18th, 2016
Renowned for a bustling downtown filled with phenomenal restaurants, San Clemente offers a variety of mouthwatering desserts that exercise dominion over even the most timid sweet tooth. Following an exquisite round of taste-testing this author massively enjoyed, it was ruled that Fratello's, South of Nick's, and Nick's are home to some of the most decadent desserts the Spanish Village by the Sea has to offer. Whether one is searching merely for a rich treat to overwhelm a midday craving, or a sweet delicacy to complement a dinner out on the town, these treats prove to be some of the most tantalizing.
Fratello's: Chocolate Wipe Out Cake ($5.50)
638 Camino De Los Mares #200, San Clemente, CA 92673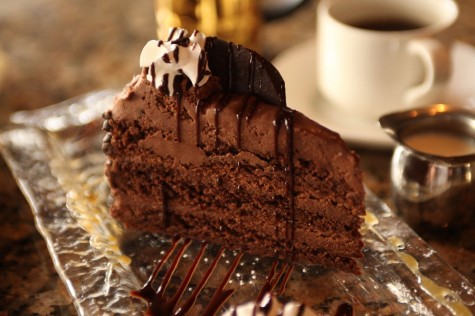 Priced at an affordable $5.50, this scrumptious cake boasts an exquisite blend of pure chocolatey flavor and rich texture that dexterously walks the thin line between lively flavor and sugar dilution. The result is a cake that remains true to its name without overpowering its subtle variations in cacao flavors with an overindulgence in sugary undertones capable of derailing such chocolate-reliant delicacies. Besides the cake itself, the chocolate frosting also pleases, with it effortlessly hugging the surface of the cake, creating a smooth blend of flavor in which each consistency complements the other. The Chocolate Wipe-Out, while filling, qualifies as a balanced dessert still gifted with a vibrant flavor that ignites the taste buds and makes any chocolate lover croon. Says sophomore Chloe Patterson, "it's a favorite of mine."
South of Nick's: Mexican Chocolate Tart ($5.00)
110 N El Camino Real, San Clemente, CA 92672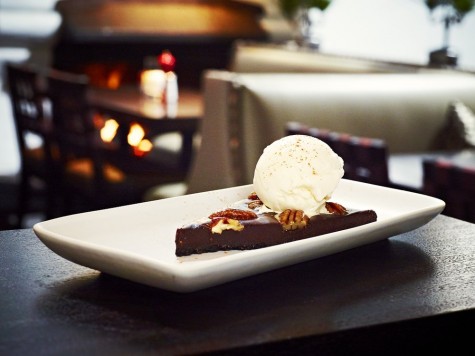 South of Nick's, while undoubtedly more revered for succulent Mexican food with eye-popping color and a punch of spice, is home to a delectable treat consistently overshadowed by its big brother, the butter cake (which also made the list).  The Mexican Chocolate Tart boasts a subtly tangy chocolate filling with airtight consistency and several pecans visibly drowning in a sea of piquant cocoa flavor, offering the creamy filling a delightful crunch. The heavy concoction is firmly cradled by a crumbly crust reminiscent of a graham cracker crust, albeit with an unquestionably chocolate kick. Soaked in a bath of creamy vanilla ice cream, this treat blends a faintly sharp chocolate with the gentle vanilla flavor  to create a dessert that, while heavy, treats the taste buds to new flavor that avoids a generic chocolate's taste. The texture, while thick, is appealing in its compact creaminess. The dessert overall shares many parallels with the  chocolate pie. The apparent freshness of the ingredients and the understated yet tangible presence of spice puts a twist on a dessert classic, earning it a spot on this chocolate dominated list. Sophomore Ariana Winsten expressed unbridled enthusiasm for the treat, remarking that "I really want to try it sometime."
Nick's: Warm Butter Cake- $5.00
213 Avenida Del Mar, San Clemente, CA 92672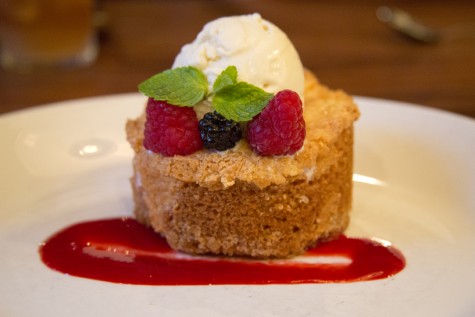 Famous throughout San Clemente for its profound flavor and the warm, soothing feeling it evokes upon savored consumption, Nick's Warm Butter Cake is unquestionably the best dessert the town has to offer. Ornamented with fresh strawberry, blackberry, raspberry, and a mint garnish, the dessert offers the eye an appealing pop of color even before the soft yellow batter is revealed by the fork's shameless burying of itself into the delicacy. The raspberry drizzle (or compote) provides the cake, whose identity largely lies in its wholesome vanilla flavoring, a sweet punch that complements the deep smoothness of the batter's flavor. Overall, the cake is defined by its fresh taste, the quality of its ingredients, and the simple artistry of this presentation. The exploitation of a universally adored flavor in a intricately crafted cake is bound to resonate among sweet tooths anywhere, and that has certainly been the case with this local sweetheart.
These featured desserts only scratch the surface of the sugary jewels hidden among the city's various reputable eateries; while these are some of the best known, they are only a starting point for a deeper exploration of San Clemente's prolific treats.
Happy finding, and happy eating!