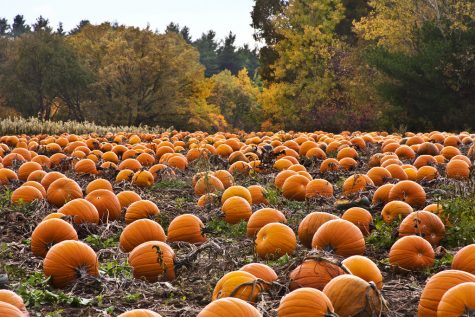 By: Stephanie Diaz |Photographer/Writer   &   Victor Mendoza | Writer
October 20, 2016
It's that time of year again where the nights are filled with terror and fright. Everyone is looking forward to carving pumpkins and decorating their house, but most people also look forward to going out and spending time with their families. For those looking for a fun environment to take younger children, the pumpkin patch is the place to go.
Pumpkin patches are in several locations such as Laguna Hills (24100 Laguna Hills Mall, Laguna Hills, CA 92653), Oceanside (2205 Vista Way Oceanside, CA 92054), and Irvine (5380 3/4 University Dr, Irvine, CA 92612). The patches are open on Monday-Thursday from 11am-8:30pm and on Friday-Sunday from 10am-10pm. They are a great way for kids and adults alike to have a great time. Tickets vary depending on the amount you plan to buy. 1 ticket costs $1.20, 25 tickets cost $28.50, and 50 tickets costs $48.50-each ride/game require a minimum of 3 tickets.
At the patches, there are haystacks, funnel cakes, rides, and–of course–pumpkins. Not only can people search for the perfect pumpkin, but they also have several games and even an animal petting zone. Everyone has their own opinions of course. Just this week we interviewed two of our fellow peers.  Hailey Alvarez who mentioned that "the pumpkin patch is a great form of entertainment for families." We were surprised that as a 17  year old, going to the Pumpkin patch was very entertaining for her.
Brian Ramirez another person whom we interviewed said "It was a great way to go out with my family and for my younger brothers to have fun. Their Funnel Cake is delicious!" Pumpkin Patches come only once a year and they help create memories that will stay within the family forever.
Children get to go on rides such as the traditional Merry-Go-Round, a train that cruises around the entire patch, and a slide. Along with rides for children, they have several game booths that entertain both children and parents. Everyone tries to win the grand prize which can be stuffed teddy bears, goldfishes, and much more. While pumpkin patches are usually for small children, there are a variety of activities for anyone who wants to go out with their families and have fun!