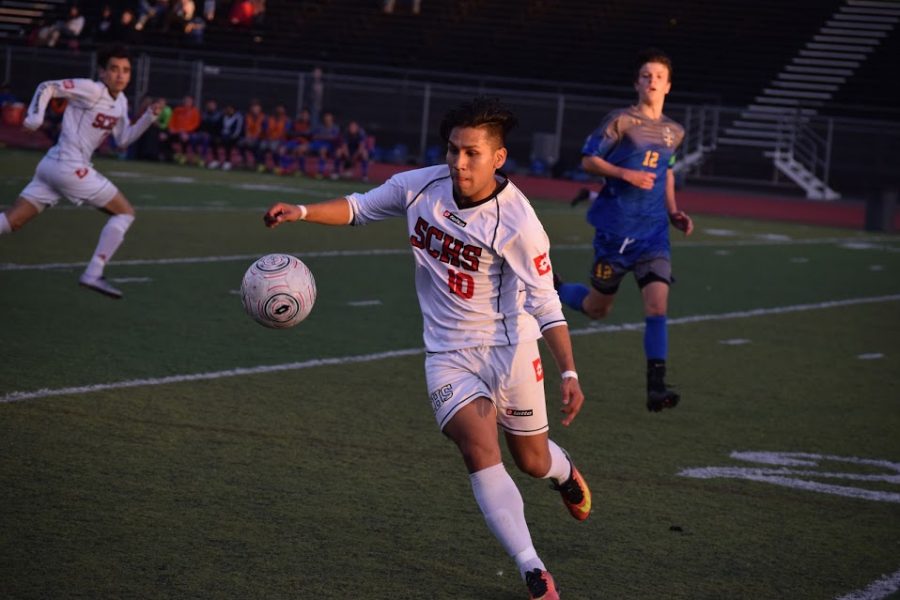 By: Peyton Lee | Student Life Editor
February 8, 2017
As the San Clemente High School boys soccer team concludes their 2016-17 regular season play, they look forward to a CIF berth as they head off to Fullerton, CA to play Sunny Hills at 3 p.m. on February 17.

With a league record of 3-3-2 and an overall record of 11-6-6, San Clemente's 2-0 loss to El Toro on February 3 sent the Tritons into a must-win mindset in their last two games against Aliso Niguel.
On February 4, San Clemente was able to come back from behind with a goal from sophomore Blake Bowen to tie Aliso Niguel at 2-2. In a rematch on February 7, the Tritons were able to redeem themselves with an outstanding 5-1 victory, gaining enough points to place them in this nail-biting situation.
On Thursday, February 9, the Tritons was supporting San Juan Hills in their matchup against Aliso Niguel. With a Stallion victory, the Tritons were able to advance in the CIF playoffs. SJHHS came through, beating the Wolverines 4-3.
As an individual, junior Andrew Burror felt as though he has had a successful season so far, as they start a playoff run. Burror is a first-year varsity player, but he was able to prove that he was up to the task in his "varsity debut against Dana, getting a crucial assist to win" the game, which he claims to be the highlight of his season up to this point. He is hoping to get a CIF Championship this year and carry that momentum into the 2017-18 season.
Over winter break, the team represented San Clemente in the Southern California High School Classic in Oceanside. They were able to advance to the finals and beat Desert Mirage in the finals to win the tournament.
Although they were able to obtain this early victory, it was just the beginning as the Tritons improved from there. With seven league goals, senior Kaleb Shirmacher became San Clemente's leading goal scorer and second highest in South Coast League, playing a major role this season. He believes that at first, it seemed the team was "just playing to play, but as time progressed towards the end of league, we began to leave everything we had on the field." The players were able to learn their teammates' playing style and work toward a common goal "with our hearts and a desire that pushed our work rate and skill to a whole new level, making up play incredible offense and defense" according to Shirmacher.
This season had a few bumps, but the San Clemente boys soccer team was able to prove successful with their eleven exciting wins. Let's join the team in rooting for the Tritons in their matchup against Sunny Hills so that they can have a chance at gaining yet another CIF Championship.
The boys are not quite ready for the final whistle of their season.