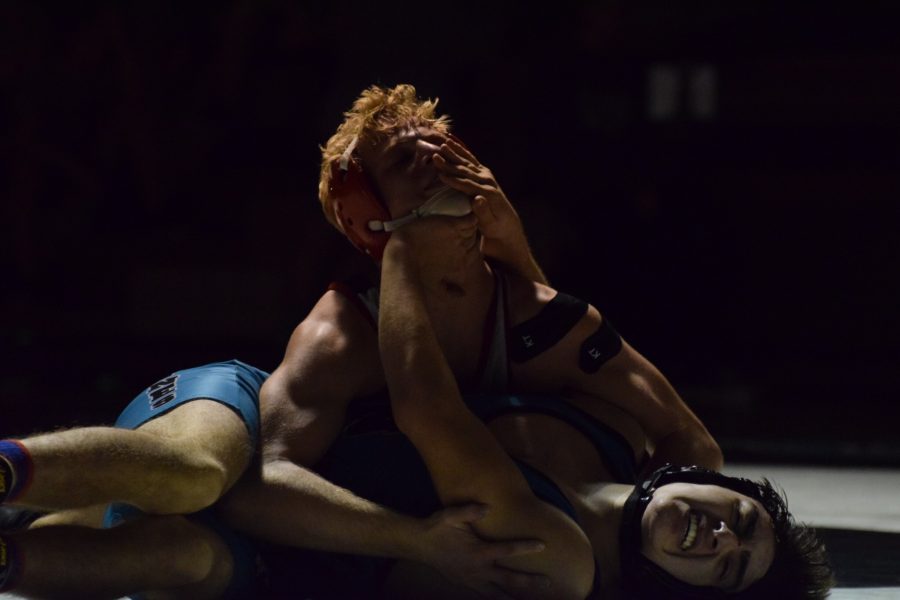 By: Ian Warner | Writer
February 8, 2017
As the regular season of wrestling comes to an end and CIF playoffs is on the horizon, many of our San Clemente High School wrestlers have set their hopes high. They all have been working hard to get a CIF championship under their belts, spending countless hours practicing and conditioning, eyeing that February 17th match date. 
One of the many hopeful Tritons is junior Josh Tabb who has become a leader in the eyes of many of his fellow wrestlers, both younger and older. I interviewed Josh about how he feels this last season went and what makes wrestling stand out to him.
When did you start wrestling and what made you want to wrestle? 
I started wrestling in 7th grade and I saw my little brother wrestling and wanted to try it too.
Is there any wrestler who you based your style off of or did you make your own? 
I based my style off of a wrestler named Kaid Brock who lives in Oklahoma.
What is the most memorable moment from your wrestling career?
Definitely placing in state when I was in middle school.
How have you as well as the rest of the team been performing this season?
Pretty well, we're a young team so we're growing a lot but next year we should be pretty legit.
Next year as a senior what are your plans for the season?
I want to be a state champion and hope to lead my team to a CIF championship.
And Josh wasn't hoping this based off of nothing. When his coaches and fellow teammates were asked about him, they had nothing but praise for his work and mentality of always wanting to improve.
Did you expect Josh to become as good of a wrestler as he is now when he was a freshman? (Head coach Mr. Calentino)
I did a little bit because he came in with an obvious true desire to improve. He always stayed late and anything in the off season that was there to help him improve he took advantage of.
Compared to the other wrestlers on the team where does he rank? (Mr. Calentino)
He is a leader in the fact that he leads by example with his work ethic which benefits the whole program mostly the younger kids giving them a role model to look up too.
Are there any wrestlers who remind you of Josh? (Assistant coach Mr. Luciani)
Tyler Meisinger is the one who Josh is kind of using as a template, he was always using summer camps and just with a student of the sport mentality. He's a hard person to live up to as he placed third in the state so I don't put that pressure on Josh to be Tyler but he has the same mentality which is what is needed in a wrestler.
As one of San Clemente's best wrestlers what is your opinion on Josh as a wrestler? (teammate Kyle Marshall)
He's a great teammate and really stepped up as a leader this year. Next year he is going to improve even more and hopefully accomplish his goals.