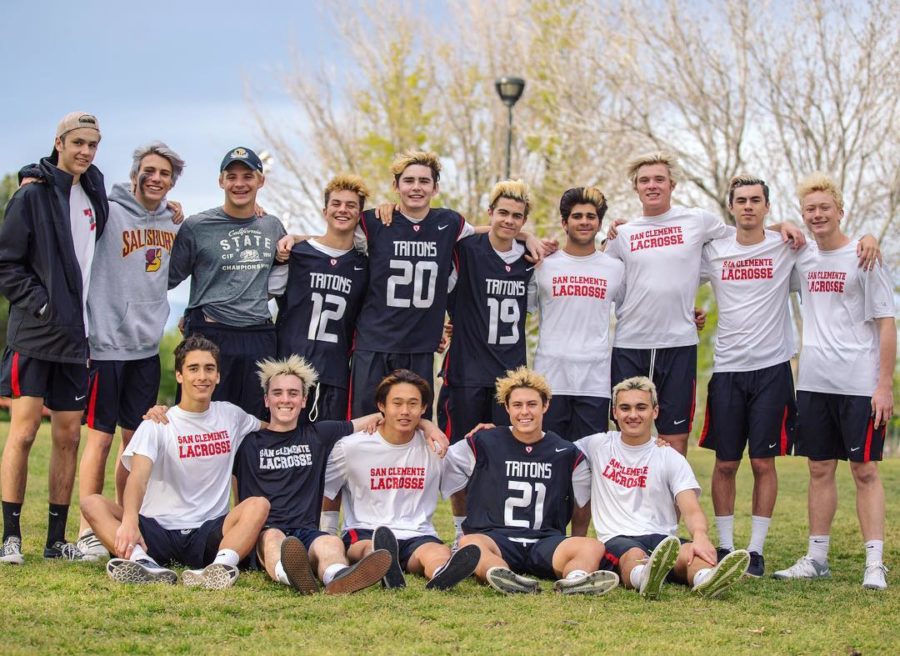 By: Max Jonnaert | Sports Editor
May 1, 2017
The San Clemente High School boys' lacrosse team took home the win on senior night after a definitive 19-9 victory over Trabuco Hills, and by doing so they also claimed sole possession of a league title.
The suiting victory from last Friday's game opened with a highlight-reel, behind the back shot by Nick Lemus late in the first quarter. The Tritons lead Trabuco by the end of the first 4-2. Trabuco began to pick up their pace, responding with five goals in the second quarter with only three from San Clemente, effectively tying the game going into the second half.
But in typical team fashion, the Tritons stormed out into the second half boasting 11 goals in the third quarter, to only one from Trabuco. San Clemente began fielding their second and third line sets of players, leading them to a dominate 19-9 finish for the Tritons. Every senior saw a significant amount of playing time.
"Even though we still have playoffs ahead of us, this night really put the lack of time left into perspective," senior defensemen Hunter Wandrocke said. "I'm really going to miss these guys and being able to come out here with them every week."
Senior night for the lacrosse team recognized and celebrated the high school careers of players: Austin Nix, Sander Lush, Riley Paredes, Jack Regalado, David Howren, Hunter Wandrocke, Lucas Schwartz, Harrison Webb, Josh Sanchez, Nathan Shepered, Jake Steele, Eric Zoe, Nick Lemus, Garrett Silverman, Matt Keany, Brandon Wilson, Jack Szabo, and Omeed Farahadi.
Banners of each player's face hung along the fences of stadium. Players individually were walked out into a tunnel of lacrosse sticks with their families, while a list of their accomplishments, future college aspirations, and inspiring quote were read out to the audience.
"Remember the moment you strap your helmet and lace your shoes – carry that game mentality and competitive atmosphere with you and prepare to take on any opponent that stands in your way. On the field and off the field, that is," Coach Hap noted when asked on his advice for the graduating class.
But this night meant to commemorate them was much more than just a celebration of their final year on the team: it was honoring the legacy that class of 2017 left on the SCHS lacrosse program. They were the first of their breed, a group of kids who pioneered through a newly-developed youth program that resulted in a dominate entrance into their high school careers. Many of them joined the ranks of varsity as early as their freshmen year.
From the powerhouses and star players that defined the team's offense, like Nick Lemus, Matt Keany, David Howren, and Brandon Wilson, to the brick wall defense formed by the Omeed Farahadi, Garret Silverman, and Harrison Webb, this team's talent pool was limitless. The fast pace set at the midfield by Austin Nix, Riley Paredes, Eric Zoe, and Sander Lush proved to be an instrumental force to be reckoned with for any team the Tritons faced.
Due to the high standards upheld by these players, they became a beacon of talent that attracted skilled transfers like Josh Sanchez and Hunter Wandrocke. The grinding gear and work horse mentality promoted by the team shaped players who were introduced to the sport in high school like Jack Regalado and Nathan Sheperd into powerful starters for the team. Off the field,  they always stood behind teammate and senior Jack Szabo through his battle against cancer.
Although it is a bittersweet ending, whether through the progression of their college careers or appearances in alumni games, the legacy of this year's senior is one that will last in the program's history forever. The next generation of lacrosse players to come to this school will be revered to the standards set by these young men. They forever made an impact on the Orange County lacrosse scene.
To see the boys in action as they make their final run at CIF glory, come support your seniors as they take on Los Alamitos in their first playoff game tonight at 7:30.