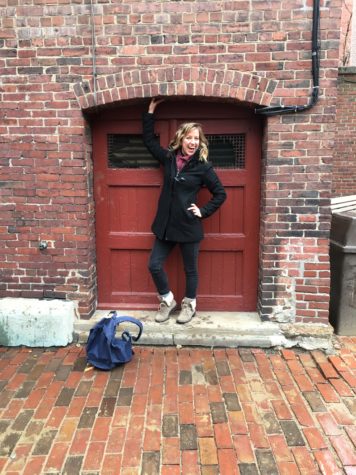 By: Jahfreen Alam | News Editor
May 26th, 2017
As the newest choral director of San Clemente High School's award-winning choirs, Ms. Kemble definitely had to meet high expectations- and she far exceeded them. As a strong choral advocate as well as a proponent for musical literacy, Ms. Kemble came with a goal of training students to become true musicians and have fun while doing it.
This was met with an outstanding amount of achievements for the five choral ensembles this year, with awards including the top two scores of excellent and superior for all of the choirs at festivals. Moreover, the Madrigals and A Cappella choruses received exceptional recognition for their skills at their Spring tour in Boston this year. Madrigals won a Gold second in their category; A Cappella won a Gold First and Best Choir overall; both choirs together gained a Sweepstakes Award, meaning they accumulated the most points overall in comparison to the other choral groups.
With a full year, Ms. Kemble achieved a tremendous amount.
In order to learn more about Ms. Kemble's as both a musician and an educator, I sat down with her during one of her lunches, eager for her insight.
What was your biggest challenge settling into SCHS? Is there anything here that differs from the other schools you've taught at?
Probably just how big it is. I worked at Laguna Hills which is less than half the size of this school, so it doesn't feel as intimate as I'm used to. And the number of students is pretty overwhelming on top of being in my first year of grad school and my first year here. San Clemente is huge, the school is huge. But the awesome thing is that there's so much community support; we're in a bubble, and everyone really has this #OneTownOneTeam mentality, so everyone is connected somehow. The churches will let us no doubt let us perform in their venue, and randomly donate money to our program. This community is just extremely supportive of their high school, and there just wasn't a heavy community involvement in the last high schools I've taught at. I'm very much looking forward to the day I'm not in grad school and just be able to invest back into the community.
Where have you studied and where are you currently studying?
I did my undergrad at University of Redlands and I studied abroad at the Kodaly Institute at Kecskemet, Hungary for a semester. I graduated, and now I'm getting my master's degree in Music at Cal State Fullerton.
How do you manage a full-time job teaching five choral groups and be a part of your own ensemble while also being a full-time graduate student?
Music has definitely felt like a chore this year, which can be a downside of making your hobby your job. But on the flip side, there have been times this year, both in grad school life and here with our ensemble, where you just have these amazing musical moments where you achieve a lot. Boston was one of those moments and our Pops concert was too; you're like this is why– this is why I do this job. When you recognize the relationships you're building with students and the difference you're making in students' lives, it makes all the sacrifice and all of the burn-out that you feel totally worth it. So, you have to keep the end goal in mind and remind yourself why you got into this mess of doing so much all at the same time. The end goal is to make students better, to better yourself, and to make the world a better place through music.
What was your favorite memory from Boston?
That chocolate place we went to for Senior Night, Max Brenner, was seriously amazing. Walking in and having a syringe of liquid chocolate on the table was unbelievable. Dinner was delicious and all of the dessert on top of it? I think I was in a food coma for the next 24 hours. And then, winning, winning all of those awards was great. Getting bragged on by the clinician was pretty nice too, it was a very validating moment for me.
What's a song that always gets stuck in your head?
I have to say that I have so much music swimming through my head that not one particular song has gotten stuck for a long time. But. throughout this semester, definitely "We Go Together" from Grease.
What's your favorite kind of music?
Well, I'm a huge fan of coffee shop music. You know, like Regina Spektor or Sara Bareilles. John Mayer is also a genius songwriter. I'd like anything that you'd find on a sort of coffee shop playlist.
When did you realize that music was your passion and why?
I've always loved it. I started piano when I was in kindergarten, and I took to it like a fish to water. That piano teacher I had, Ms. Reid, just laid that foundation for me and then music was my favorite thing to do. Once a week I went to piano lessons and it was emotionally cathartic for me too. If I was angry I would just bang something out on the piano, and then I'd feel better. Originally I didn't want to turn my hobby into my job because I didn't want to ruin it, and I thought I wanted to go to medical school at first.  But, I just realized, I didn't want to do that with my life even though I enjoyed it so much. I watched my mom, a chief nursing officer, be driven into the ground by it. On top of that, my high school choir teacher went on maternity leave the second half of my junior year, and then she moved to Illinois my senior year. I was choir president, so I got to step up and teach the class. It was so fun! And I thought, "You know what? I think I really want to study music. I think I want to be a choir teacher." Personally, I think it's the best job in the world, and there's so much I get out of it with my students that it's completely worth it to me. I think to myself, if I went to medical school, then I'd be making bank, but I wouldn't be happy.
Outside of choir and vocal arts, what do you consider to be your hobby?
Cooking. Everything. I will make everything from scratch. When I'm making Mediterranean food, I'll make my own tzatziki sauce. I'll make my own pasta sauce. And I think I make the best ribs, ever, on the planet. And I'll spend hours meal prepping on Sundays. Anything in the kitchen is just fun!
If you could describe this past year in three words, what would they be?
Uh, busy for sure. I think accomplishment would be one on a personal level. I got a 4.0 both semesters in grad school (crazy, right?), and the program did so well this year. I would say the last one would be fulfilling, because when you look back on all of it, it's such a huge sense of satisfaction you feel when you see that you did a lot and get recognized for it.
Thank you, Ms. Kemble for all of your hard work, passion, and devotion this year. The vocal arts program has a bright future ahead of it. Just as senior Colin Davis has said, "Long live the Kemblarchy!"