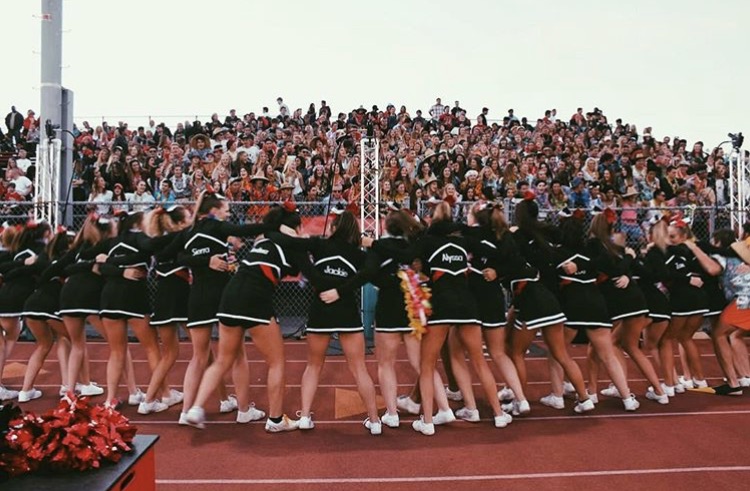 By: Makena Spencer | Writer
September 12, 2017
When you think of a typical cheerleader you think of popularity, prep, and pom poms; however, taking a deeper look into the life of Jaz Riggs, senior San Clemente High School cheerleader, we are able to discover the effect cheer has on many people. Always showing her dedication at sporting events and wearing her uniform with pride, Jaz offered some insight on the ways cheer has made her become the energetic and positive girl she is today.
How many years have you done cheer with and not with the high school?
I have done cheer for eight years and I have done four of those years without the high school. They were competitive cheer with a club team.
How well do all the cheerleaders get along?
Each team is different and has a wide variety of individuals who either click together or butt heads, but in the end we become a family, dysfunctional and all. I mean obviously we have our ups and downs but overall we get along really well.
What's your favorite part about high school cheerleading?
Probably engaging with the crowd and seeing all their faces. Getting them pumped up gets me pumped up and then just being able to cheer on my friends who are on the field from the sidelines is just really cool.
Is it difficult to balance cheer, school, work, and a social life?
I think it's very difficult to balance them out and at times I feel like it all just consumes my life, but I'm the type of person who enjoys staying busy. When I just look at all of it in fragments and not swallowing it as a whole it helps me stay focused on what I need to be doing right then.
What is your least favorite part about cheer? 
My least favorite part is that I never really got the typical high school experience I feel like. I have always been doing something or the community or high school, which is great, but I never got to experience loud crowd and just that kind of view point at football games.
In your opinion, does cheer live up to its stereotype? 
I think cheer lives up to some certain stereotypes but not all of them. The image we grew up with is that all cheerleaders are slutty or rude, but the people in cheer are some o the most down to earth girls I have ever met. However, there are some girls who have lived up to a stereotype of preppy, out there cheerleader, which is awesome and totally works for them, but I don't think we as a whole has lived up to those stereotypes made up in movies and such.
Check out the cheerleaders on Friday night at 7:00 p.m. at the football game!