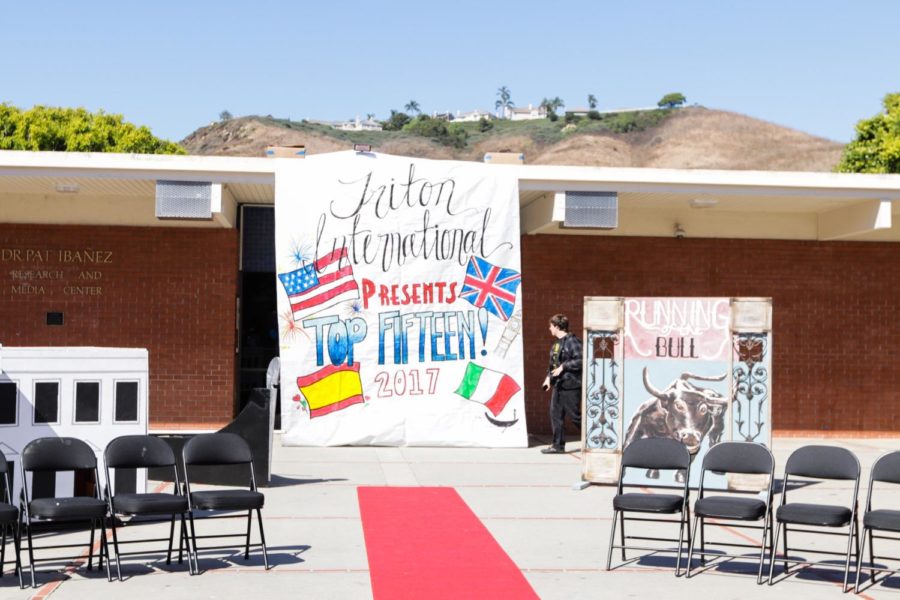 By: Renee Malone | Writer  &  Lauren Stewart | Writer and Photographer
October 25, 2017
As the class of 2018 settles into their new spot as seniors, homecoming festivities are finally here to celebrate their last year on the SCHS campus. With the excitement of the upcoming football game, the Homecoming Parade and Dance, the weeks leading up to October 27 and 28 could not be more filled with fun activities and a surplus of school spirit. One of the most popular assemblies to watch is the announcement of the Top 15 students for homecoming court, which happens two weeks before homecoming and draws in attention from the whole school.
Homecoming, the first dance of the school year, honors seniors by showcasing them as a "homecoming court" each year. Students vote to elect their Top 15 of each gender, and those with the majority of votes make up the court. Eventually, 15 becomes 5, and at the homecoming game, the Homecoming King and Queen are revealed to the school for all to see.
Every year, ASB picks out themes for each class as a way to help promote school spirit with dress up days and clash of the classes. This year's theme revolves around different countries; seniors were given America, juniors given Great Britain, sophomores given Spain, and freshmen given Italy. Senior Tanlee Gaspar likes the homecoming themes, "especially… that the seniors are America because everyone is really into dress up days."
On Monday, October 16, students piled into the area out front of the library to watch the announcements for the fifteen boys that were voted to be on Homecoming court. The space was decorated with ribbons, posters, and hand-made props that corresponded to each class' country, all surrounding the red carpet. Eager groups of seniors volunteered to dress up and come up with the most creative and entertaining way to announce to each boy that they were chosen to be on Top 15. Costumes included the Spice girls, Stars and Stripes, and Spanish influenced accessories. Announcers were given small poems describing the candidate, and then would call them up and give them a rose.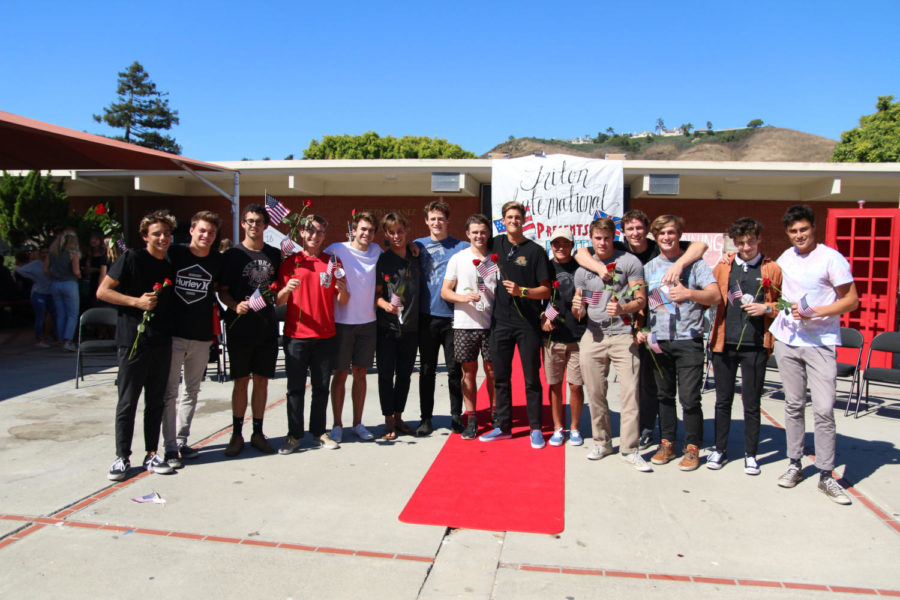 The boys who were voted onto Top 15 this year were: Noah Hohenester, Max Bettinelli, Chase Birdman, Adam Schrab, Trey Russell, Drake Abrahamsson, Connor Mateer, Jackson Hinkle, Bryce Crane, Jake Carter, Jack Shippy, Chris Kane, Riley Croft, Nabil Shull, Noah Atwood (left to right in photograph).
After being given his rose, Adam Schrab described his excitement for this year's dance, as he believes "you have to save the best for last, and this year won't be any exception."
On Tuesday, October 17, the school waited to be shown their Top 15 girls. Like with the boys' announcement, the lunch area was decorated for the special occasion, with music blasting as the girls came down the red carpet one by one to accept their rose. Spirited seniors dressed up to announce each girl, leaving the audience waiting as they teased them with a special poem about each top 15 girl.
This year, the class of 18 girls Homecoming court includes (from left to right), Macy Gerken, Aspen Garrett, Zoe Billy, Tanlee Gaspar, Jasmine Riggs, Jessica De Collibus, Kelsey Murphy, Lauren Amigleo, London Irwin, Hailey Reed, Molly Engel, Grace Krantz, Sidney Giles, Emma Hartanov, and Claire Vlasic.
Emma Hartanov, smiling for the camera with some of her best girlfriends by her side, said that, as much as she can't wait for the dance, she is "most looking forward to cheering with [her] sister at the game on Friday."
Get ready San Clemente High Students, Homecoming festivities are coming up fast and won't wait! Apart from the exciting Top 15 announcement, the homecoming parade, game, and dance, are approaching quickly, so get your school spirit ready for an exciting weekend at San Clemente High School.