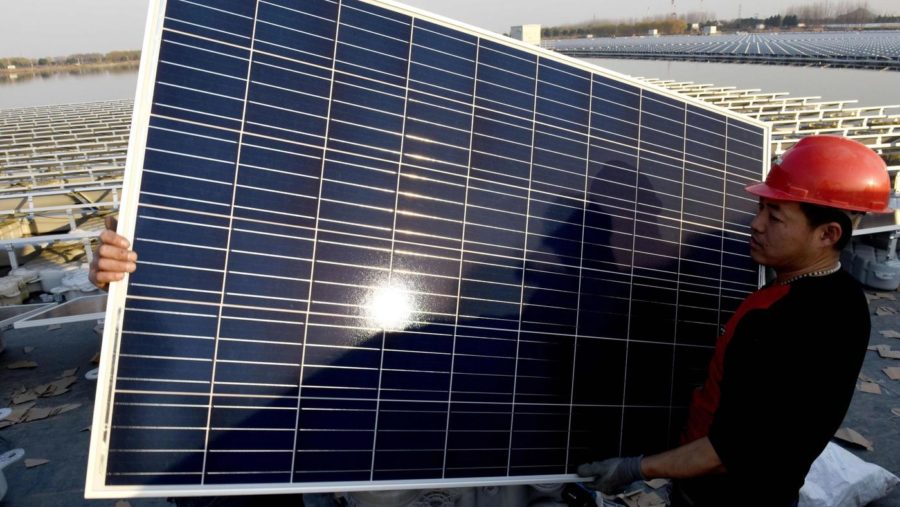 By: Lucy Terry | Student Life Editor
February 2, 2018
Early last week President Trump announced that there would be a 30% tariff applied to solar panels and other solar equipment imported from around the world. This follows the announcement by the United States International Trade Commission that the imports of solar panels from foreign countries has harmed domestic solar panel industries and companies. True to his campaign promise of bringing manufacturing back to the United States, this is the first major trade decision by the Trump administration of 2018. This bold decision by the administration is already predicted to have several drastic impacts on clean energy companies and growth of solar panels.
Although the president has claimed that the solar panel tariff will create more jobs within the country, many experts believe this to be false. Solar panel manufacturers across the country predict they'll have to lay off hundreds, even thousands, of workers. Projects like clean energy are vulnerable to price fluctuations due to their large scale. SunPower, the second largest solar company in the nation, gauges their figures in the range of around ten thousand. Overall, the Solar Energy Industries Association, a non-profit trade organization dedicated to clean energy, estimates that around 23,000 jobs will be lost this year due to the tariff.
Many experts fear a consequential decline in revenue as well. Solar energy has started to become more prevalent, especially within California, thanks to tax credits and dropping prices. Yet because it is a relatively new form of energy and is still a growing industry, any increase in prices can be detrimental to its development. Consumers are already somewhat hesitant enough as it is to invest in solar panels. Industry experts predict that rising prices due to the tariffs will reduce consumer demand and therefore decrease overall revenue. Trump's attempts to support domestic production by penalizing foreign imports may have other unintended and unfortunate consequences. If other countries respond to the tariffs by instituting their own trade barriers against our solar manufacturing, this could make our domestic solar industry less competitive globally.
When asked her thoughts on the damaging socioeconomic influence the tariff will have nationally, and possibly internationally, Bella Guarascio, a junior at SCHS, remarked, "I really don't think it's worth the cost of so many jobs, and I think we need to hold onto anything improving the health of our planet. This tariff just regresses the state of our country."
Not only might these tariffs produce adverse impacts on jobs and revenue, but they could  mean a huge step backwards for clean energy and the environment. In the implementation of this tariff, the Trump administration ignores the warnings of climate change and global warming. As the Anthropocene era (the planet's era dominated by human activity) continues to unfold – with greenhouse gases like carbon dioxide and methane being released from fossil fuels, livestock, and factories – there is a intensifying need for the renewable energy that solar panels provide. This tariff threatens to inhibit widespread deployment of this clean technology as we wallow ever deeper in the toxic Anthropocene we have cultivated.
All of this raises a question about a solar project very close to home, a plan to install solar panels for six high schools in the Capistrano Unified School District, including SCHS. Luckily, the tariff is expected to have little impact on the proposed project.  Jackson Hinkle, a member of the CUSD Solar team, reports that, "The district will be working with REC Solar to source the panels either domestically, to avoid the tariff, or abroad depending upon final pricing, but either way they will be moving forward and be on budget."
Trump's idea that this tariff will simply benefit the United States fails to account for many complicated, negative side-effects predicted by expert economists. Not only are the livelihoods of American workers at stake, but this tariff is a step in the wrong direction in terms of developing clean energy. The nation may end up paying a steep price.