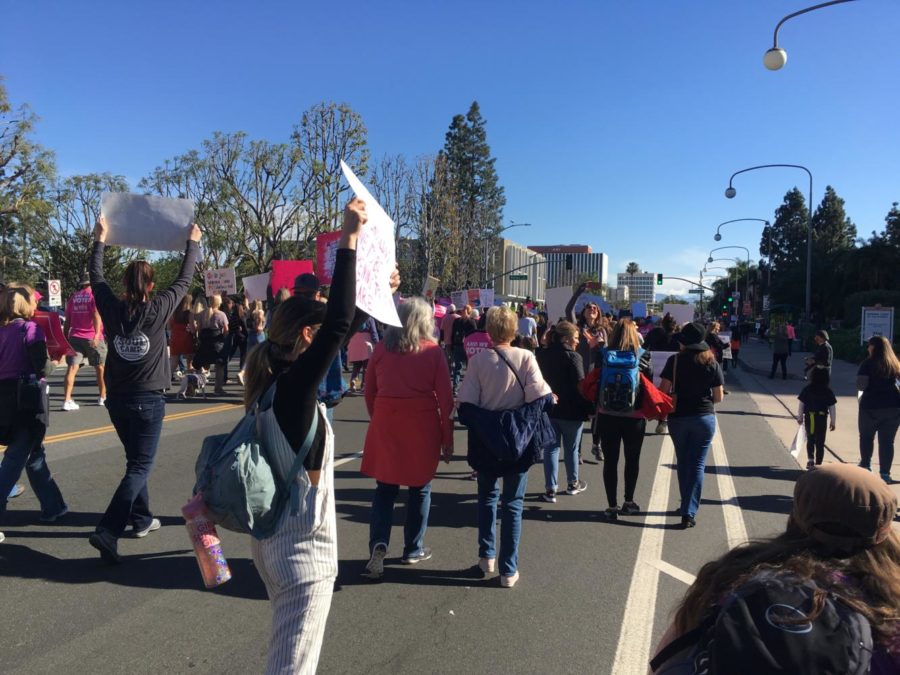 By: Flynn Lloyd | News Editor
February 6, 2018
On January 20th, 2018, people from various communities marched, for the second year in a row, to protest women's rights in today's society. Although it's disheartening that in our "progressive" culture, women still need to protest for fundamental rights and equality, the sheer amount of people from all over California who marched gives me hope for our future.
With the current issues regarding women within the media, including sexual assault, unequal pay, and cultural gender roles, those who assume women are on an equal social platform are ignoring the underlying tensions still present. The Women's March allows women, and supporters of women, to fight for equal rights in a patriarchal society with a creative and outspoken outlet. Although there has been reform throughout American history, the amount of ignorance and obliviousness to the inequalities still presiding proves our current social atmosphere is even more threatening to equality.
The Women's March that spread across areas in Southern California, brings awareness to an issue that provokes discomfort. The (sadly) controversial issue of fundamental rights is in your face and prominent with outcrys like the Women's March. I reached out to students from San Clemente High School who marched in either Los Angeles or Santa Ana to see how students in the next generation view social change and the current issues regarding women in today's society.
Why did you march in the Women's March this year?
Emily Eberhart "I marched in the Women's March this year in an effort to be a voice for the female struggle as well as to support and uplift many movements and subgroups that were also present, such as Black Lives Matter, the LGBT community, and those who fight against immigration bans – the voices of the oppressed have truly grown under Trump's controversial administration and I hope they continue to grow loud enough to evoke legislation change in the near future."
Gavin Kelleher " I went to the Women's March because I believe that through empowering women and showing solidarity we are creating a network of driven women, girls, boys, and men. I also went because in all honesty it's easy to become disheartened with all of the social issues we are currently facing and going to the march helped me gain confidence that there are really loving people in the world".
Carni Campbell "I marched at the LA women's march this year because I feel that the time is now for a movement to finally make women socially, politically, culturally, etc. accepted. The march embodies the empowerment that's gaining momentum day by day and participating in the march made me feel more capable and powerful."
What is the biggest issue facing women's rights today?
CC "The lack of representation especially in politics and leadership positions, makes it seem as if women are less capable of holding that job. Empowering women to achieve their goals and see that they are just as equal to men is what will be the stepping stone to creating change."
EE "It is hard to place female struggle under one simple issue, but one element of what we're fighting for is being brought to life through the Time's Up movement. I feel so empowered and inspired by all of the women stepping out as victims of sexual assault. I hope this movement can mold our society into one that is less opposed to female empowerment and more aimed toward justice and accountability for ALL."
GK "That's a hard one, one of the main issues I believe is the lack of inclusivity in this movement. Women's rights are humans rights, this means women of color, disabled women, girls, immigrant women, Muslim women, I think it's important to realize that not every woman has a uterus, not every woman fits into what the social standards define, yet this movement is about them too. I also believe people lack empathy, it's not just conservatives, liberals too. Women's right issues shouldn't just be on your agenda because it affects you, it should be on your agenda because it affects all women and men."
What was the overall atmosphere of the march?
EE "This is the second year I have participated in the Women's March and both times the atmosphere was nothing but positive. I didn't witness any violence or hatred as everyone was there in the shared goals of uplifting one another and raising their voices for more intersectional social equality."
GK "It was amazing! There were so many people old and young, holding hands, chanting, it was so sweet. I left feeling really loved and hopeful for our future."
CC "The march was full of energy and a sense of unity. There were 500,000 people there so our mark was definitely made on the city. We all had a certain anger and frustration that made for a more energetic atmosphere."
How effective do you think marches are in creating social change and in what way?
EE "Generally I think marches are the best way to partake in civil disobedience in order to inspire change. When marches are peaceful and productive and exude positivity in ways the Women's march has, they can empower those who feel oppressed and inspire witnesses to care more about our country's general well-being."
GK  "I think they are really great for bringing about awareness and showing activists how to get involved, they also help with bonding communities. These people shouldn't just march, they should be voting, advocating, and being an active part of the betterment for our country."
CC "The marches are extremely effective in starting the necessary conversation to create social and political change. The ability to have strangers march together under a common cause is unprecedented."
The Women's March provides people the opportunity to speak their mind and frustration in a loving and supporting atmosphere. For those facing oppression, marches offer a way to spark conversation toward progressive change. So I urge you, San Clemente students: march with your peers, family, and even strangers to promote equality in our society.