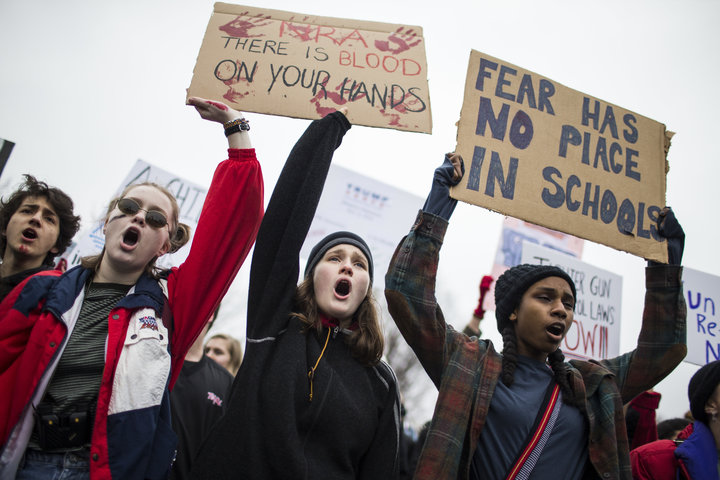 By: Gavin Kelleher-Marciello | Editor in Chief
March 6, 2018
On February 14th, 19-year-old Nikolas Cruz entered the Douglas High School campus and commited what would be remembered as one of the deadliest school shootings in world history. Seventeen students were killed and more than a dozen injured but in the immediate aftermath, survivors of the shooting took to the global stage with fierce exuberance to demand the enforcement of stricter gun regulation.
Cruz was suspended a year before the massacre from Douglas High. From 2016-17, Broward County Sheriffs were alerted to suspicion of Cruz wanting to conduct a school shooting, as they received various intel from community members that feared for their safety. In September of 2017, the FBI hotline received information of a Youtube user under the name of "nikolas cruz" wanting "to be a professional school shooter" and then again in January 2018, the FBI received another tip claiming Cruz had made serious death threats and threatened to shoot up a school.
Yet, the AR-15 used in this massacre was legally obtained. Cruz was not excluded from owning a weapon as he was never officially charged for any crimes.  
Since the Sandy Hook shooting (2012), there have been over 200 school shootings, sixteen of the 239 shootings are classified as mass shootings, which is when four or more people are shot. This overwhelming number resulted in 438 victims of gun violence. School shootings have become a vicious trend in America. On average, there have been about five school shootings each month, including cases that are not officially classified as mass shootings due to smaller death counts.
This terrifying frequency can be partially attributed to what is called a "copycat." In most cases, one shooting leads to another, the psychological response of a shooter is often triggered when the media covers a recent shooting. This leads to a deranged inspiration to follow in the step of other shooters, because of this the Sandy Hook shooting stands as a sparking point in what would become a gun epidemic, claiming American lives by the minute.
Unfortunately, as we see in the case of the most recent Florida shooting, these "copycats" are often able to legally purchase weapons such as an AR-15, despite obvious warning signs. These massacres may have been preventable with a system that actively enforced restrictions on people with extensive evidence of violent behavior. In an effort to reduce the accessibility to firearms there needs to be immediate reform. Someone with multiple accounts of behavioural reports should not have access to a firearm.
In response to the stagnant state of "thoughts and prayers" from politicians, the survivors of the shooting have embarked upon a nationwide demonstration called National School Walkout. On March 14th, for 17 minutes students across America will walk out of their classrooms gathering in solidarity. The purpose of the demonstration is aimed to demand congressional response to tighten restrictions on eligible gun owners.
In the midst of tragedy and exasperation, the clamoring voice of the youth has risen. Congregating in schools and communities around the country, American students have become the next wave of revolutionaries. In San Clemente, students have joined the movement and organized a San Clemente High School Walkout. We were able to talk to the students in charge of organizing the demonstration for insight on their perspective of this movement.
Why are you joining the Walk-Out on March 14th?
Lauren Stewart "I wanted to join and help organize the walkout because the consequences of our lack of recognition, responsibility, and control of guns has been costing us the ultimate price. It's terrifying to think that people fail to realize that it is a real problem that's happening more than we just see on the news, and that even then, the only real response is of condolences."
Flynn Lloyd "I'm joining the walkout because I think it's important to spark change in our community for issues in our government. A lot of kids are saying that the walkout shouldn't happen because a school walking out of class won't change gun laws, but the walkout is more to spread awareness and to show that there are more people who are angry with our country's lack of common sense gun control. I think it's important for teenagers, especially those who are close to voting age, to stand up for what they believe in and take a stance on current issues to make a better future government and make better reform. Personally I also believe that the walkout shows compassion for the victims of the shooting – that's important for communities across America to show, as our current President refuses to."
Jackson Hinkle "I am organizing the National School Walk-Out at San Clemente High School to protest Congress' inaction to do more than tweet thoughts and prayers in response to the gun violence plaguing our schools and neighborhoods. We need action. Specifically, we need action that does not involve arming more people with guns. We are organizing the walkout to demand Congress pass legislation to keep us safe from gun violence at our schools, on our streets, in our homes and places of worship."

What aspect are you most dedicated to on the issue of gun reform?
Lauren Stewart "I'm hoping this walkout will wake people up to the fact that, even if these shootings aren't happening in their local neighborhoods, it is just as real and could happen to them too. So hopefully this will spur us to take action towards gun control laws.
To be quite honest I don't know much about our current laws, or about what's effective/not effective around the world. The fact that people can choose to take innocent lives "just because" and with ease horrifies me enough to make me want to take part in making a change. I've never participated in any marches, walkouts, or movements, but when it comes to the unnecessary loss of innocent lives, old and young, I want to take a stand for it."
Flynn Lloyd "I am most dedicated to change in gun laws regarding the level of background checks and the age of which certain guns should be accessible. Honestly I would rather see a society without guns completely, but that's unrealistic so in my opinion our government needs to provide more in-depth background checks so that people who are irresponsible with guns can not access them. In no circumstance should the shooter have been able to purchase a military weapon and our government needs to address the ease in which people can receive a gun. While people suggest that teachers also receive guns as a level of protection, I think that instead the government needs to further regulate how guns are sold because if we increase the amount of guns it will only make things worse."

Jackson Hinkle "When it comes to the issue of reforming the current state of gun control, I am most passionate advocating for positive reforms that will make the entirety of society a safer place. We should not be comfortable applying an 18th century law to a 21st century modern society. We need to ensure that all gun purchasers have universal background checks, that the United States initiates a gun buyback program, that we have stricter legal magazine capacity limits, that gun owners attend gun safety classes, that we begin treating mental illness more effectively, that longer waiting periods are implemented (28 days), that private owners cannot resell their guns, that gun shows cannot sell guns, the banning of bump stocks and trigger cranks, the requirement of licenses for all arms, upping minimum purchasing age to 21, the banning of assault rifles, the end of the boyfriend loophole, and that politicians stop taking money from the NRA."