By: Morgan Creek | Opinion Editor
March 8, 2018
Many San Clemente High School students seem to enjoy thrifting, and with many thrift shops located throughout the San Clemente area, the choice for best shop was a tough one. Between La Tienda, The Salvation Army, Coral Thrift, iHope, and the PacRat, the Salvation Army took home top honors, with La Tienda at a close second.
Located near the San Clemente DMV, the Salvation Army is open from 10:00am – 7:00pm every day but Sunday. It's frequent sales, tidiness, and friendly employees make it a popular thrift spot for many students. Junior Isabel Grigg states, "The Salvation Army is my favorite! It's small enough that you don't feel overwhelmed but still has a ton of great finds. Plus, it's super close to my house, so my friends and I go all the time." Isabel loves shopping for clothes at Salvation, as they have "50% clothing sales several times a week."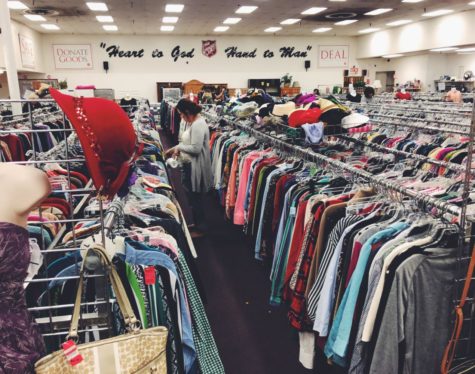 However, clothing isn't the only thing the Salvation Army is known for. While the majority of the store is dedicated to clothing, there is also a large section of furniture and house objects. Senior Jovian Yanes explains that this is her favorite part of the store: "Every time I go, there's more furniture and decor for my room. I've bought lamps, art, vases, jewelry holders, candles… you name it, and I've probably bought it. The best part is that it's all for a great price! Then I can just keep buying more."
Personally, my favorite part about the Salvation is its tidiness. There is honestly nothing worse than walking into a store with clothes strewn everywhere, stuff blocking the aisles, over-jammed clothing racks. I've been to the Salvation Army many times, and not once has it ever been a mess. It's easy to see where everything is and search for items, and the dressing rooms are well-maintained as well. The employees there really do an amazing job at keeping it so clean!
Congratulations to the Salvation Army in San Clemente for winning Best Thrift Store in town!