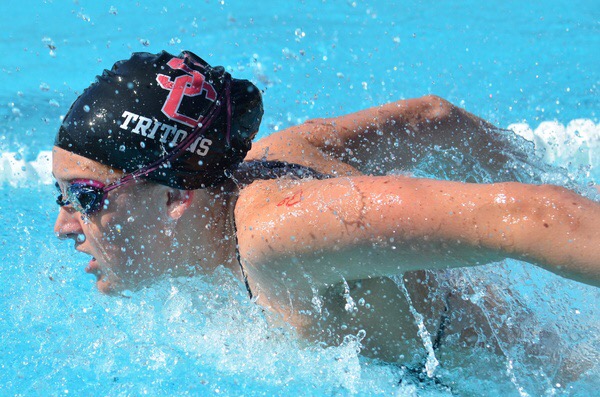 By: Morgan Thomas | Opinion Editor
May 15, 2018
The classic saying, "Brains over Brawn" has been used to convey the mindset of intellectuals in a society that oftentimes values the athlete over the academic. Many believe that an individual cannot possess both traits at extraordinary levels, but at San Clemente High School there are many that do, and for CIF Athlete of the Year, Marley Macarewich, the balance of brains and brawn is a part of her everyday routine.
Macarewich, having been diagnosed with scoliosis at a young age was just looking for a sport that required little strain on her back. "I've been swimming for as long as I can remember. My mom put me in SCAT (San Clemente Aquatics Team) and I just never stopped," Marley exclaims, mentioning that one of the things that has helped her throughout the years was the support from her teammates, many of them who have grown into what she calls her "life-long friends and fellow mermaids." Even though swimming is an individual sport in competition, Marley believes that her coaches have encouraged the team spirit in all other aspects, teaching her to push herself to compete alongside her teammates, but never failing to cheer them on in between races.
Putting just as much work into her academics as she does athletics, Marley has risen to the top of her class as an IB student and will be attending Yale University in the fall of 2018. When asked how she can balance so many different activities (playing the saxophone in the marching band as well as the piano), Marley accredits her family for always pushing her, "I definitely think that above all else, my mother has been my inspiration to continue improving my work ethic both in and out of school. She has always seen the best in me and her support has carried my through my high school career."
Even with such a bright future ahead, Marley stays humble, paying tribute to everyone who has helped her reach her goals every step of the way. We can expect to see many amazing things from Marley in the future, waiting eagerly to see where the path she's paved may take her as she continues to make balancing brains and brawn look easy.