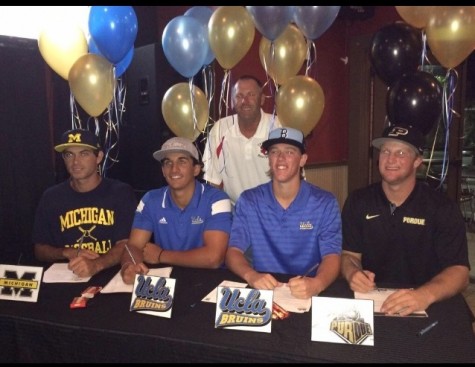 By Taylor Beard | Sports/Arts & Entertainment Editor
December 3, 2014
The week of November 10th – November 14th, high school athletes from around the country sign their college Letter of Intent. On Wednesday, November 12th, four of our own San Clemente High School baseball players signed their Letters of Intent to prestigious baseball programs all over the country.
The four boys who have achieved this awesome goal in their lives are seniors Kolby Allard, a pitcher, Lucas Herbert, a catcher, Trevor Beard, a 3rd baseman and outfielder, and Will Tribucher, a pitcher and a first baseman.
The UCLA commits, Allard and Herbert, are both off to play in the Pac 12, which is the league that is played through California, Oregon, Washington, Utah, and Arizona. Michigan commit, Tribucher and Purdue commit, Beard are traveling far from home to play in the Big 10 League.
Many of these boys' family and friends came together at the OC Tavern in San Clemente to watch and support these boys as they signed their name that would guarantee their bright future.
Herbert has been verbally committed to UCLA since 2012 and has played for the USA baseball team for the past 3 years, an experience which has helped him mature and grow as a player.
"I'm so excited for the opportunity to play baseball at such a great school," Herbert said. "I can't wait!"
Allard was on the same USA team as Herbert this last summer and was chosen as the MVP for pitching a perfect game during the championship which featured the best players from the East Coast against and West Coast.
Beard committed to Purdue at the beginning of this school year and this last summer he was able to play for the California Baseball Academy at Citi Field, home of the New York Met.
Tribucher committed to the University of Michigan this past summer, saying "My official visit to Michigan this past summer really helped me make his decision. The campus is awesome and the program looks like a nice fit for me."
All four boys will be able to achieve their goals of playing Division 1 baseball but first, check out the four baseball stars on the diamond this season as they push for a league championship under head coach Dave Gellately.