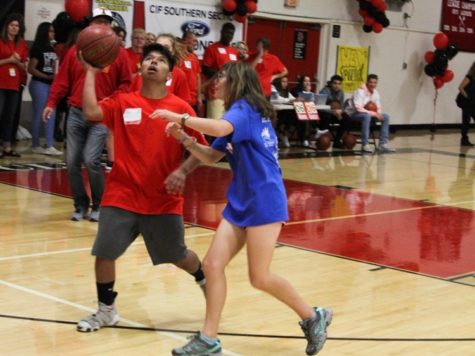 By: Flynn Lloyd | Editor in Chief
November 18, 2018
Tuesday, November 13, was the 6th annual Special Olympics hosted at San Clemente High School. Every year, SCHS ASB and Best Buddies club host a day of games and friendly competition between special needs students from each school in CUSD.
SCHS continues to host the fall Special Olympics because it builds unity and compassion between students with learning disabilities and those without. SCHS stands for inclusion and the Special Olympics embodies that. The Best Buddies and their friends on campus spent the day playing basketball, field games, and cheerleading alongside different schools in our district. If students weren't up for competing, they sat and cheered on the bleachers that were full of students, staff, and buddies eager to watch their friends and peers shoot some hoops.
"Special Olympics is important because it allows the students with special needs to have something to look forward to the entire year," Best Buddies President Bella Colombo said. "It allows them to compete in a friendly atmosphere with everyone supporting them."
Special needs students aren't always treated kindly on high school campuses. The Special Olympics provides a happy, safe, and encouraging environment for these students to participate in fun activities that aren't always available to them. It's important to encourage further integration of special needs students into the higher functioning student body as it creates a more unified and friendly school atmosphere. All of the students involved with putting on the Special Olympics have an amazing time.
"I think it's a really important event because these kids get to spend a day interacting with the other schools' kids that are involved in the Best Buddies program and it's a fun day for everyone to be active and support one another," senior Isabella Salvagio, member of the Best Buddies club, said. "We get out of school to hang out with our buddies who are some of the most kindhearted and funny people I've ever met."
Spectators at the Special Olympics could see the joy radiating off of each student participating in the games. Whether they were playing basketball or cheering from the sidelines with pom poms, smiles filled the whole gym. The Special Olympics is an impactful event for many special students and non-special students as it fosters friendships that can't be found anywhere. It is a day of kindness and one that  all students should either participate in or watch, because it is heartwarming and truly a fun way to get involved on campus.