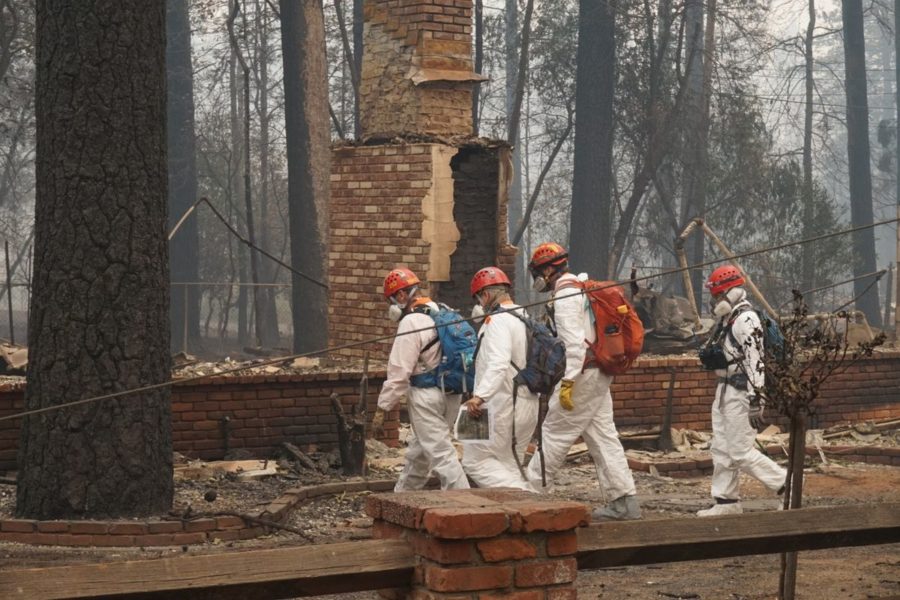 Workers search for people and animals in the remnants of the fire in Paradise, California. Fires like these will only become more common with climate change. (Photo Credit: Umair Irfan/Vox)By: Lucy Terry | News Editor
November 30, 2018
On November 23, the U.S. Global Change Research Program released the Fourth National Climate Assessment, a report detailing the status of climate change in the United States; unsurprisingly, its findings paint a bleak future for the environment, as well as our economy. Based on the 1,656 page report, climate change is already wreaking havoc on the United States, and it will continue to get worse if we don't act quickly. The report states that climate change and environmental degradation will disrupt global trade, which is obviously not ideal for the United States, hinder agricultural productivity, and cripple national infrastructure through natural disasters.
This report comes at a unique moment; although it was composed long before the recent wildfires in California, one of the main observations of the study is that destructive weather patterns are increasing in frequency and will continue to do so, because of unaddressed climate change. It seems like there is a new natural disaster everyday, with several hurricanes battering our coast this year, fires debilitating communities throughout the country, and heavy rains stimulating landslides and floods. All of these events come at a cost, and it is the federal government that pays it. According to the report, damaging weather has cost the federal government $400 billion since 2015, and this number will merely increase if our government stands by and does nothing as climate change becomes more and more severe.
Like the aforementioned damage to infrastructure, most of the predictions from the report come with a price tag. The study states that by the end of the century, the United States will face $32 billion in infrastructure damage, $141 billion in heat-related fatalities, and $118 billion from the wrath of sea level rise. If global temperatures truly rise as predicted, alongside their consequential drought and fires, the agricultural industry will be desecrated and the farm-belt of the country will be scrambling to maintain agricultural productivity. Junior Gaby Perez from San Clemente High School finds this concerning for more reasons than one. "Losing land because of climate change is a real threat," said Perez. "We are seeing fires and droughts happen before our eyes in California, which is alarming because we are the greatest crop resource. Our agricultural resources will be at stake, and this will cause confusion on how to stop the decline of this major industry." This alone would suffice to damage the economy enough, but it won't be the only thing harming finances; extreme weather events and global warming will disrupt trade and hinder American overseas operations and supply chains. Even if, miraculously, the United States doesn't feel the brunt of climate change, it will suffer indirectly anyways as a result of trade networks collapsing.
So what does this mean for the actual environment? Land and communities will be destroyed beyond repair, ecosystems will crumble, and people will inevitably die at the hands of the government's neglect. Animal species we fish or farm can easily go extinct at the new unfavorable conditions. Resources across the globe will be stretched thin, and divisions along class lines will only deepen with efforts to merely survive. Ariana Safevieh, a senior and former AP Environmental student, is concerned about this dismal outlook. "I think that we should launch more climate change research even if it is really expensive," said Safevieh. "If we don't do anything about it now, it could cause even more damage to the planet that would cost a lot more to fix than the research to prevent it." Of course, this is the worst case scenario, and these instances are extremely far off. However, if the United States government does not take action, we may be confronted with the possibility of these things sooner than we think.
The Trump administration has ultimately downplayed the assessment, with President Trump blatantly claiming that he does not belief the results of the report. This, while it is unfortunate and dangerous, is befitting of the Trump presidency. Our government needs to take immediate action, but so far it is unresponsive. However, do not lose faith yet. Because of the recent midterm election, there are some government officials able to make a change; Representative Alexandria Ocasio-Cortez (D., New York) has proposed a "Green New Deal" and aligned herself with environmentalists. Her ambitious plan is in the works, but at its core it promises to transition the United States to entirely renewable energy sources within ten years. Other government officials quickly took notice of her idea and have begun rallying alongside her for sustainable environmental legislation. This kind of activity within the government is significant and necessary, as it is the only thing that can help prevent these new grim projections.