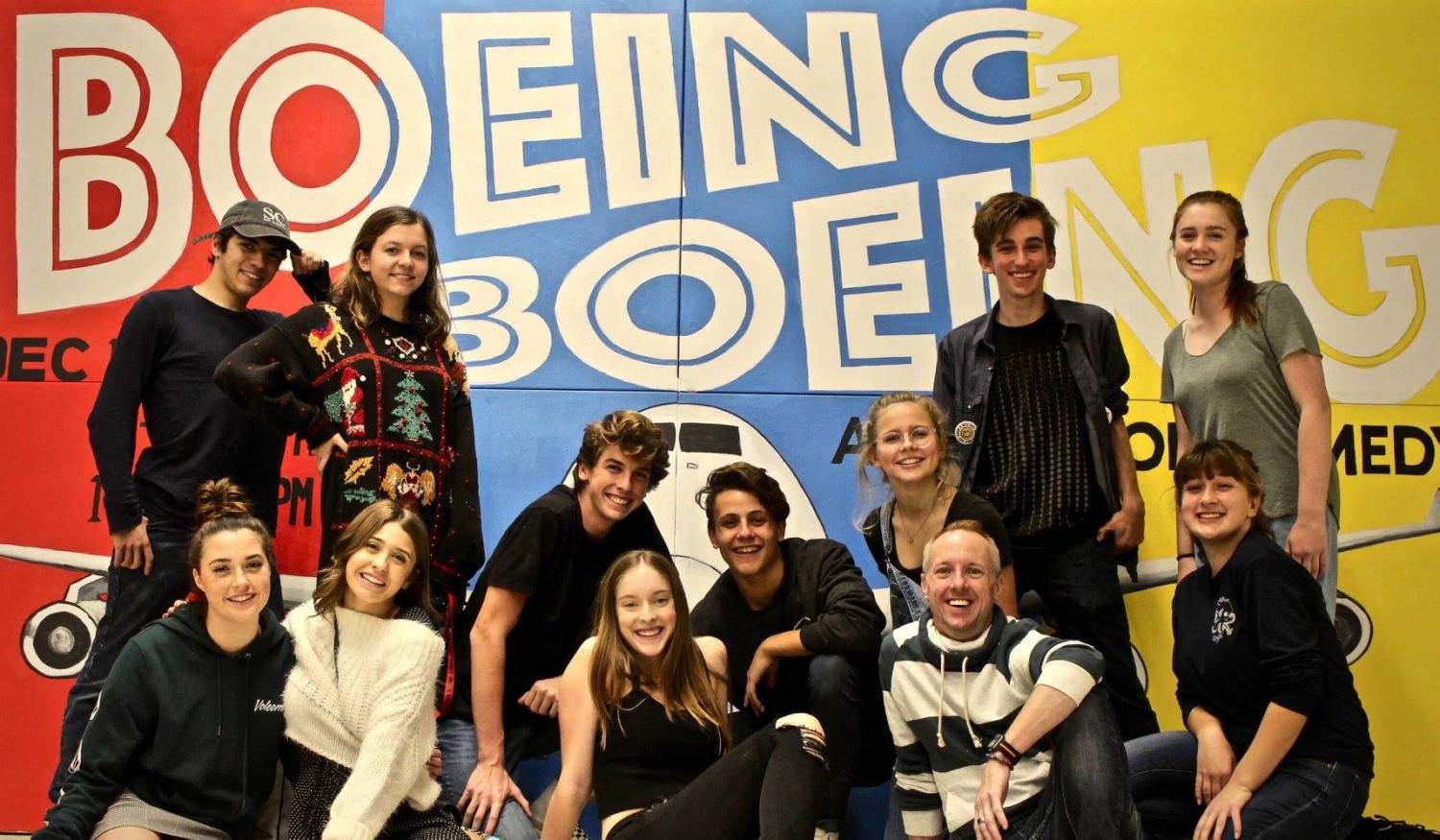 Image Description: The jet-setting cast of "Boeing Boeing" poses for the upcoming play, smiles all around.
Winter Play Preview: "Boeing Boeing" Gone
By Peyton Gadbury | Opinion Editor
November 29, 2018
As San Clemente High School transitions to the end of the first semester and teachers scramble to cram 14 weeks into the final four, students can find reprieve in Drama's winter production of "Boeing Boeing", a story of love and lies set in 1960's Paris written by the French playwright Marc Camoletti and translated by Beverley Cross. 
The drama will unfold beginning Wednesday, December 12 with a student preview at 4 p.m. and a later show at 7 p.m. The final boarding call falls on Saturday with a 2 p.m. matinee and a closing show at 7 p.m. Tickets can be bought online at schsdrama.com or at the door.
A comedy sure to incite laughter as students relax into the joy of the holidays, "Boeing Boeing" follows the life of Bernard, a Parisian engaged to three women: an American (Gloria played by Viviana Moiso and Sophie Matossian), an Italian (Gabriella played by Tanner Lloyd and Carlie McClearly), and a German (Gretchen played by Frankie Monson and Abbi Staffieri), who all work as flight attendants, blissfully unaware of Bernard's romantic scandals. Maintaining three different relationships requires an organized precision almost impossible to achieve on one's own; luckily, Bernard's maid, Berthe, helps to keep the lies alive during each fiancé's stay, changing out photographs and cooking styles to preserve up the ruse of Bernard's fidelity.
Only, keeping the triple threat at bay grows nearly impossible after the invention of the Super Boeing, freeing up the fiancés' schedules and allowing each of them to spend more time with Bernard in Paris. Will he and Berthe be able to keep up? Or will Bernard's relationships end up Boeing, Boeing, gone?
"I am lucky enough to be playing the lead, Bernard," senior Justin McCoy said. "The rehearsals have been incredibly enjoyable and everyone in the cast has had the opportunity to grow as an actor tremendously because we got to work with our director David Anthony, who has trained and worked with Broadway stars."
By the time opening night rolls around, the actors will have spent around 60 hours of formal rehearsal, not including all of the time spent outside of school practicing lines and experimenting with different methods of acting.
"This is my first time working on a comedic play, and it has been such an enriching experience," senior Karina Repaire said. "I'm really just looking forward to having a great time up there and making the most of it."