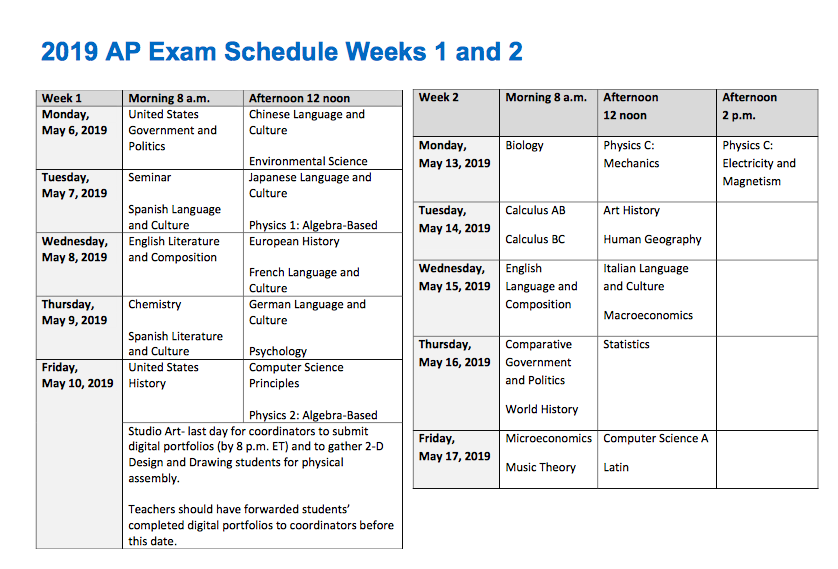 By: Sofia Helmle | Writer
April 11, 2019
With May just around the corner, it's finally time to begin preparations for the highly awaited AP and IB test taking season! While for many seniors, the early weeks of May might seem like no big deal for a pro, many sophomores and juniors are impatiently anticipating their first AP exam. Although the test taking process might seem overwhelming, by following these simple tips and tricks you're bound to soar right through your exams without a problem.
How to prepare for testing season:
Buy a review book!! — Many study books are helpful in order to follow along in your courses review work as well as complete some studying on your own time. "For me Barrons has always been the best, they outline all the different chapters clearly so its so easy to use," senior Rhiannon Yanda said. However, many other brands work just as well, including College Board and Crash Course.
Go to the review sessions — Most AP teachers host review sessions throughout the weeks leading up to AP exams. For example, AP Biology reviews are held in Mrs. Finnerty's room on Monday's from 4:00-6:00! Mr. Enmeier and Mr. Swensen have also collaborated to host review sessions from 3:00 – 4:00 on Mondays and Tuesdays, whichever works best for your schedule. Always check with your teacher and see if review sessions are an option; most teachers are more than willing to help and see their students succeed on their exams!
Create study groups — Senior Emma Bishoff explains her secret weapons for AP and IB testing, study groups! "I love getting together at Starbucks or Panera and studying with my friends. Not only does it make the process more fun, but it's also really helpful to bounce ideas off of one another," she said. Sometimes working collaboratively can make the process go by a lot more quickly.
Stay Calm — Remember, the score you receive on these tests does not determine your future. Although they can seem daunting, just stay calm! Remember you're going to try your best, and that's all you need to see that hard work pay off when you receive your scores in July.
Although it may seem intimidating taking your first large College Board exam, remember, your teachers have prepared you well for this day. And while you patiently await the second week of May, follow those tips above and you're sure to have smooth sailing when that date finally arrives!