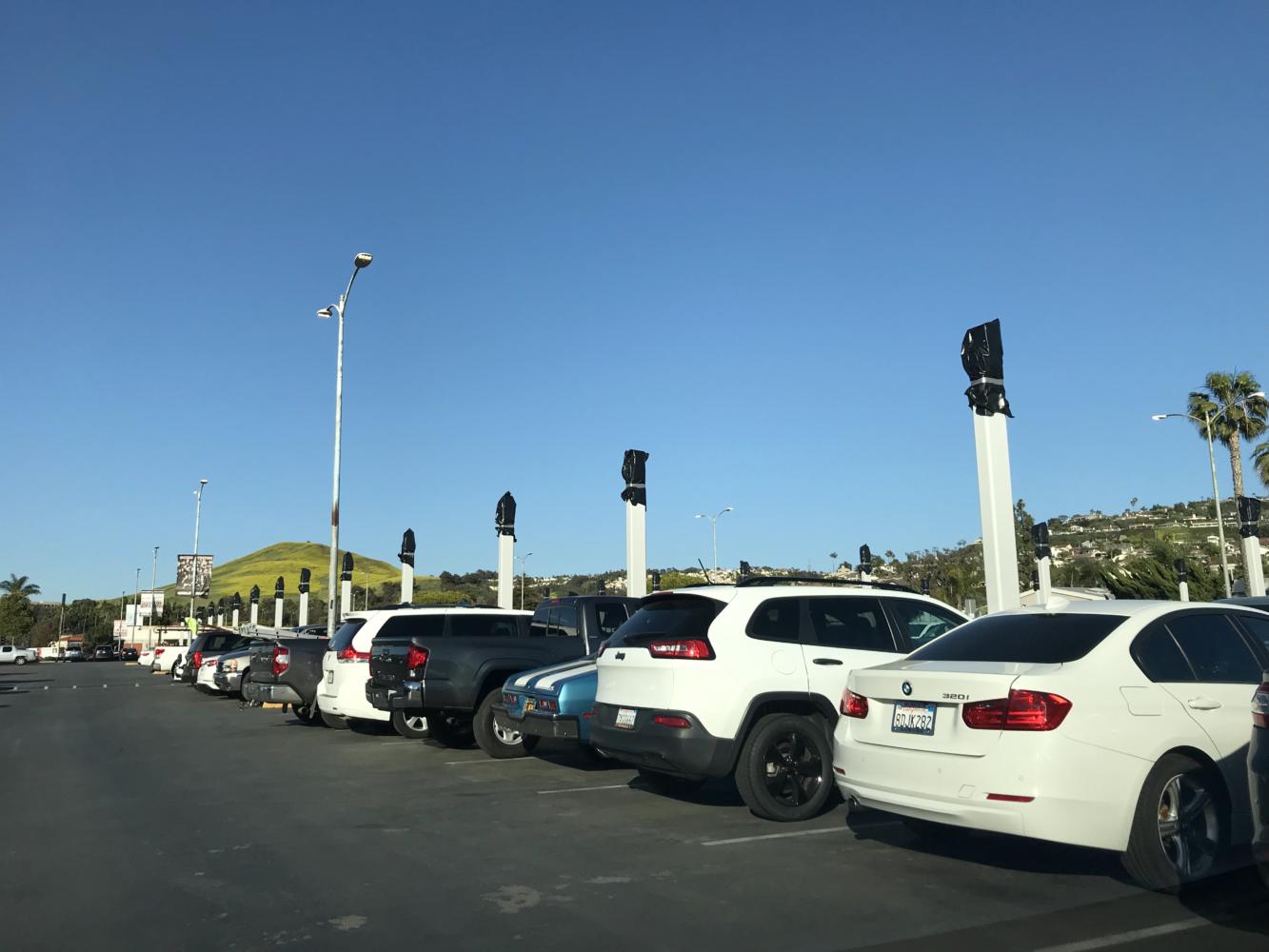 By Reid Corley | Writer/Multimedia
April 12, 2019
Spring break is a joyous time of year for high school students throughout the country; they get a full week of school off, and finally get their first taste of the upcoming summer. The most exciting thing to happen over the 2019 spring break was not a house party or a concert, but rather the first step in installing solar panels at San Clemente High School. Once students returned, an array of poles had been erected in the main parking lot, which will later serve as the posts for SCHS' solar panels.
In 2015, 14-year-old San Juan Hills High School freshman Russell Tran founded the Ecology Action Team (EAT). Tran envisioned a future with solar panels on every high school in the Capistrano Unified School District.
Three years later, Tran's vision came to fruition when San Juan Hills High School was the first CUSD school to receive solar panels during the summer of 2018.
How was this possible, you might ask? The original team of 30 students at the EAT in San Juan expanded to a multi-school organization, including various conservation and sustainability-based clubs from San Clemente High School, Dana Hills High School, and Tesoro High School. In addition the school clubs, EAT also reached out to and formed a "crucial partnership with the Berkeley-based nonprofit KyotoUSA," SJHHS senior Shawn Spretke said, a current member of the EAT.
In 2016, the coalition of CUSD clubs launched an online and physical petition requesting the Board of Trustees at CUSD to pursue solar energy for the schools of the district. In August of the same year, they presented the petition with 1,400 signatures to the aforementioned board and were met with lots of positive feedback.
The conservation clubs continued publicizing their effort in order to put pressure on the district using both social media and their website, and the CUSD solar initiative was approved at a board meeting in December, 2016.
In May of 2017, students from the clubs spoke in front of the district, urging them to conduct a Solar Feasibility Analysis (SFA) for the schools to determine whether it would be worthwhile to actually install solar panels at the schools. It was found that, throughout the district, the solar project would save $849,000 a year, for a total of $21 million in savings over the lifespan of the panels (statistics were taken from a CUSD press release in December, 2017).
Thanks to the incredible relentlessness and environmental stewardship of our fellow CUSD students, we can expect solar panel installation at San Clemente High School over the summer of 2019.
Link to the CUSD Solar Students website → http://www.cusdsolar.org/ecology-action-team
Link to the CUSD press release → http://capousd-ca.schoolloop.com/file/1513078396193/1218998864154/6835831695017171934.pdf