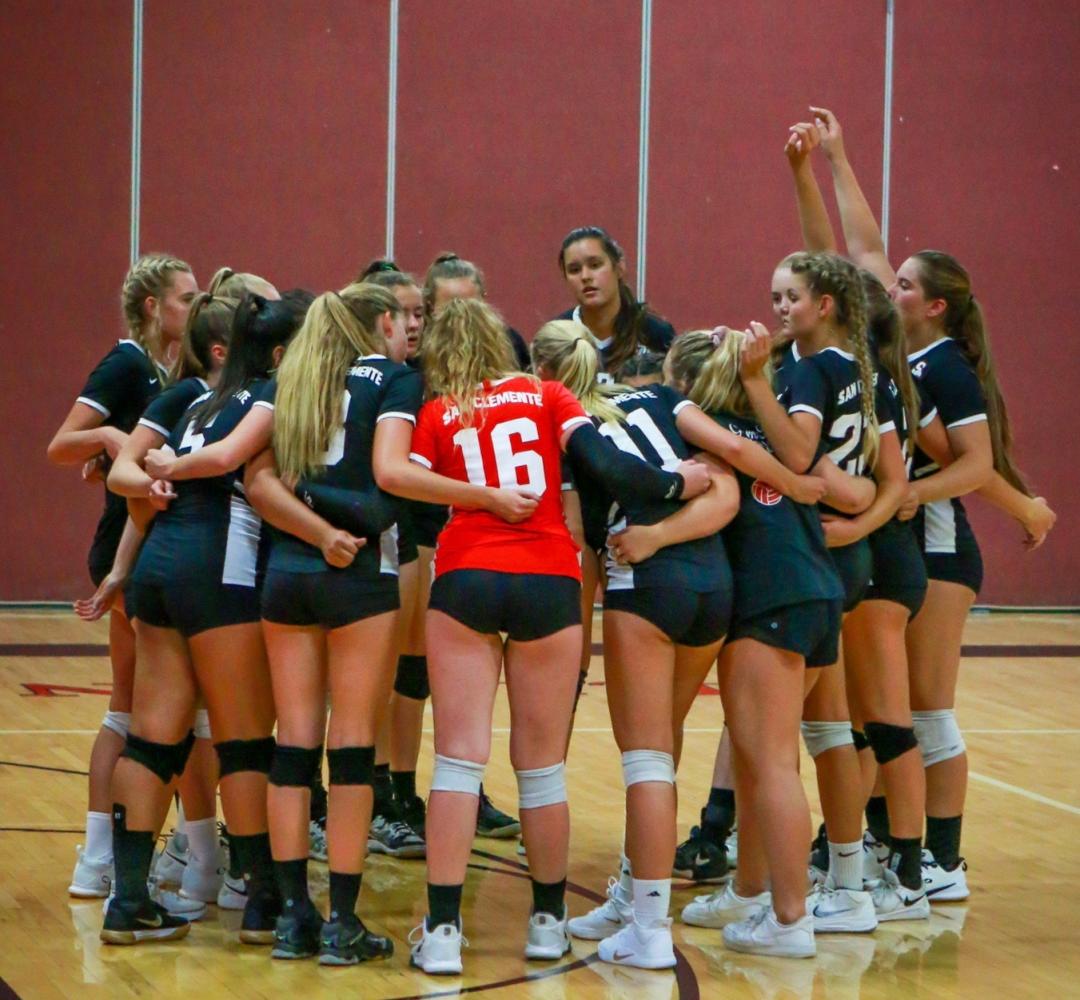 By: Julia Wilson | Editor  & Abby Stewart | Sports Editor
September 13, 2019
Finishing the 2018 season with an 8-0 league record, the San Clemente High School Girls' Volleyball team ended their successful season on a high note. Making it to the CIF semi-final match and the state quarterfinals, the team is excited to improve their record. With nine varsity returners and eight new recruits, the girls are ready to dominate the 2019 season. 
Starting to train for the season in early August this year, the team has been in the gym preparing to face their competitors for the season. Under the coaching of Casey Swenson, Matt Miller, and Sara Hoffman, the girls seemed to be more than ready by the time their games started.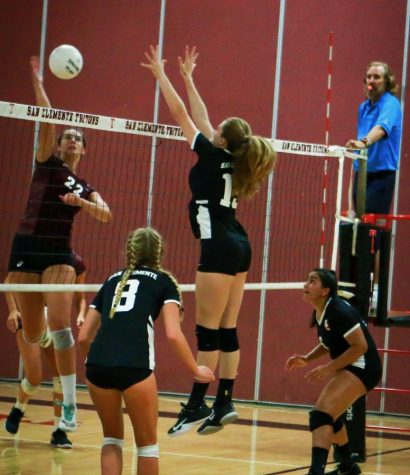 Opening the season with a five set win at home against Laguna Beach High School, the team proved their stamina both physically and mentally. After unfortunately losing the first set to Laguna Beach 22-25, the Tritons fought hard in the second set to take down the Breakers. Sophomore Abigail Brown said, "We have really good team chemistry, I think that's why we are able to be so successful." The girls fought back for the next four games and were finally able to beat the Breakers in the fifth set, 15-10. 
Because the team is composed of ten seniors, six juniors, and one sophomore, it is beneficial to have an older team for the program for the other teams to see the older girls on and off the court. Senior outside hitter Sophie Smith said, "I'm super excited for my senior season and too see what we can do as a team." 
On September 12, the Tritons took on their long-time rival Dana Hills at home. After losing the first set 23-25 to the Dolphins, the girls fought hard to beat them in the next three sets 25-15, 28-28, and 25-21. As sophomore Abigail Brown said, "This is our house, no room for Dolphins", the team was ecstatic to beat their rivals for the second year in a row.  
Hoping to continue their CIF run this season, the team practices every day trying to improve their game so they hopefully could take the CIF Southern Section Championship title.
Senior middle blocker Ella Gardiner said, "We are really excited to see the CIF competition this year. I think we can be really successful with the team we have this year."
The next home game for the girls is on Tuesday, September 17 against Capo Valley High School. Come on out to support your Tritons!