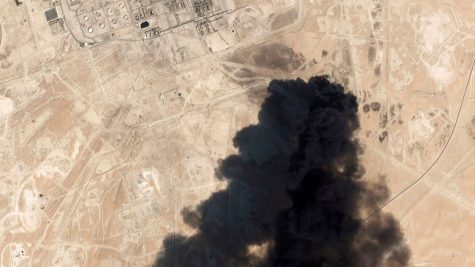 By: Elijah Winn | Editor
September 24, 2019
Early dawn on Saturday saw Saudi Arabia's two major oil facilities attacked by simultaneous missile and drone strikes. Experts say that these attacks have destroyed five percent of the world's oil reserves and could have major economic consequences on the entire world. Officials of the White House have taken quickly to incriminating Iran for the strikes and tensions in the area are beginning to arise. Bravely, President Trump has responded through official communications to Iran (twitter) that we are "locked and loaded." Iran has warned that any military action would be met with "immediate reaction."
Trump has suggested that other groups possibly responsible could be the NAACP, EPA, Hillary, or Joe Biden's campaign group. Babysitter of the President Reggie McChib said "We will not ignore the fact that the EPA has the capability to launch these attacks." After the President was put down for his afternoon nap he later said, "The EPA is so caught up in saving the world they don't even realize that the President has a plan." The President has showed us that plan. He plans to attack their oxygen supplies by driving cars on the White House front lawn. "Some of you may not make it, but it is a risk I am willing to take," President Trump said during his daycare.  
Trump has decided to bravely allow others to defuse the situation. "Refuse, defuse, and reuse; that's my policy for all this", President Trump said after given his pacifier. When asked what that all meant Trump said, "It's easy, I just allow others to take the heat for all the hard stuff and then talk about it during speeches; you know I was the one who gave Washington the idea to separate from England in 1776." Some are beginning to fear an escalation of the situation and are voicing their concerns. "I'm deeply concerned that this attack will lead to wider conflict across the Middle East," Senior Jack Galeotti said. This offers an oily situation for the US as the proper answer to the situation divides our nation and the world. With war as the looming threat, men between the ages of 18-25 have begun to label this the oh-please-fix-this-I-don't-want-to-be-drafted crisis of 2019 but others geographically located in the south are simply calling it "target practice."

Meanwhile, the economic impacts of the attacks provide another possibly larger problem. "While we have reduced our reliance on foreign oil, we are not immune to global reactions…gas is reliant on oil and most cars are reliant on gas," Teacher Mr Salway said. The consequences of the attacks can lead to economic crisis internationally. 
The current situation is complex with political and economic ramifications that could reverberate for years to come.