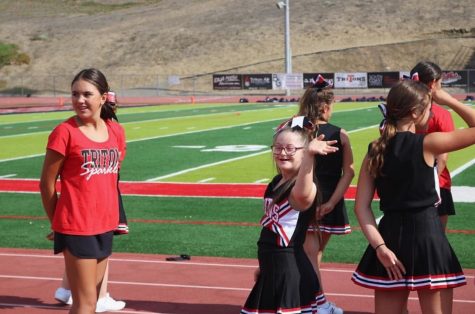 By: Kate Hedger | Writer
September 26, 2019
San Clemente High School has a new cheer team which includes athletes with and without disabilities. This cheerleading team is a part of the Nation Sparkle Effect Organization. The mission of Sparkle Effect is to ignite social inclusion by empowering students to create cheer teams that bring together students with and without disabilities in equal measure. 
"No student is better, worse, or more or less important than the other," junior co-captain Riya Kehtarpal said. "We all cheer together!" Khetarpal leads the team along with junior co-captain Hannah Kouris who added, "There are no special exceptions for a particular student. We all have to abide by the same rules, just like any other team at the school." 
The special thing about the Triton Sparkle team is that it provides a sport for students who would otherwise not get the chance to participate. More than five million students with disabilities attend public school in the United States. With that being said, most school sports and activities don't accommodate these students. As a result, most of these students are excluded from actively participating in the various social and sporting events at their schools. Triton Sparkle is on a mission to change all that.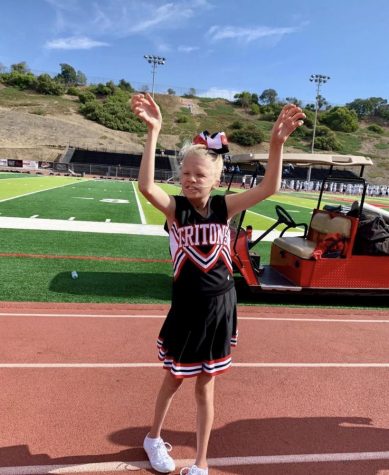 The Triton Sparkle team is not only beneficial to students with disabilities, however. It has been shown that young people with inclusive classrooms, activities, and social groups are more likely to develop an early appreciation of disability and treat it as a natural part of life.
Therefore, those who participate or even watch this team cheer at football games can develop an appreciation and respect for their fellow students. With more organizations like this, students will no longer look at disabilities as exceptions from the norm but as a natural and celebrated part of life.
This week, the Triton Sparkles cheered at their very first game for JV football alongside the JV cheerleaders.
Co-captain Kouris said, "It was amazing to see how much of a positive impact the sparkle team had on the crowd. We brought a smile to everyone's face!"