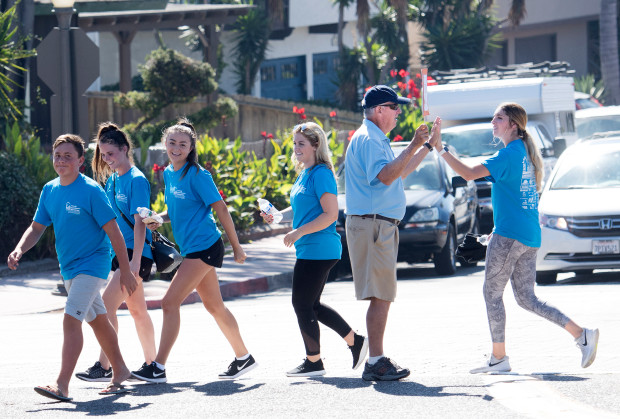 By Kate Hedger | Writer
February 20, 2020
Volunteering is an awesome way for a person to get involved in their community for a ton of different reasons. Whether it's for community service hours, to connect with others, or to fulfill a sense of purpose, volunteering is a great way to spend free time. A lot of people are interested in the idea of volunteering in their community but don't know where to start. Here is a list of 5 volunteering opportunities for teens in San Clemente:
FAM:

Also known as Family Assistance ministries, FAM is an organization that assists those in need in Orange County with resources such as food, shelter, and personalized supportive aid. If interested in helping by volunteering at FAM, information on an orientation meeting at the FAM Resource Center can be found by calling (949) 492-8477 (The Fam Office number.)
"I go to FAM with my dad sometimes and just help them with whatever they need help with," San Clemente High School junior Arya Nemati said. "I enjoy doing it because I get to help people that are less fortunate."
After school tutorial tutoring

: A super-easy way to get involved in your community is helping at school. SCHS students are able to volunteer their time by tutoring others at After School Tutorial on Mondays and Wednesdays in the library. This is a great way to not only get involved in school, but in the community as a whole.

Monthly beach cleanup

: Every month the OC Coastkeepers and coastal playground hold a beach cleanup at Calafia State Beach. By volunteering your time to this organization, you will get in touch with your local community as you help protect San Clemente by trash removal from the coastal area. Zebra House Coffee even donates coffee and treats to energize the local volunteers! To get involved with this organization visit

https://www.coastkeeper.org/get-involved/cleanup-oc/

to sign up in advance and receive the upcoming dates of future beach cleanups.

Rider, Aubria Brubacher, is accompanied by volunteers as she rides a horse.

San Clemente Parks Foundation

: Also known as the Friends of San Clemente Foundation, this organization is dedicated to building a stronger community through its support of parks, beaches, recreation, culture, and education activities. To volunteer, you can simply visit their website (

http://sanclementeparksfoundation.org

) and submit your name and email so that the organization can find a way for you to effectively contribute to your community. 

Shea Center

: The Shea Center works to improve the lives of people with disabilities through therapeutic horse-related programs. Their equine-assisted therapy programs address more than 75 different physical, emotional, social, and cognitive challenges for people with disabilities. By visiting the shea center website (

https://www.sheacenter.org

) you can watch an introduction to volunteering video to get more information and apply to volunteer.
"I volunteer at the Shea Center weekly and I love doing it because I love seeing the effect it has on mentally and physically challenged kids and adults," SCHS freshman Sofia Sipelis said. "Volunteering there has really impacted me and I'm so happy I do it."
One of the best reasons to become a volunteer for an organization such as the ones listed is that you not only get to help individual people, but you can impact your community as a whole. If we all work at maintaining San Clemente's social and environmental health, then our city will remain the beautiful "Spanish Village by the Sea."