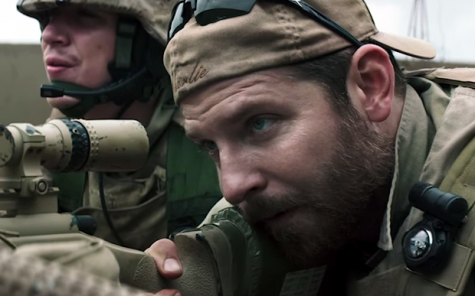 By Hannah Lickley | Writer
February 24, 2015
This movie illustrates the true story of Chris Kyle's journey as a Navy Seal and his struggle maintaining a home life with his wife and children. American Sniper, directed by Clint Eastwood, is rated R for violence and a few occurrences of rough language and occasional sexual references.
Bradley Cooper does an amazing job portraying Chris Kyle as the most lethal sniper in American history. This film shows true ambition and determination during Kyle's four tours in Iraq, as well as his journey to recover from Post-Traumatic Stress Disorder (PTSD). Bradley Cooper did many things in order to more accurately depict Chris Kyle; he gained 40 pound in muscle through vigorous diet and exercise, practiced a Texas drawl with a dialect coach, and worked with U.S. Navy Seals to make sure he had the proper techniques. Cooper's hardwork was recognized and appreciated when Taya, Chris Kyle's wife, shed tears during the first time she saw the film.
Chris Kyle also has a book entitled American Gun, which contains more details concerning his personal life and incidents in Iraq. In the book, Kyle does struggle with a sniper named Mustafa but does not personally kill Mustafa. Which is in direct contrast to the movie in which Kyle was the one who heroically killed Mustafa.
The movie also depicts Navy Seals to be less conditioned than they are trained to be. For example, Kyle sees the archrival Mustafa and proceeds to take a kill shot even though he was ordered by his superior officer to stand down. If a Navy Seal feels as if they have the shot, no officer would try to stop them. Granted, the doubt did add significant drama to the movie.
Clint Eastwood realistically portrayed most events from the book and his direction and interpretation of the book led to an excellent movie. In my opinion, I wish they would have ended with a scene of Chris Kyle's death to add a finality and conclusion to the story, but I loved the way they added information and real footage at the end so the viewers did not leave with any questions.