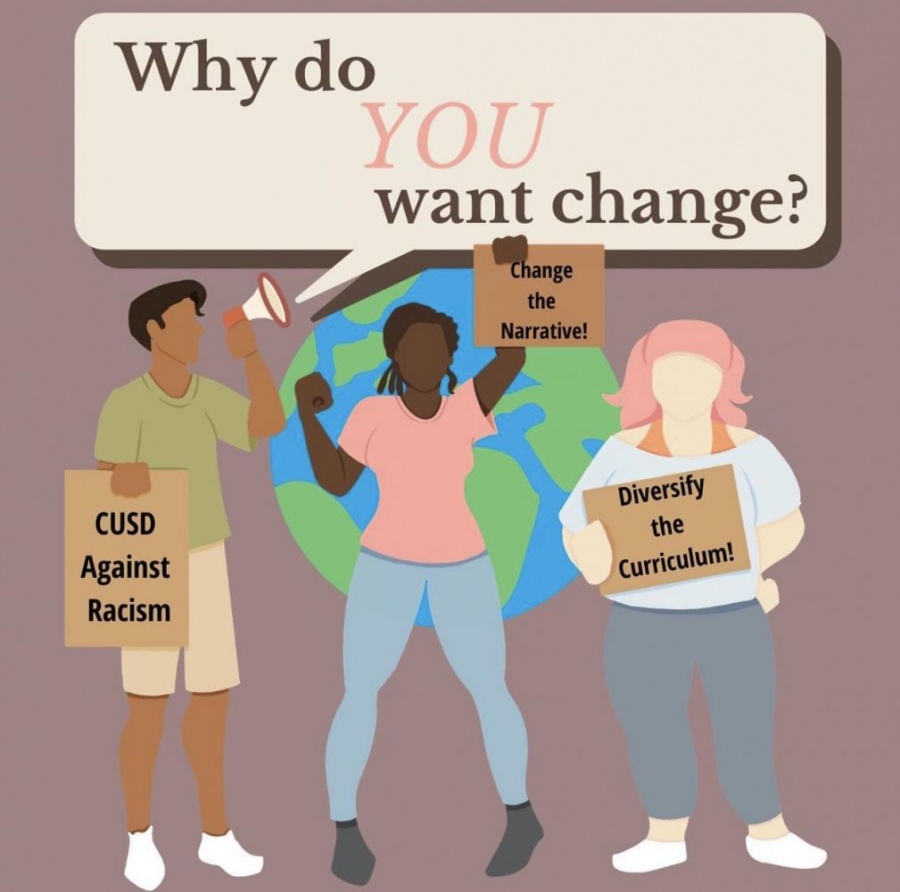 By Ava Sinacori | Head Photo Editor & Kate Hedger | Student Life Editor 
September 9, 2020
A student- and female-led organization called "SCHS Against Racism" is bringing awareness to voices of BIPOC (black indigenous people of color) and other underrepresented groups. The organization's purpose is to educate people about issues such as microaggressions and bias, and to put pressure on the school to recognize these concerns. Using social media platforms, they act as consultants for our individual school site and attend CUSD board meetings to work to inspire change. This is not just a trend; as @cusdagainstracism said, "This is just the beginning, we are not done fighting." 
SCHS Against Racism is a task force under a larger organization, CUSD Against Racism, and the leaders of these groups have already made some groundbreaking achievements. One of the organization's biggest accomplishments is a presentation they gave at the August 19th CUSD Board Meeting. This presentation included calls for reform over issues related to a non-inclusive curriculum, failure to take action with restorative justice, and student voices not being recognized. The curriculum taught in schools today does not "accurately represent the perspectives and experiences of people of color, especially in English and History classes," CUSD Against Racism said in their presentation to the Board. Along with this, students of color face higher rates of suspension and expulsion in comparison to their peers.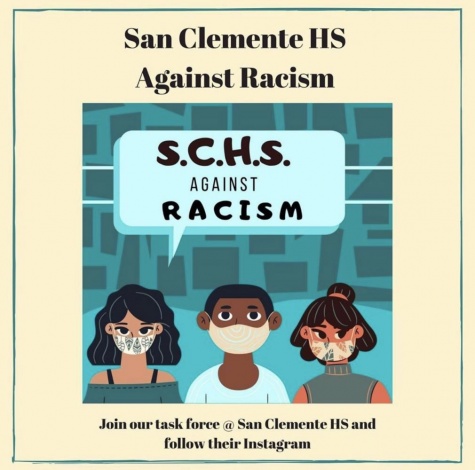 "The school has recently released a statement along with the No Place for Hate pledge, which is super awesome and a huge step in the right direction," senior and co-leader of SCHS Against Racism Riya Khetarpal said. This pledge was given to every student at SCHS and brought awareness to students that racism and discrimination is not tolerated within our school.
Distance learning and escalated online activity is the primary reason why this task force was formed, and it has given the organization a great outlet to spread awareness. Through social media and web pages, they can easily interact with students and community members to gain more exposure. "Being online has given us the opportunity to focus more energy and attention to the development of our organization than we would have been able to if we were in school normally," Khetarpal said. Although remaining online does present some challenges, including not being able to host meetings in person or events on campus, this media platform has kept students engaged and updated on current issues while online.
SCHS Against Racism is a safe and reliable place for students to receive information about these bigger issues that take place within our school system and ultimately stand against the injustices. "Seeing how hard everyone works and their commitment is incredibly inspiring and makes me feel that we can truly make a difference within our district and school," senior and co-leader Jasel Steinmetz said.
For more information on how to get involved, visit https://schsagainstracism.carrd.co/ and view their instagram page @schsagainstracism or @cusdagainstracism