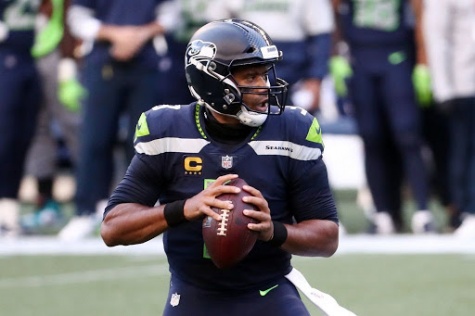 By Lucas Rapeepat | Sports Editor
September 25, 2020
Whenever good old NFL football rolls around in early September, millions of Americans tune in for the excitement of their favorite teams and players in a fast paced, thumping ball game. Many of these fans are content with simply watching, the thrilling intensity pulling on their heartstrings and igniting their passions. Others delve deeper. They turn to fantasy, simulating team management while dueling their friends using strategy, knowledge and research, and not a small amount of luck.
"It makes everything more exciting, cheering for your player to score enough points to beat your opponent," active fantasy football player and San Clemente High School junior Daniel Lo said. "But the best part is playing with your friends and having a good time." 
After the first two weeks of the season, expectations have started to solidify. Here is a crash course, summarizing team by team the opening salvo of games and the impact they could have on your fantasy leagues for the rest of the season. All the references to points will be in PPR (points per reception), the most popular format of play.
Arizona Cardinals: Here comes the Air Raid! Sophomore Kyler Murray looks to be a top 5 fantasy quarterback, not only because of his throwing, but his ability on the ground. He carried the rock around 10 times each game, scoring 3 times. His elusiveness provides a second element to his game that secures his status as a locked in starter. In addition, his connection with Deandre Hopkins, the former Texans superstar, appears to be electric, with an incredibly high target share. No other receiver is dependable enough to start, and selecting one is like throwing a dart with closed eyes. Kenyan Drake is a solid RB2, though he hasn't been as involved in the passing game as expected. There are no rosterable tight ends on the Cardinals, unless you are in a very deep league.
Atlanta Falcons: Losing two shootouts, the Falcons offense offers a plethora of fantasy options. Throwing an average of 45 passes a game, Matt Ryan is a surefire QB1 who will have to air the ball out a lot this season in a high-powered offense. His receivers will all benefit, especially Calvin Ridley, who in both games racked up 100 yards and two scores as All-Pro Julio Jones draws a majority of the attention. Russell Gage, however, was the true surprise, exploding against the Seahawks in Week 1 and repeating his great performance against the Cowboys, illustrating how any receiver can pop in this offense. Todd Gurley was given a solid amount of carries, but was not very involved in the passing game. He will require a touchdown or some more reps as a third down back to have consistent viability. Hayden Hurst has the potential to have a solid line, like in Week 2, and though he isn't a top tier option, he can be plugged in and is worthy to keep on your bench. Julio is dealing with a hamstring injury, so be ready to fire up Ridley and Gage, who will undoubtedly soak up his targets.
Baltimore Ravens: Lamar Jackson is poised for another incredible season with accurate and decisive passing in addition to his uniquely terrifying arsenal running wise. He'll be a top 3 quarterback every week in one of the most volatile offenses in the NFL. The running back committee situation is more difficult to discern. Mark Ingram III receives the majority of the workload, yet rookie J.K. Dobbins is the one who scored a pair of touchdowns last week. Ingram is the best to hold onto, yet none of these backs are recommended starters. Marquise "Hollywood" Brown is the best wide receiver in this vertical zone run offense, catching 5 receptions in each of his games. But it is Mark Andrews who possesses the rapport with Lamar, and though he had a dud in Week 2, his potential for touchdowns, like the two he scored against the Browns, makes him a top 5 TE.
Buffalo Bills: With over 700 yards and 6 total touchdowns in his first two contests, Josh Allen's cannon of an arm as well as his tendency to scramble solidifies his status as a potential top 10 QB. Though it could be the level of competition, as long as Allen avoids erratic throws, his volume is an encouraging sign to fantasy managers. Devin Singletary and Zach Moss seem to be sharing the backfield, yet neither of them have made a huge impact. If you must choose one, grab Singletary because of his work in the passing game, but neither is a dependable starter. Stefon Diggs is averaging over 120 yards per game, and is the clear alpha receiver in this offense. Keep starting him until the train falls off. Somehow, John Brown has managed two weeks with a touchdown and 70 plus yards receiving because of his affinity for deep balls, but do not expect that to continue when the Bills play better teams. Cole Beasley, a possession guy, isn't worth rostering. 
Carolina Panthers: To the dismay of the thousands of fantasy players with the number one pick in their drafts, Christian McCaffrey was placed on the IR after a high ankle sprain that will keep him sidelined for at least 3 weeks. On track for another monster season, McCaffrey owners will scramble to pick up veteran Mike Davis, who will replace the Stanford standout as the starter. He is in the flex consideration, but is a risky start with plenty of question marks about the security of his role and the workload he will get. DJ Moore and Robby Anderson, however, are thriving off of generous target shares, and are both in the WR2 to flex discussion, with Moore being the stronger option. Teddy Bridgewater is not a QB worth rostering unless you are in a deep league. 
Cincinnati Bengals: Rookie signal caller Joe Burrow seems ready to make some noise this year, and he could be a nice bench stash as a backup QB. Joe Mixon has been a letdown so far, averaging 9.4 points, but he is bound to pick it up as a focal point of their offense. Slot him in as a mid-tier RB2. Tyler Boyd is the best wide receiver to own on this team, shown by his 7 targets on average, though this may change as the year progresses and A.J. Green reacclimates himself. 
"Tyler Boyd is going to be good this year," senior Sean Hoffmeister said. "He's established a connection with Burrow stronger than the other wide receivers on the team. Don't sleep on him." Neither C.J. Uzomah nor Drew Sample are startable tight ends, though Uzomah is the better choice to own. 
Chicago Bears: The Bears managed to squeak out two wins early in the season, yet Mitchell Trubisky is not a startable quarterback. He remains prone to make errors, throwing two picks against a hapless Giants team. David Montgomery commands the lead back position, rushing for about 70 yards per game, yet his involvement in the passing game in Week 2 was a positive sign. Tarik Cohen has unfortunately faded to irrelevance, and the 5'6″ back shouldn't be on rosters. Allen Robinson, vastly overrated, is a risky prospect whose production solely rests on the quality of quarterback play. Expect boom or bust here. Behind him on the depth chart rests a load of inconsistency, with Anthony Miller's Week 1 performance likely an outlier, and Jimmy Graham's line completely dependent on touchdowns.
Cleveland Browns: Though their absolute drubbing to the Ravens was a strong indication of the utter incompetence of the organization, it should not be overreacted to. Baker Mayfield has potential, but only play him against soft matchups such as the Bengals in Week 2. Nick Chubb and Kareem Hunt are both star players and solid fantasy starters, though Chubb receives the higher workload. They both capitalize on their share of opportunities, and stay tuned for any shift in workload. Odell Beckham Jr. is a loose cannon both on and off the field, but this is a prove-it year for him. With a chip on his shoulder, keep him in your lineups as a WR2 to high end flex. Jarvis Landry is a fairly consistent flex that is worth a flex play in certain matchups. Austin Hooper will have a difficult time racking up points with all the other mouths to feed, but he is worth rostering, as he is a talented player.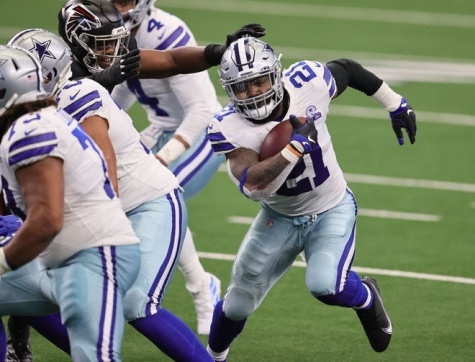 Dallas Cowboys: Behind a rock-solid offensive line, the Cowboys have a treasure trove of fantasy assets. Dak Prescott, in a contract year and with an immense arsenal of weapons, is a higher tier QB1 who can be started with confidence. Ezekiel Elliott is arguably the best running back left standing, and will get plenty of opportunities as a workhorse. Tony Pollard is one of the more talented handcuffs, however. Amari Cooper is the leader of this receiving core as a solid WR2, but Michael Gallup and Ceedee Lamb are both flex plays who have boom bust potential. The young tight end carousel involving Blake Jarwin and  Dalton Schultz is difficult to trust, but Schultz had a breakout game in Week 2 and will be a popular waiver claim.
Denver Broncos: The devastating injuries to Drew Lock and Courtland Sutton decrease the viability of most players in that offense, yet options remain. Melvin Gordon racked up around 75 and found the endzone each game. He is poised to receive an even larger workload as Blake Bortles takes over, and can be slotted in lineups as an RB2. Jerry Jeudy could be an interesting flex until Sutton returns, but he will most likely be shadowed by the top corner on opposing teams. No other receiver stands out, leaving plenty of opportunity for one to prove himself. Noah Fant, however, is a TE1, with a touchdown in each of his games coupled with an average of 65 receiving yards.
Detroit Lions: The Lions will most likely be behind in many of the games they will play, meaning Matthew Stafford will have plenty of opportunities to put up numbers. He's a lower end QB1, especially with his best receiver, Kenny Golladay returning this week. Be cautious with Golladay when he returns, as the injury may be nagging. He's still a WR2 though, and led the NFL in receiving touchdowns last year. Marvin Jones was serviceable during the absence of his teammate, but his stock will probably increase, as he will have less attention from the defense. T.J. Hockenson, like Noah Fant, is a startable tight end, though Golladay's return may cut into his production. Kerryon Johnson seems to be receiving more carries, but D'Andre Swift's involvement in the passing game makes him the more valuable choice. He may gradually take over as the season progresses, but both are not trustworthy as of now.
Green Bay Packers: Aaron Rodgers has reinvigorated his career, proving that Jordan Love won't be replacing him just yet. He's a top 10 quarterback with potential for higher, and his team has put up over 40 points in both contests. The other Aaron on the team is also blazing hot, with 4 touchdowns already on the year. His touchdown ability is phenomenal, and he's an RB1. Davante Adams remains a top tier receiver who is constantly targeted by one of the most gifted QB's in the game. Allen Lazard and Marques Valdez-Scantling are dart throws that have the potential to grow more consistent.
Houston Texans: With one of the most talented young quarterbacks in the league in the same echelon as Patrick Mahomes and Lamar Jackson, the Texans are better than their record states. Deshaun Watson is a QB1, incredibly difficult to tackle and possessing a variety of deep threats. David Johnson is the bell cow, yet his yards per carry has not been great so far. However, he remains a high end flex because of the volume he will receive to justify the Deandre Hopkins trade. Brandon Cooks and Will Fuller are both flexes that can both have high scoring games, but Fuller's constant injury concerns make Cooks the safer bet. Jordan Akins and Darren Fells vary in production, but Akins is the more dependable receiving tight end that is only a dart throw if you are desperate for a tight end.
Indianapolis Colts: Past his prime, Phillip Rivers is no longer a dependable QB1, already having thrown 3 interceptions on the season. With the injury to Marlon Mack, rookie Jonathan Taylor is a strong RB2 who will be given a massive workload. Nyheim Hines is the quintessential boom or bust player, and is a bench stash unless Taylor also goes down. With Parris Campbell's injury, no consistent wide receivers can be confidently started. T.Y. Hilton is a flex, but he has disappointed to start the season. Mo-Alie Cox exploded in Week 2, but with the probable return of Jack Doyle, will probably fade back to irrelevance. 
Jacksonville Jaguars: One of the worst teams in the NFL, the Jaguars do not possess much talent on either side of the ball. Gardner Minshew is a decent backup QB who can start in a bind, yet he is not a dependable QB1, especially with his lack of weapons. James Robinson, an undrafted free agent, took control of the backfield, and has performed admirably, rushing for an average of 80 yards and being somewhat involved in the passing game as well. He can be considered a low end RB2. After D.J. Chark's injury, Keelan Cole has all the opportunity to build off of two solid weeks of production, and can serve as a low end flex. Rookie Laviska Shenault's involvement may increase as well.
Kansas City Chiefs: The most electric offense in the NFL, anybody can have an incredible game on any given night. Patrick Mahomes is a top 3 quarterback every week, with the most skillful arm in the game. Clyde Edwards-Helaire immediately jumped up to RB1 status, though he should not be overhyped. He has no competition, so he should have the advantage of the workload on the ground and the best passer in football throwing to him. The Patrick Mahomes effect transfers to all his receivers. Tyreek Hill is a WR1, and though his Week 1 wasn't incredible, his game changing speed is unlike anyone else in the NFL. The rest of the receivers -Sammy Watkins, Demarcus Robinson, and Mecole Hardman – are all dart throws that could have incredible games but completely flop the next day. Don't trust any of them as consistent starters. Travis Kelce is the best, most dependable tight end in fantasy, and is arguably Patrick Mahomes's favorite target.
Los Angeles Chargers: Justin Herbert was shockingly revealed as the starter in Week 2 after Tyrod Taylor's punctured lung, but he played fairly well. He is a stash in dynasty leagues and potential bench quarterback in redraft leagues. Austin Ekeler remains a high end RB2, even after two lackluster weeks, because of his high efficiency and pass-catching prowess. However, Joshua Kelley is an intriguing sleeper that could steal some snaps away from Ekeler. Keenan Allen, the star receiver on the team, is only a WR2 because of inconsistent quarterback play. His stock may increase with Herbert's does, but there is a small amount of risk there. Hunter Henry, with 150 receiving yards already, is a TE1, though some touchdowns would increase his value.
Los Angeles Rams: Though they lost Todd Gurley and Brandin Cooks, the Rams offense has scored enough to win them two games. Jared Goff is not elite in fantasy or in reality, but can be a spot starter in good matchups. In Week 1, it seemed that Malcolm Brown would head the committee consisting of him, Cam Akers, and Darrell Henderson. Yet in Week 2, it was Henderson who thrived when the other two were injured. Therefore, it is uncertain who the true lead back is, but Henderson should be added.
Miami Dolphins: Ryan Fitzpatrick, or Fitzmagic, as he is dubbed, has started off the year as a bridge quarterback until Tua Tagovailoa is ready. As a daring quarterback prone to interceptions without a talented offense around him, Fitzpatrick should not be on rosters. The running back committee is frustrating. Myles Gaskin receives the most work, but is limited by the presence of Matt Breida and goal line rusher Jordan Howard. He should be on benches because of his presence as a receiving back. Devante Parker is the most dangerous receiving option, though he only has 100 total receiving yards. As the top target on the team, Parker can be started as a high end flex. Mike Gesicki broke out in Week Two with over 100 yards receiving and a touchdown, and is a low end TE1 until he proves he can do it consistently. 
Minnesota Vikings: Kirk Cousins is extremely unpredictable. This makes him difficult to start as your QB1, especially in Primetime games. Dalvin Cook, though he has scored 3 touchdowns this season, has averaged 13 carries and 55 yards. Granted, the Vikings have been playing from behind, but he's also only caught 3 passes for 6 yards. He should be back on track next week to his normal status as a low RB1. Adam Thielen is the only pass catcher you can start on this team. Especially when Kirk Cousins lays an egg, the other receivers are not dependable, though Justin Jefferson could pick up steam as he builds a relationship with his QB.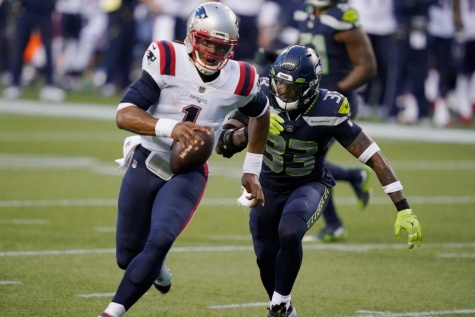 New England Patriots: Superman has returned. Cam Newton has been playing far better than expected when he signed to the Patriots after waiting in free agency for months. His passing game was far greater in Week 2, it is his fearless scrambling, especially on designed runs near the goalline culminating in 4 touchdowns, that has him as QB3 so far. Start him against soft matchups and feel encouraged about the goal line success rate. A running back committee composed of Sony Michel, Rex Burkhead, and James White is stressful for managers, and should be avoided, as Cam himself is responsible for the most rushing yards by far. Julian Edelman will earn enough targets to be played as a lower end WR2, and N'Keal Harry is a definite dynasty stash if not a bench player.
New Orleans Saints: Michael Thomas left the game late in Week 1, and remained inactive against the Raiders. Another first round selection in most fantasy drafts, and the top receiver last year, managers have to be patient and hope he returns to form next week. Alvin Kamara, however, feasted against the Raiders, amassing two touchdowns on the ground and leading the team in receiving yards. With MT out, Kamara becomes the security blanket and deadliest weapon for Drew Brees, and will continue to receive upper RB1 workload. Brees himself is still at least a high quality backup, but his production will take a hit as long as his star wideout is injured. Trequan Smith and Emmanuel Sanders are potential flex's as long as he's out, but they aren't steady enough to trust. Jared Cook is a serviceable TE1 who will also benefit from the injury to Thomas.
New York Giants: In perhaps the most devastating news of the week for fantasy managers, Saquan Barkley, generally drafted second in most leagues, is out for the rest of the season with a torn ACL. Devonta Freeman is being signed to replace him, but will most likely not play in order to learn the playbook. The Giants lose their only true offensive threat, leaving few bright spots to dabble with. One such player is Darius Slayton, a big play receiver who was incredible in Week 1. The most consistent receiver on the team, Slayton can be played as a dart throw flex or solid bench player. Evan Engram, touted as a high end TE1, was disappointing in his first two weeks, but hope remains, especially with Barkley out. Fire him up again. Sophomore Daniel Jones should be kept on the bench as a potential sleeper down the road. With next to no help on the offense, it would be very risky to start him.
New York Jets: The Jets are undoubtedly one of the worst teams in football, and their offense is devoid of a playmaker. With his top two options, Le'veon Bell and Jamison Crowder injured, Sam Darnold is not worth rostering, much less starting. Frank Gore received 21 carries in Week 2, but ran for only 63 yards with no passes caught. None of the remaining Jets receivers should be on rosters, even though Braxton Berrios and Chris Hogan had decent games. Stay away from this low scoring offense.
Las Vegas Raiders: This offense runs through Josh Jacobs, a solid RB1 as long as he gets some involvement in the passing game. He was phenomenal in Week 1, scoring 3 times, yet didn't manage to hit paydirt in Week 2. The best receiver on this team is actually tight end Darren Waller, who had an amazing game against the Saints. A top 5 tight end, Waller is quarterback Derek Carr's favorite target. Carr himself is only a matchup dependent starter. If you do not have a top 10 signal caller, Derek Carr may produce against an easier defensive matchup. He is not a weekly starter, however. 
Pittsburgh Steelers: Big Ben Roethlisberger has talented receivers surrounding him, and should be counted on as a lower end QB1. After James Conner's injury, Benny Snell was given the reins, and he didn't disappoint, rushing for 113 yards. He can be played as a flex if Conner remains out. Juju Smith-Schuster remains the top receiver on the team, a top WR2, yet it isn't him that stands out. Senior Keith Hoffmeister said that "Diontae Johnson would finish as a top 15 receiver this year." Top cornerbacks will shadow Juju, leaving Johnson open more often, which is what happened against the Broncos. Rookie Chase Claypool could have a role too, though he is only worth adding in dynasty leagues.
Philadelphia Eagles: The Eagles offense has sputtered behind an abysmal offensive line. Carson Wentz is not a QB1, having thrown 4 interceptions in his first two games. Miles Sanders, when healthy, can be an upper tier RB2, rushing for almost 100 yards and a touchdown and catching 3 passes in the one game he played. Zach Ertz and Dallas Goedert, both tight ends, are the best pass catchers on the team. However, it is unclear which tight end is dominant. For now, Ertz has the slight edge, but do not be surprised if the youngster overtakes him. Both should definitely be rostered and can be started. Desean Jackson has some boom or bust potential, but does not deserve a roster spot.
San Francisco 49ers: The 49ers suffered most likely the worst slew of injuries in Week 2. On the offense, starters Jimmy Garropolo, Raheem Mostert, George Kittle, and Deebo Samuel are all injured. Mostert appeared to be a strong RB2 as well, making the most out of his touches with long touchdown plays. Now, it is Jerick Mckinnon's chance to commandeer the backfield, and he did have 77 yards and a touchdown on just 3 carries. Jordan Reed caught two touchdown passes, but when Kittle returns, the former Redskin will return to irrelevance. With Nick Mullens at QB, none of the inconsistent wide receivers should be added.
Seattle Seahawks: Russell Wilson has been a monster so far, with 9 passing touchdowns on 80 percent completion. Right now, he is the best quarterback in fantasy, and needs to be started every week. Chris Carson, the workhorse, is benefiting more from the passing game than from pounding the rock. However, he is a solid RB2 who will find the endzone often. Tyler Lockett and D.K. Metcalf are both WR2's that are interchangeable with each other. Everyone on this offense is reaping the benefits of Russell's greatness.
Tampa Bay Buccaneers: With all of the players at his disposal, Tom Brady is still not a top 10 QB, especially against more difficult opponents. The effects of playing him should not be too negative, but there are better options available. After all the talk about how Ronald Jones would lead the backfield, Leonard Fournette dominated the running game in Week 2, tallying over 100 yards and two touchdowns. Play him at flex, but keep an eye on Rojo, who might steal the job back. Mike Evans and Chris Godwin are both upper WR2's. However, with Godwin out, Evans elevates to a WR1. Gronk is not a startable tight end. With O.J. Howard, Cameran Brate, and a variety of other options on the team, he does not even need to be on a roster. He's just along for the ride.
Tennessee Titans: Though Derrick Henry has over 55 carries for 200 yards, he has not scored a touchdown yet. The volume still ensures his status as a lower RB1, but his lack of involvement in the passing game detracts from his value. On the other hand, Ryan Tanehill has thrown 6 touchdown passes on the year, and seems to be at least a high quality backup, if not a spot starter. With A.J. Brown injured, Corey Davis finally has stepped up, and can be played at flex until the sophomore returns. Slot receiver Adam Humphries is a sneaky add as well. Jonnu Smith may be a top 10 TE, as he has caught 3 touchdowns and almost 150 yards receiving in two weeks. Add him if he's still floating around on the waivers, and do not feel uncomfortable starting him. 
Washington Football Team: The Washington Football team does not possess a wide array of talent on the offensive side of the ball. Dwayne Haskins is a dynasty stash but not a viable starter by any means. The running back committee may cause some frustration, but Antonio Gibson is the one to stash in hopes that he wins a larger role. Terry Mclaurin is a WR2, if only because he is by far the most skillful receiver on the team. Logan Thomas is an interesting backup TE to add, but the sample size is too small to tell if he will continue to be targeted.
A slew of injuries to fantasy superstars s will leave many managers scrambling for an answer. Don't give up. There are always studs sitting on the waiver wire, and there is always the possibility of trading. Do not be discouraged by the wrinkles in your team. Embrace and work around them.