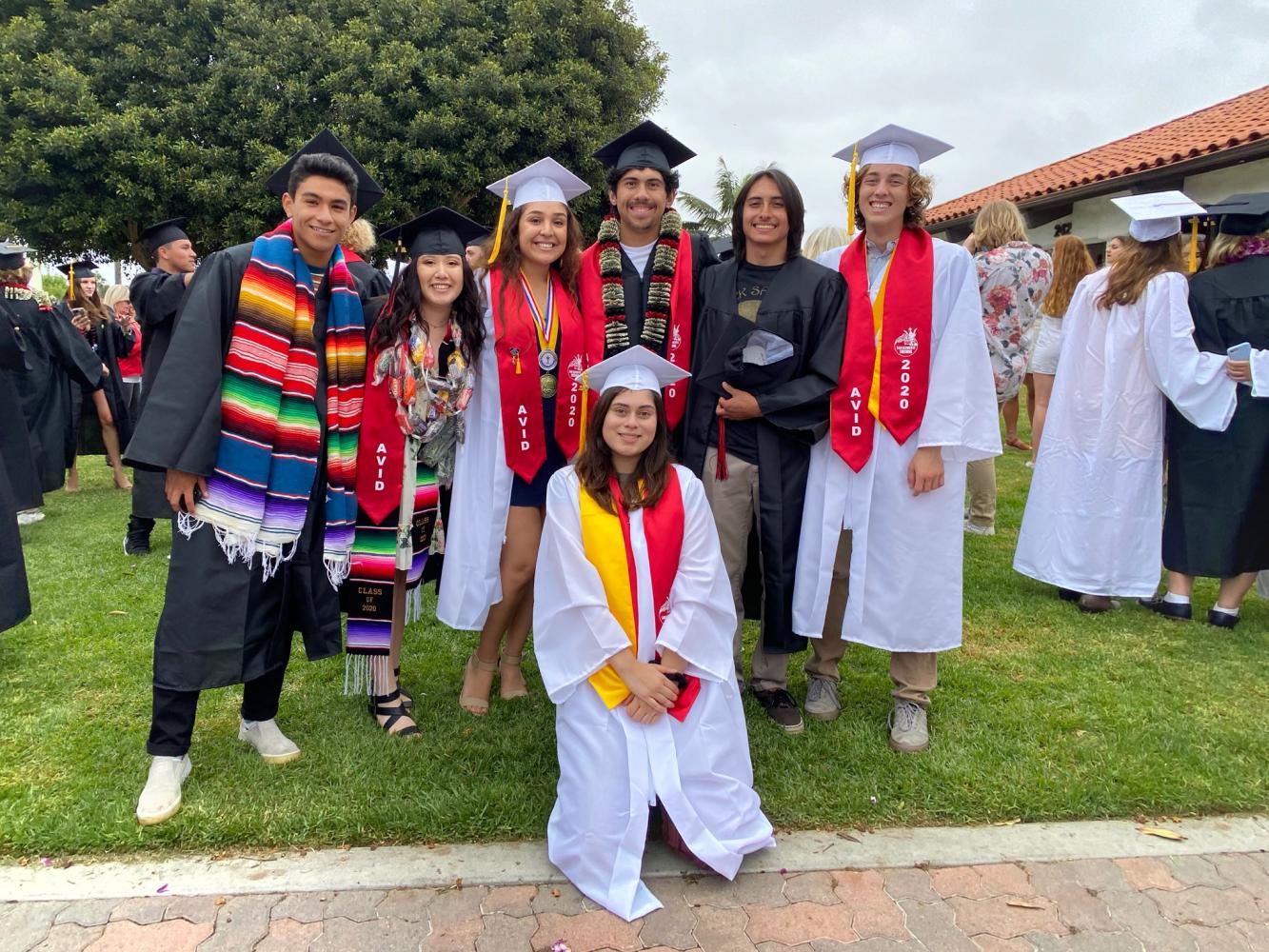 By Mirca Gomez | Writer
September 27, 2020
Advancement Via Individual Determination, better known as AVID, is one of San Clemente High School's most helpful programs offered to students. This program provides the necessary tools and resources to students on campus, allowing them to succeed throughout high school and beyond. In past years, over 90% of all AVID students have achieved more than two college acceptances. San Clemente High School's AVID program has grown and developed over the years, and it now has a class for every grade level. Because of AVID, first generation students who thought college was out of reach are given the opportunity to go. This program has left an enormous impact on countless students through the years.
AVID was first developed at SCHS in 1998 under Jo Brislen, and it is now being administered by Erin Dollar. Under her direction, the AVID program has doubled in size over the past five years. Now, there are several AVID teachers, including Ms. Dollar, Mrs. Shick, Mrs. Willey, Mr. Cain, and Ms. Mariani. This program not only helps students grow academically, but allows them to develop important relationships with other students. Many students in the AVID program would even go as far to describe their classmates as family.
"AVID is a consistent relationship that you build on campus, not only between the other AVID students in the class, but also with the AVID teacher, and it really becomes that family that is with you for all four years," AVID coordinator Erin Dollar said. From freshman year, the AVID teachers begin introducing and familiarizing students with colleges. They help students fulfill all requirements to not only graduate, but be able to apply to colleges.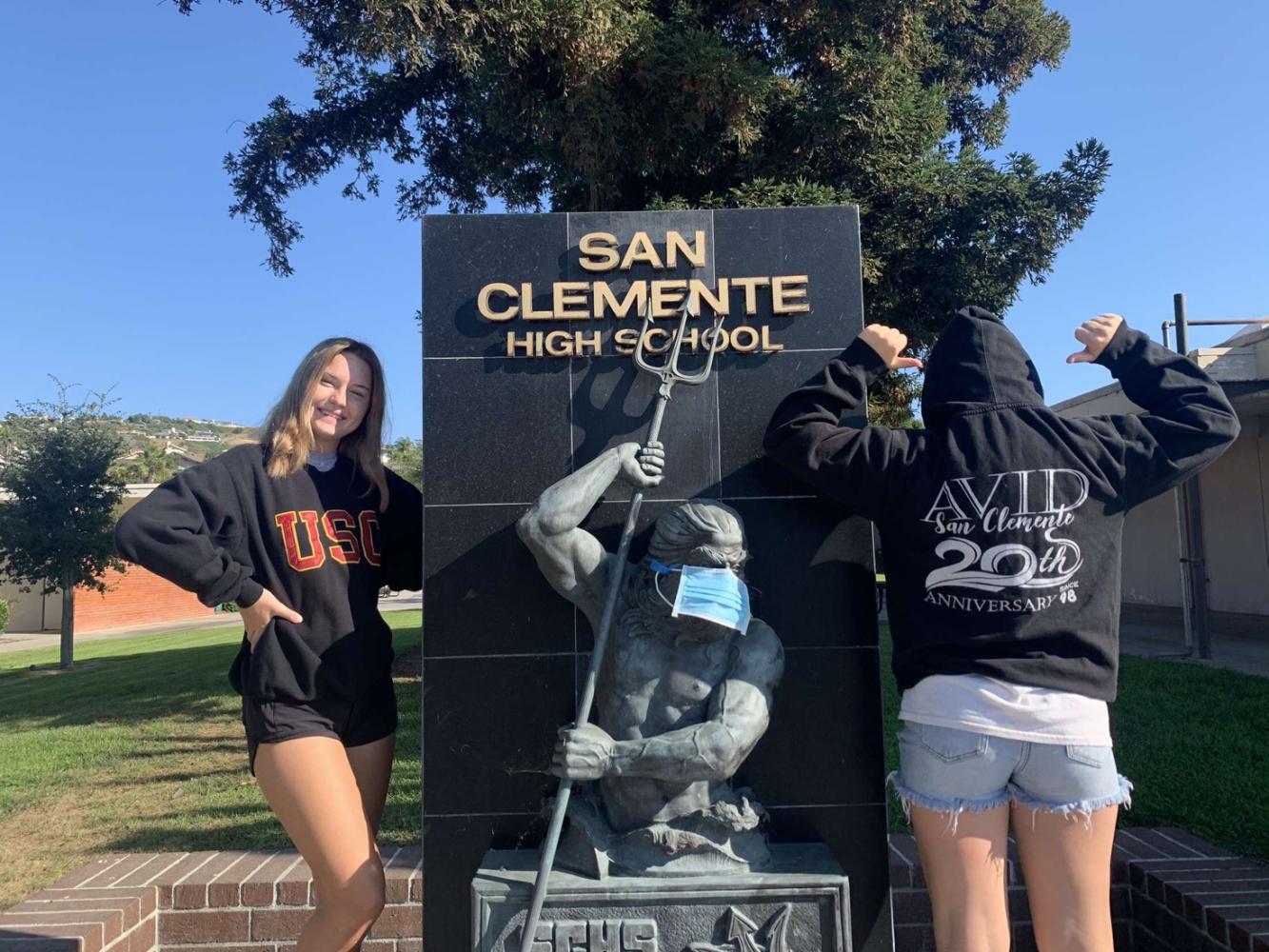 There are a multitude of advantages in joining AVID. This program is helpful in many ways, because everything that is done in that class is focused on getting students into college. Collaboration is a huge aspect; students are constantly working together and helping each other with their work. Junior and senior years through this program are crucial, because those are the years that shape futures. During these two years, students are consistently working on college applications, SAT and ACT prep, and scholarship funds. However, they are not doing this alone; they have the help and guidance of their AVID teacher.
"I feel blessed to be in AVID because I have the help and resources that most students in San Clemente High School do not have. I know that the teachers are going to be there for me every step of the way," AVID junior Meelad Ahmadi said.
AVID helps helps keep students on track, and it encourages them to challenge themselves. "Every AVID student has taken one or more AP, IB, or honors classes by the time they graduate," Dollar said. The AVID teachers make sure every student is taking classes that are appropriate for them, but are also academically challenging. Before every new school year, the AVID teachers have a one-on-one talk with each student to review their schedule to make sure they are going down the right path. 
This course provides the extra support and help that many high school students do not have access to. It not only helps them throughout high school, but also builds skills that are used throughout college. "My sister, Sydney Kowalski, was in AVID at SCHS. Now that she has gone through college, she has been telling me how all of the tools she learned in AVID have been useful in college," AVID junior Samantha Kowalski said. 
Through all four years of high school, AVID is able to provide guidance and support for students. This allows highschoolers to accomplish their goals of attending a four year university while exceeding expectations. Beginning this program freshman year is key to success, because it allows students to develop an essential connection between themselves and the school. This year, the class of 2024 is able to register for this life-changing course next semester. For more information, visit the San Clemente High School website.