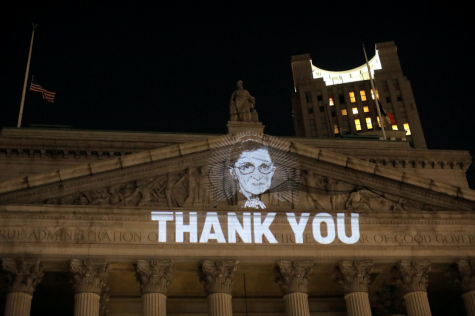 By Amy Parr | News Editor
September 27, 2020
"When I hear RBG's name, the first word that comes to mind is pioneer," senior Jasel Steinmetz said. This is true for most people, but how exactly did RBG earn her status as a pioneer for gender equality?
The life of the notorious Supreme Court Justice wasn't always filled with sweeping robes and political breakthroughs. Ruth Bader Ginsburg, commonly known as RBG, had a small start as the youngest daughter of a working class family in Brooklyn, New York. RBG's early years were tainted with tragedy, with her older sister dying at age fourteen and her mother passing away the day before she graduated high school.
"She had to persevere through so many life struggles but she really pushed through it because she knew what really mattered to her," Steinmetz said. Fortunately, RBG demonstrated incredible strength and resilience by graduating first in her class at Cornell, taking the first steps that would lead her to be the second woman on the Supreme Court.
After Cornell, RBG married her husband, Martin D. Ginsburg, who served in the military for the early years of their marriage. Once he returned, Ginsburg, now at Harvard, learned how to balance law school and motherhood. Unfortunately, Martin was diagnosed with cancer in his final year at Harvard, and RBG took notes for his classes, all while raising a three-year old and taking her own classes.
"Hearing about how much she had to deal with in her own personal life all while contributing so much to our society makes me gain so much respect for her," junior Ava Johnson said. On the surface, you would never know that this dedicated woman had so many obstacles outside of her professional life.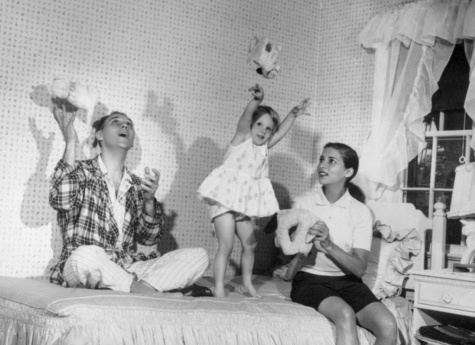 This wasn't her only struggle at the time, as the dean of the law school berated RBG and her seven female classmates for taking up valuable spots that should belong to men.
"This isn't surprising, given the time, but RBG helped change the stigma surrounding powerful women," Steinmetz said.
Once again, RBG proved herself to be impervious to criticism and became the first woman on the Harvard Law Review. Her time at Harvard was cut short when her husband graduated and took a position at a law firm in New York, which resulted in her transferring to Columbia to finish her last year of law school at the top of her class. 
Despite her academic accomplishments, RBG still had difficulty finding an adequate job due to gender based discrimination. She persisted, working her way up until she became the first female professor at Columbia to receive tenure. Even while she was teaching, she made a massive social impact on American society with the Equal Credit Opportunity Act (1974), which gave women financial independence and the right to have mortgages, credit cards, and bank accounts without a male cosigner. Every woman who owns something as simple as a credit card owes it to RBG for paving the way towards gender equality. 
Her next step towards the Supreme Court was accepting a position in the U.S. Court of Appeals for the District of Columbia, an offer made to her by Jimmy Carter in 1980. Of the six cases she presented to the Supreme Court, she won five of them. These include Weinberger v. Wiesenfeld, in which a widower applied for social security benefits after his wife died in childbirth, but was denied because, according to the Social Security Act, only women could receive benefits following the death of a spouse. RBG argued that the Social Security Act was unfair because it discriminated on the basis of sex, and she won her case unanimously.
After witnessing her success as an attorney, President Bill Clinton nominated her to the Supreme Court in 1993, and she was overwhelmingly confirmed by the senate in a 96-3 vote.
"The fact that she was nominated with that many votes shows how many people recognized her contributions and the potential she had to make a difference as a Supreme Court Justice," Johnson said. In the history of the United States, only three other Supreme Court Justices received more than 96 votes, and all of them were male.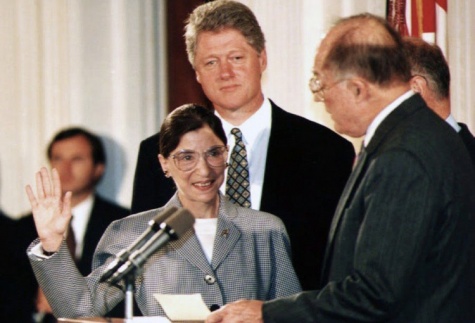 Due to her reputation as an advocate for women's rights, RBG was frequently called in to hear cases regarding gender equality. One of her most prominent rulings was that of United States v. Virginia, in which she ruled that taxpayer dollars could not be used for the male-only Virginia Military Institute. She also played a part in Stenberg v. Carhart, which prevented a Nebraska law banning "partial birth" abortions, with no regard for the mother's health. Both of these cases represent everything RBG stood for: equality and respect for women. 
Ruth is survived by her two children, Jane and James, as well as the millions of Americans whose lives she affected. Her passion for equality lives on in the minds of countless young people, many of whom live right here in San Clemente.
"She's become an inspiration for me and what I want to do in my career. I'm just grateful that she paved the way for me and so many other young women to become lawyers and politicians," Steinmetz said. The loss of such a wonderful woman is devastating, but she will live on as long as we don't take her legacy for granted.