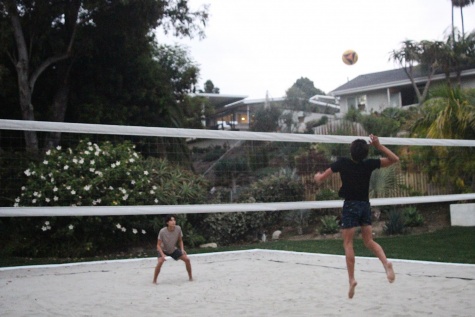 By Amy Parr | News Editor
October 11, 2020
Whether it be playing beach volleyball or excelling in their classes, seniors Sean and Keith Hoffmeister are some of the hardest working individuals on campus. Known for their identical looks and their skill on the volleyball court, these twins are remarkably ambitious and talented. 
Both boys have been on the varsity volleyball team since their junior year and have been playing club volleyball for six years. Even though they both share their passion for volleyball, they chose to pursue two distinct positions. Sean is a setter, which means that he is responsible for setting the hitters in every play. Alone, this doesn't sound too bad, but a setter is also responsible for playing defense before releasing to go up to the net and set, which makes setting one of the most stressful, and difficult positions. Keith is easy to spot on the volleyball court because he is a libero, meaning that he wears a different color jersey than the rest of his teammates and is the designated back row player, and is the most skilled defensive player on the team. 
This sounds like a lot of work, but Sean and Keith have found ways to make it all enjoyable. "Most of my friends play volleyball as well so it's fun to all get together at the beach and play during the summer," Sean said. The way that these twins can thrive in such a competitive athletic atmosphere speaks volumes about their level of perseverance and commitment. This kind of dedication to excellence is not solely reserved for the volleyball court, it is also evident in their academic lives.
Sean and Keith tend to gravitate towards STEM courses, but for different reasons. Sean likes "their clarity in that there is usually a clear answer that you have to work towards," and he particularly liked AP Computer Science and AP Physics because he "understand[s] these subjects much more easily." Keith, on the other hand, enjoys these courses more so for the creative aspect, something students don't typically associate with math and science. He finds these subjects "especially captivating because of the collaborative aspect," explaining that he likes "working together with [his] classmates to figure out what code to write that could solve a particular problem." 
They both took a step further to advance academically by embarking on the IB Program, which sets them apart from other students due to the challenging classes and assessments that most students don't undertake. Graduates of Las Palmas Elementary School, Sean and Keith are able to speak practically fluently in Spanish. They both have nothing but positive things to say about their experience in the Dual-Immersion program. "I think knowing how to speak Spanish will be very useful in the future in whatever career I decide to choose," Keith said. If they use these skills and continue to push themselves, they will certainly succeed in whatever colleges they choose to attend. 
Sean's dream school is MIT, which is one of the reasons that he works so hard to get the best grades and test scores possible. Once there, Sean hopes to major in "either computer science or some form of engineering, probably computer or aeronautical." Sean also has expressed interest in CMU, a university known for its' advanced computer science and engineering programs.
Keith has similar dreams of attending a four year college, though it doesn't seem as if he has his heart set on any specific school like his brother. Keith has plans to "study either computer science, physics, or engineering [and is] open to anything within those disciplines."
After college, neither of them has a specific plan in mind, but they know the kind of legacy they want to leave behind. "I know that I want to do something that makes the world a better place," Keith said. Sean agreed, adding that he hopes "to do something that has a positive impact on the world."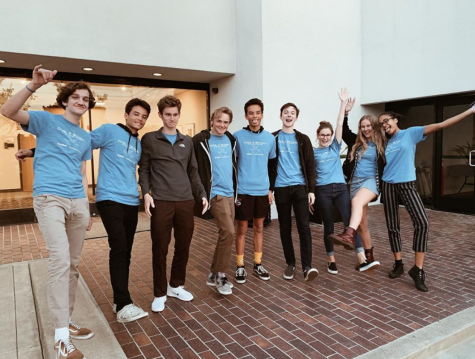 Not only are Sean and Keith involved in athletics and academics, but they are also active members of some of the organizations that our school has to offer. Both boys are treasurers for two very different clubs on campus. Sean is the treasurer of our school's chapter of Cool 2 Be Kind, which was started in response to the tragic suicide of San Clemente's own Daniel Mendez. 
Not only has this club promoted awareness on the importance of kindness, but it has also taken concrete steps to push back against bullying. The club "started blue ribbon week and drafted and presented a new law to a state representative," Sean said. With this kind of passion and initiative for such a worthy cause, Sean certainly has a bright future ahead of him. 
Keith, on the other hand, is the treasurer of SCHS's chapter of NHS, an organization dedicated to promoting leadership, scholarship, and character. As treasurer, Keith is responsible for the collection and distribution of the club's finances. This is a lot of responsibility for one student, but it's nothing Keith can't handle.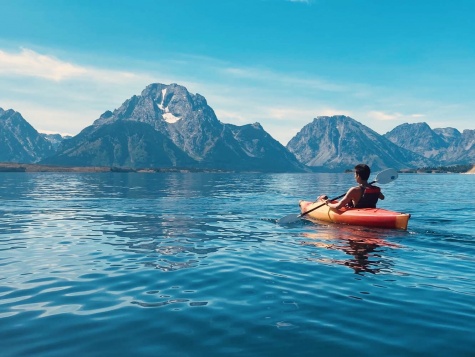 Their positive outlook in life has translated well into their quarantine experience. They both realized how lucky they were to go to our school, and how they wished they had cherished the experience more before we had to quarantine.
"I realized that even though school could be stressful at times, so many more good things came with it. I got to see my friends every day, play on the volleyball team, learn about interesting things, and participate in fun school events. All of this stopped during quarantine, which made me realize that I took it for granted before," said Keith. 
Throughout all of the challenges of quarantine, Sean and Keith have had each other. "My favorite thing about Keith is that he's always there as sort of a built-in friend and we always get to help each other with whatever we're doing. We study together a lot and I would forget to do a lot of things if he wasn't there to remind me because he's much more organized," Sean said. Having siblings is never easy, especially when you're stuck in the same house for months on end, but these two are proof that having siblings is a gift.