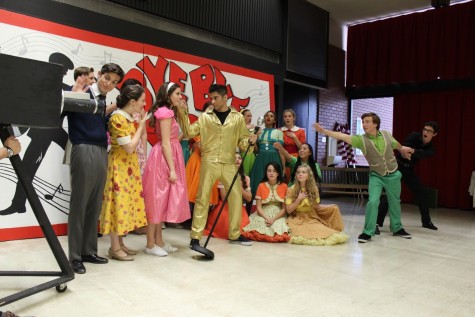 By Saffron Sener | Arts & Entertainment Editor
March 18, 2015
Reminiscent of Elvis Presley's draft into the army, Conrad Birdie is off to combat! For this spring season, the SCHS Theatre Arts Program is presenting Bye Bye Birdie, a beloved musical following the escapades of a self-loving vocalist, his frantic manager, a girl and her "steady", and a Spanish Rose. Filled with lively music, great acting, and entertaining choreography, Bye Bye Birdie is more than fit for San Clemente's 50th Anniversary.
In the year 1964, Albert Peterson, an English major once with the hope of becoming a teacher in the subject, became the founder and manager of Almaelou. A debt-ridden music label featuring the uber famous and recently drafted, Conrad Birdie. Albert is desperate for his help. However, Albert's secretary and secret love, Rosie, proves to be Almaelou's saving grace.
Forming a plot to have Conrad plant a goodbye kiss on one of the 1,200,000 teenagers madly in love with him, Rosie's idea is sure to generate enough money to save Almaelou. The girl chosen is Kim MacAfee, the president of the Conrad Birdie Fan Club, who resides in Sweet Apple, Ohio. Unfortunately, she has just been pinned to Hugo Peabody, an awkward and wary young boy.
As Albert, Rosie, and Conrad maneuver their way through Sweet Apple and deal with its outgoing residents, they are faced with numerous situations that could mean certain death to the whole plan. From a jealous boyfriend, angry dad, overbearing mom, and a rowdy group of teenage girls, Albert and Rosie are facing their most demanding challenge.
As one of two Assistant Stage Managers for this production, I have witnessed the show grow and progress to a higher quality each day. Everyone on both crew and cast have given innumerable hours to the betterment of the show, and its onstage translation.
Cassie Powell, one of two Stage Managers, stated, "We have been working so hard on this production, putting in insane hours and crazy amounts of work to make it the best it can be."
The Prop Master, Bailey Perrizo, agreed, "Bye Bye Birdie also meant bye bye social life, but I wouldn't have it any other way."
With talented actors and actresses including Alex Schultz, Evan Harris, Paris Hull, and Parsa Alihemati, this production is sure to be an entertaining escape from the twenty-first century. Bye Bye Birdie is being presented on March 19th-21st and 26th-28th, with a matinee at 2:00 p.m. on Saturday, March 28th. Ticket prices range from $12-$15. Hope to see you there!
Photo credit: Cassie Powell