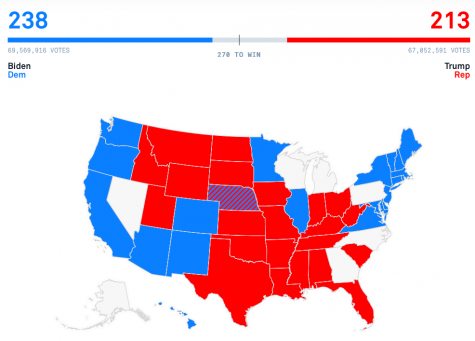 By Maxine Davey | Editor in Chief
November 4, 2020
After a whirlwind night, the electoral college stands at 238 votes for Biden and 213 for Trump, with 87 remaining. Votes by mail have slowed the counting process, so it isn't likely to hear final results until later today or even in the next couple of days. Triton Times has compiled five scenarios and possible outcomes for the 2020 presidential election.
Scenario A
All remaining states follow projected outcomes: NV, MI, WI go blue while PA, NC, and GA go red. Biden squeaks by with exactly 270 votes.
Scenario B
Trump wins either WI or MI and the race. Even though only 67% of the PA vote has been counted, Trump is likely to win all 20 electoral votes with a current 54.5% red vote compared to 44.4% blue. North Carolina and Georgia also seem to be going red, and Nevada blue—so if Trump can steal MI or WI, he will beat Biden.
Scenario C
States follow projections except for NC or GA. If Biden somehow pulls off a flip in either state, he will win either a 15 or 16 electoral vote prize and the election.
Scenario D
Biden flips PA and gets 20 electoral votes, plus NV and one other state to win. If Trump wins every state but PA and NV, Trump will pull out the win.
Scenario E
States follow projections except for NV. Nevada has gone blue since 2004 and is currently projected blue. However, only 67% of the vote has been counted, and the race is currently held at a 0.6% margin. If Trump can somehow flip Nevada, he will win the presidency.
Follow this link from NPR for live electoral college updates and analysis.