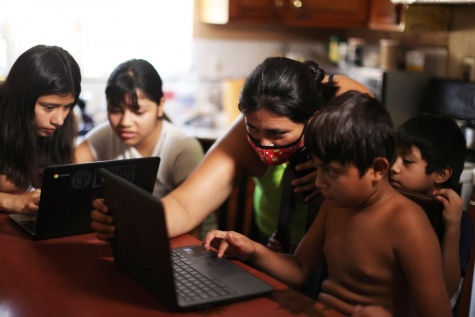 Brooklyn Staab | Publicity Manager  
December 6, 2020
The pandemic has brought a plethora of issues besides physical health concerns, including lawsuits. There have been multiple lawsuits concerning one major issue: our country's response to COVID-19 is failing our citizens.  
Besides lawsuits against hotels, cruise ships, and airlines, most cases involve the general public against corporate America. For example, Coronavirus compensation lawsuits have taken place because many workers who contracted Covid while on the job didn't get fair relief. In addition, the multiple lawsuits against healthcare companies, insurance companies, daycares, local, state and national government, and even more recently—California. 
Last Monday, 15 families sued the state of California for failing to "meet academic and mental health support needs" and not giving adequate education nor equal opportunities for minorities during the pandemic.  
Almost every student has faced hardships in school because of COVID-19. 
"The pandemic has changed me that during the week I focus 100% on school until the weekend when I focus 100% on my mental health," Junior Tom Michailidis said."There's no balance between school and my health anymore, it's all one or the other."
As with any new challenge, kids doing online school face struggles, such as a loud family, bad wifi, not enough devices, or small spaces to work, to name a few. Learning through a screen with all these distractions is stressful.
"Personally, I feel learning at home has been a struggle where the classes aren't as engaging," junior Charlotte Fuertes said. "I often find it hard to find motivation to do my work."
It's important to ask ourselves if some are being affected more than others during this time. Low income families, minorities, and single parents are currently affected the most. The struggles they faced before have been heightened during the pandemic- and it is up to the government to help them. Why are citizens of our own country constantly being failed by our government? 
Cities with the funding to do so, such as Beverly Hills, have been considering starting their own public health care. Other cities are hoping to follow, as state systems have not been adequate this past year (and quite frankly long before that).  
The lawsuit against California for failing students has been long overdue as minorities haven't received equal opportunities for years. It's only been highlighted during the pandemic and cultivated this exigency for justice. Our government needs to protect the people, and the people include the low income, people of color, and other disenfranchised groups.